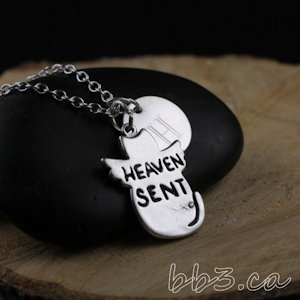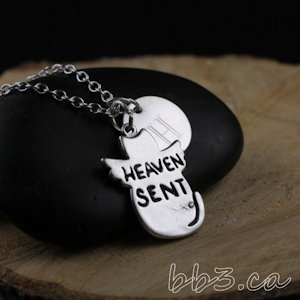 It's been too painful until now but I finally designed a Memorial piece for our dear Hemingway cat who passed away suddenly from feline g.i. eosinophilic sclerosing fibroplasia back in February. I'm finally at a place where I want honor him and move forward, although not a day goes by that I don't think of him and remember how he feels. I know it's "just a cat" to so many people – but to me, he was so much more. We will have more cats join our family in the future but he will never be forgotten.
I tried several options before realizing that the simplest design is the best. I tried adding in a birthstone, & pearls, different chain – but just the sterling silver angel cat charm and a small 10.5mm charm that I engraved with his initial spoke to me the most.
I think that is one thing people don't grasp when it comes to creating jewelry. Even though I am not manufacturing components, it takes time to come up with the right combination. I know it looks simple: but it took much careful consideration and trial and error to get the ideas from my head to paper and eventually to the final product. I have mad respect for jewelers who design every component from start to finish! I don't have that kind of attention span – so I am happy to source out the right supplies (this takes time too!) to come up with the final product that is satisfying to me.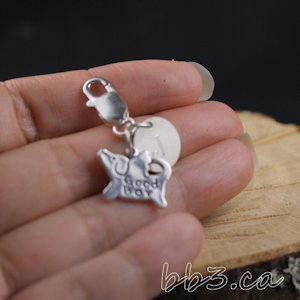 Since I was making a Cat Angel Necklace I decided to expand on the memorial pet jewelry and make a dog version as well. I hope to have more options in the future as I find the perfect sterling silver charms. The dog angel charms read " good boy" and price out cheaper than the cat angel charms, I assume due to the size and amount of sterling used. I also had the idea to offer the piece as a necklace or clip on charm set. These 13mm sterling silver lobster clasps are a large size making them appropriate to clip to a purse, bag, keychain, zipper pull or an existing bracelet. I like how this clip on option turned out so much, I will probably offer this option with some of my other personalized necklaces.