September means one thing in my household – my oldest's birthday. She will be 4 this year, and for the past several months she has been pretty clear with what she wants: a "Hello Kitty" Necklace (just recently she also added a pink stroller for her doll but she is still pretty adamant on the Hello Kitty necklace :)).
My children have no idea what Sanrio even is. All they know is that Hello Kitty is a girl and is a cat – seeing that we have 3 cats at home, it was a natural gravitation to the Hello Kitty character. And it's all my fault that they have any interest. I was introduced to Sanrio when I was about 11 or so by my Asian pen pals…so I couldn't resist pointing out Sanrio merchandise on shopping trips for my own nostalgia…not to mention they inherited my Sanrio stationary from back in the day! (My favorite was actually kerokerokeroppi but we don't live with any frogs so I guess he's just not as appealing. ;)).
So to humor myself I did do some looking around different BBS and jewelry stores to see what exactly is on the market for Hello Kitty necklaces. What I found was not surprisingly disappointing. Either cheap materials for too much money or…well, let's just say I am not buying anything encrusted with pink diamonds for my 4 year old! 😉
This creative mama knew she could make it work, and personalized at that. I started looking at official licensed merchandise. The charms were much too big and not what I was looking for at all. I knew I was going to have to make my own charm. I had these small pewter flower picture frames that I knew would be perfect. Now where to get an image that is essentially 8mm in diameter? I didn't want to print an image as I planned to set it in resin and I was dubious I could get a good image on our ink jet. So I thought stickers…still couldn't find stickers small enough. Then it hit me: nail art stickers! One trip to Sephora and I was in business….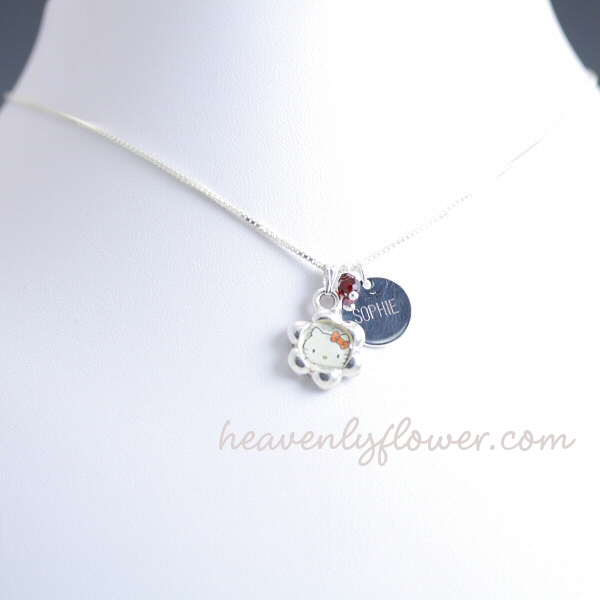 The nail sticker is set into the frame with a UV resin. Just 20 min. under a UV light (or set out in sunlight, which takes longer) and voila! Done! I added a 4mm ruby Swarovski crystal bead and an engraved silver plated disk with my daughter's name. Since she is starting to take interest in the alphabet, particularly her name and her sister's name, I thought plain text would be best rather than a fancy initial.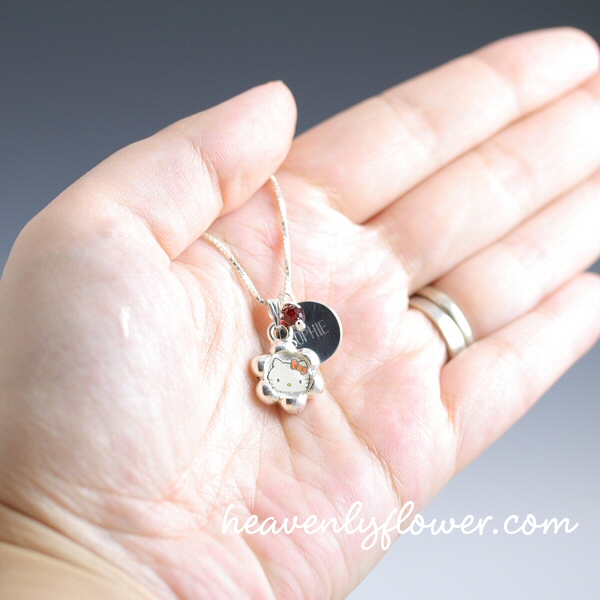 I finished the piece with a 14 inch sterling silver chain. I am quite pleased with the overall size…perfect for tiny necks. 🙂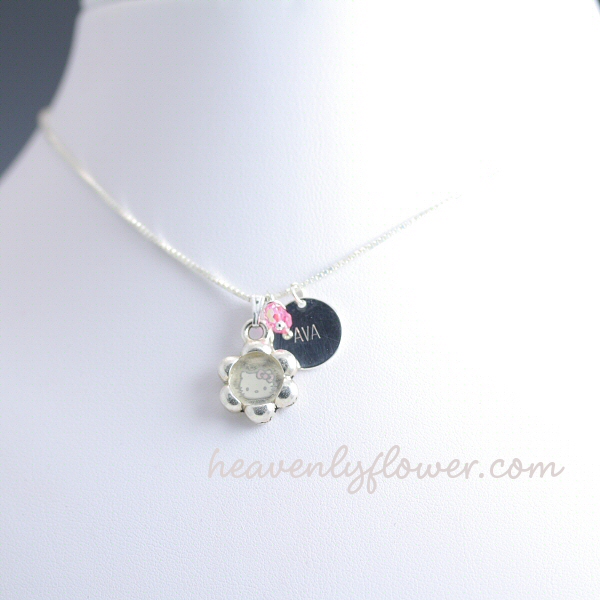 This was actually the first image I set in resin. I liked it better because the sticker was metallic so I thought it would look more like jewelry. However, once it set it was obvious that there was not enough contrast between the image and the metal of the photo charm. So my 2 year old will get this necklace…at that age she will care not that the image isn't as strong as her sister's, she will just be honored to have one as well. 🙂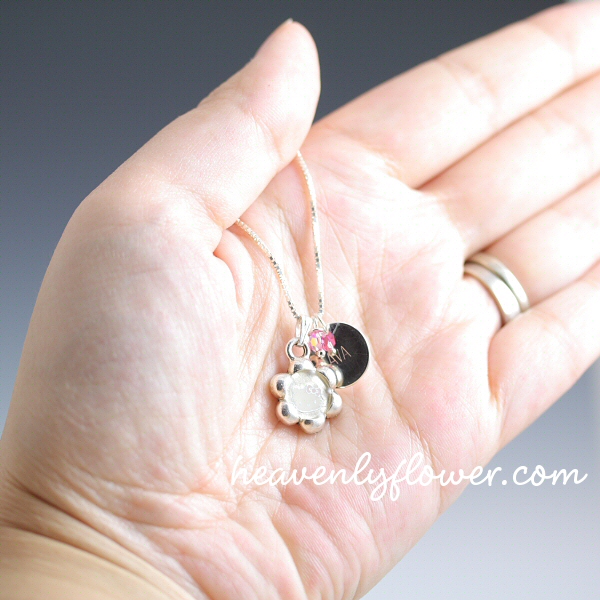 I will not be reproducing these necklaces for sale due to the copyrighted material. However if you have your own personal image you would like set in resin feel free to contact me. I have photo charms and pendants in several different sizes. 🙂