Adventures of a (jewelry) maker who uses a classic Pantograph engraver
What is Pantograph Engraving?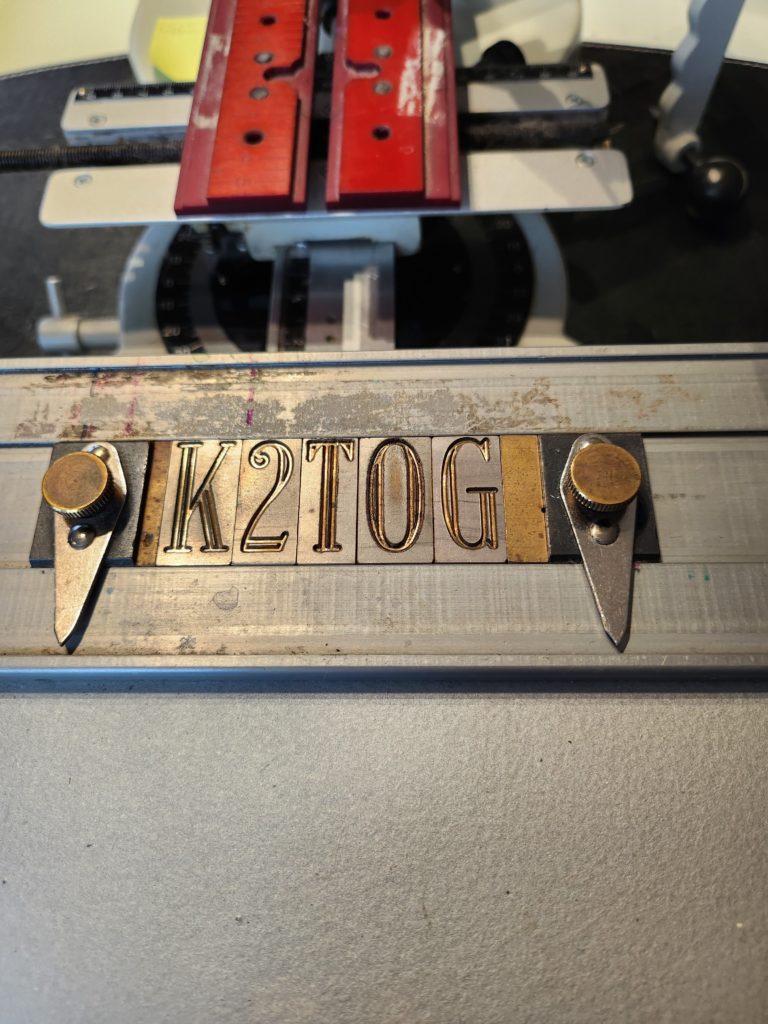 When I purchased my first pantograph engraver about 13 years ago, I would never expect them to be defunct this quickly. But here we are.
Pantograph engraving has quickly become obsolete thanks to computerized laser and rotary engravers. Who knew when I purchased a new and a used engraver with brass font sets in 2010 that I could call it "vintage" today! I should have seen it coming since the rising popularity of computerized engraving was certainly obvious back then. But for them to (practically) disappear off the market so quickly shocks me.
Something Truly Special
I recently paid more attention to the changing landscape of engraving when I decided to get re-acquainted with my font sets and engraving blanks. I have many brass font sets I don't use, mainly because I need to put the time in to feel comfortable using them. Some are very "old school" in design, so I hadn't thought about what products these would be best suited for. And I still haven't decided where many best fit as of right now.
Not Much is Available Anymore
I decided to do an internet search on what was new and available for this type of tool, only to come up with….nothing. Companies I once purchased from: not found. There were a few places still selling models of pantograph engravers, but font sets – forget it! Get my logos and images cut into templates like in the past…nope. I found a few very old and questionable font sets on eBay now relegated to collector's items…and at collectors' prices.
I realized that possessing these skills and tools is now something very special. I like to think that my customers are taking a part of history away with every engraved piece I make, and that is a very literal fact now.
Like my other manual tools, it is a pleasure to keep these old forms of maker tools alive. To think the Pantograph has been around for hundreds of years makes it very special!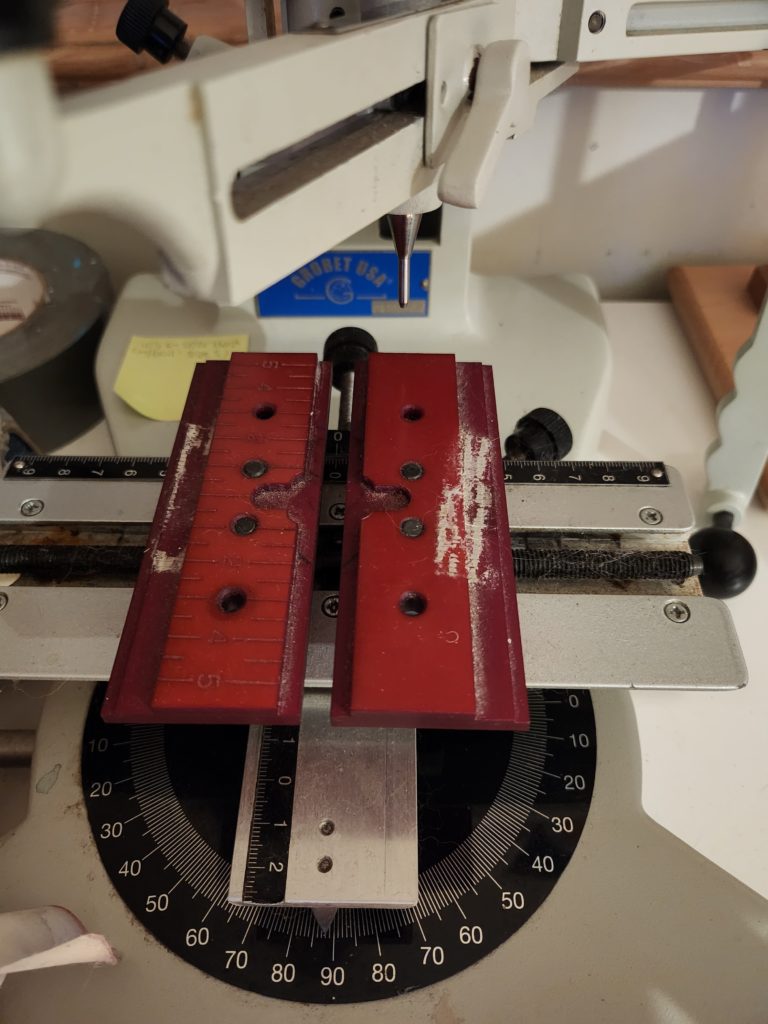 Just What is a Pantograph Engraver?
Let's see if I can explain this in (my) layperson's terms. Basically, it's a nifty machine with two arms: one for tracing and one for engraving. It uses ratios with how close or far away the engraving arm is to the tracing arm to give different sizes to the font or image you are tracing. This is how I take a reasonably large word and shrink it down to fit on an 11mm, 12mm, or 15mm blank. It's relatively simple in design if you think about it. And that is probably why I like it so much. Genius!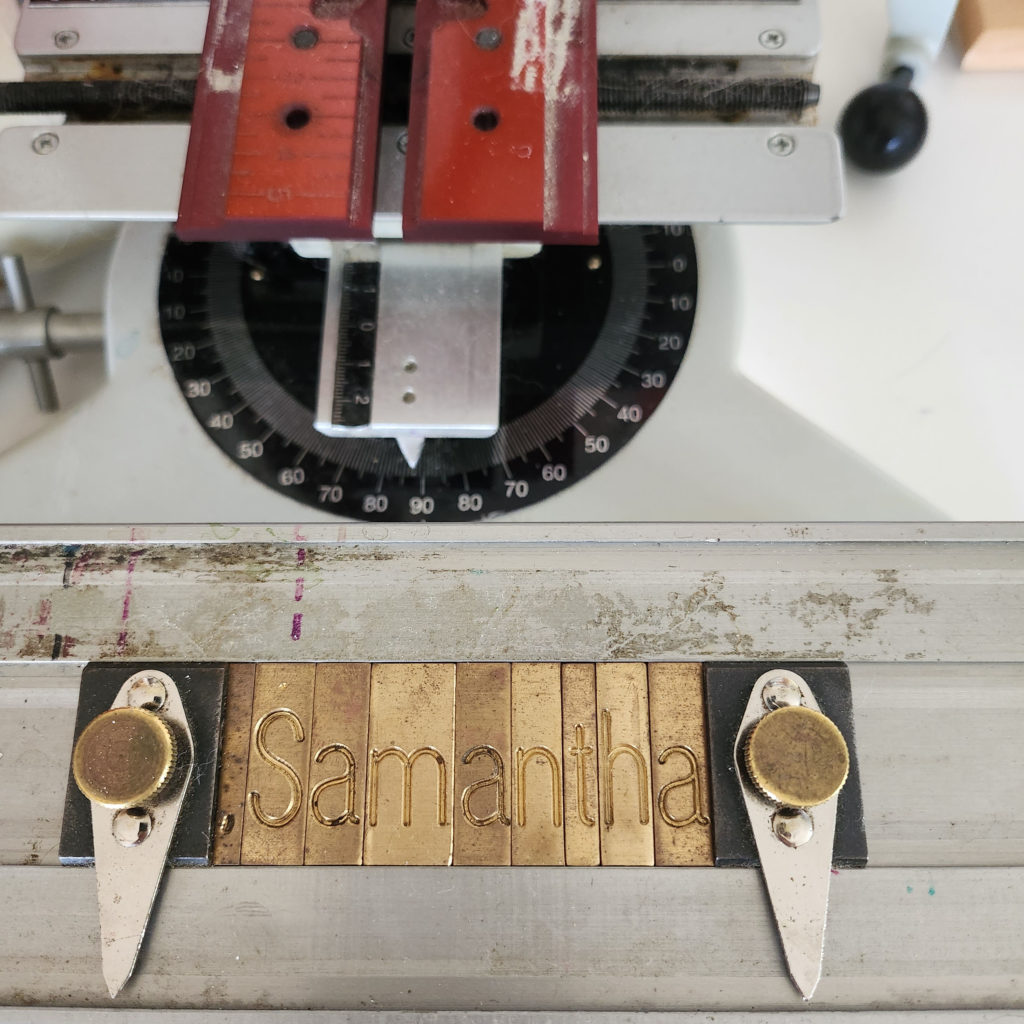 Not Just Used in Engraving
The Pantograph is not just an engraving tool. I once saw an educational show with a segment about making traditional domino sets in China. They were using a pantograph to cut the shapes into the dominoes.
(Side note: I acquired a pantograph cutter engraver that is not manual but motorized. It would be great for engraving items like plastic badges, but it's missing a piece that was impossible to get back then, let alone now. So right now, it's a collector's piece.)
According to the internet, the first pantograph machine was developed in 1603 as an illustration machine.
Diamond Drag Tip
My pantograph engravers have a diamond drag tip making them perfect for the metals used in jewelry making. When I first acquired the engravers, I purchased a special diamond drag tip that is flatter. They leave a wider impression on the metal vs. the pointier tip that the engravers came with. The difference is subtle but enough to make a difference (to my eye, anyway!).
What I currently offer for Engraving
From name jewelry to advocacy items to knitting stitch markers: I offer several different options for customizing via engraving. Browsing the Personalized Items section will give you the most. The Advocacy & Awareness section showcases a few other items, including logos I engrave, such as the breastfeeding awareness symbol. Most of these products were developed from customer requests, which I am very proud of. Unfortunately, I no longer have a contact to cut my custom symbols and logos templates.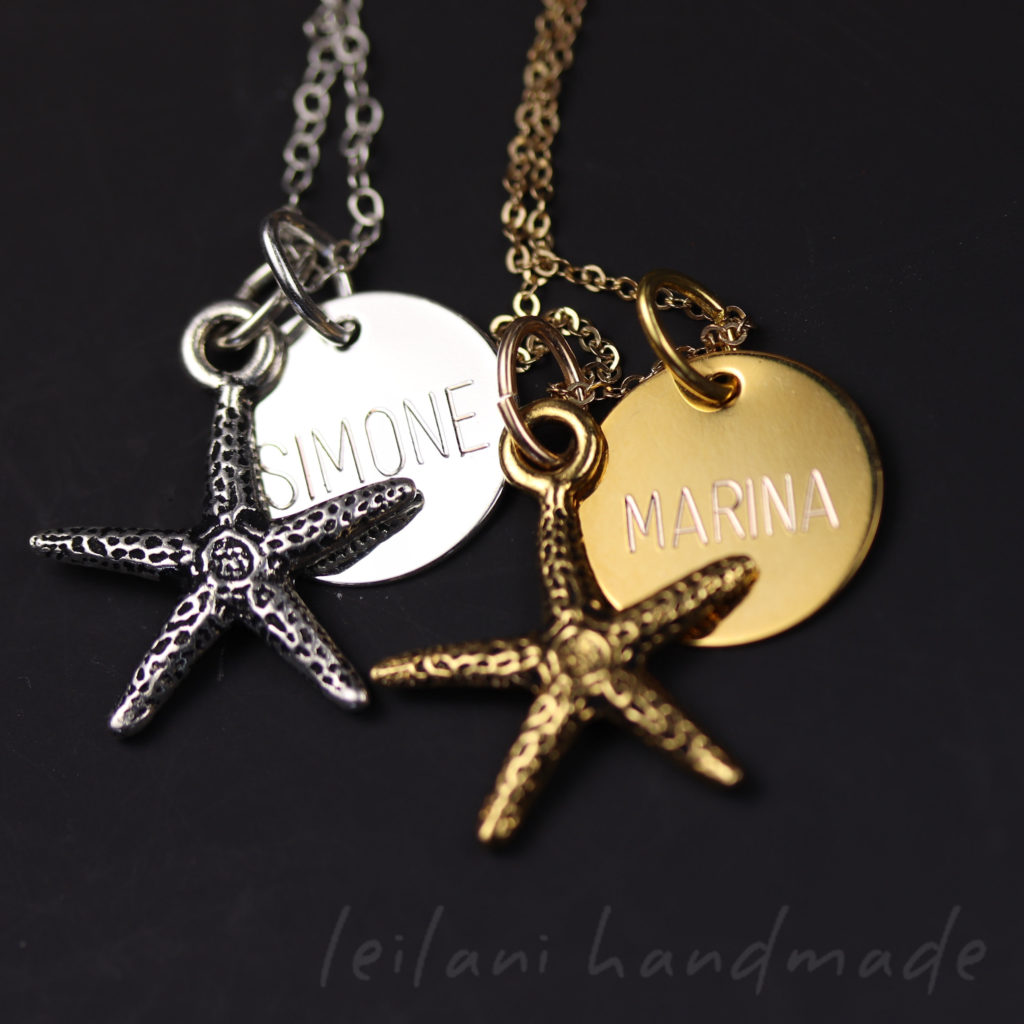 Custom Engraved Stitch Markers were another special request. The customer wanted stitch markers with her children's names to keep them close in thought while she knitted. These are sometimes purchased "off-label" for other uses, such as boot charms, as they are silver-plated and affordable. I no longer offer plated engraving disks for jewelry, as they can wear out quickly.
Once in a while, I get asked if I will engrave an item someone owns, such as a watch or ring. It's not something I'm willing to do. If I were to make a mistake, I would feel awful! I haven't had the privilege of engraving curved items yet, anyway. I believe I have accessories for engraving rings, but it's not something I've tried.
I only engrave flat items and my stock in case of a mistake. And it sometimes happens. I may misjudge the placement, making the word or letter badly off-center. The older brass fonts can be pitted, so if I am not careful, the engraving tip will slip and scratch the blank.
My First Ever Successful Engraving Project
The first successful engraved piece of jewelry I made was for myself. It's entitled "Wings" and is a tribute to my mother, who passed suddenly in 2008. The first version was done in silver plate, but I quickly upgraded to sterling silver so I could wear it daily.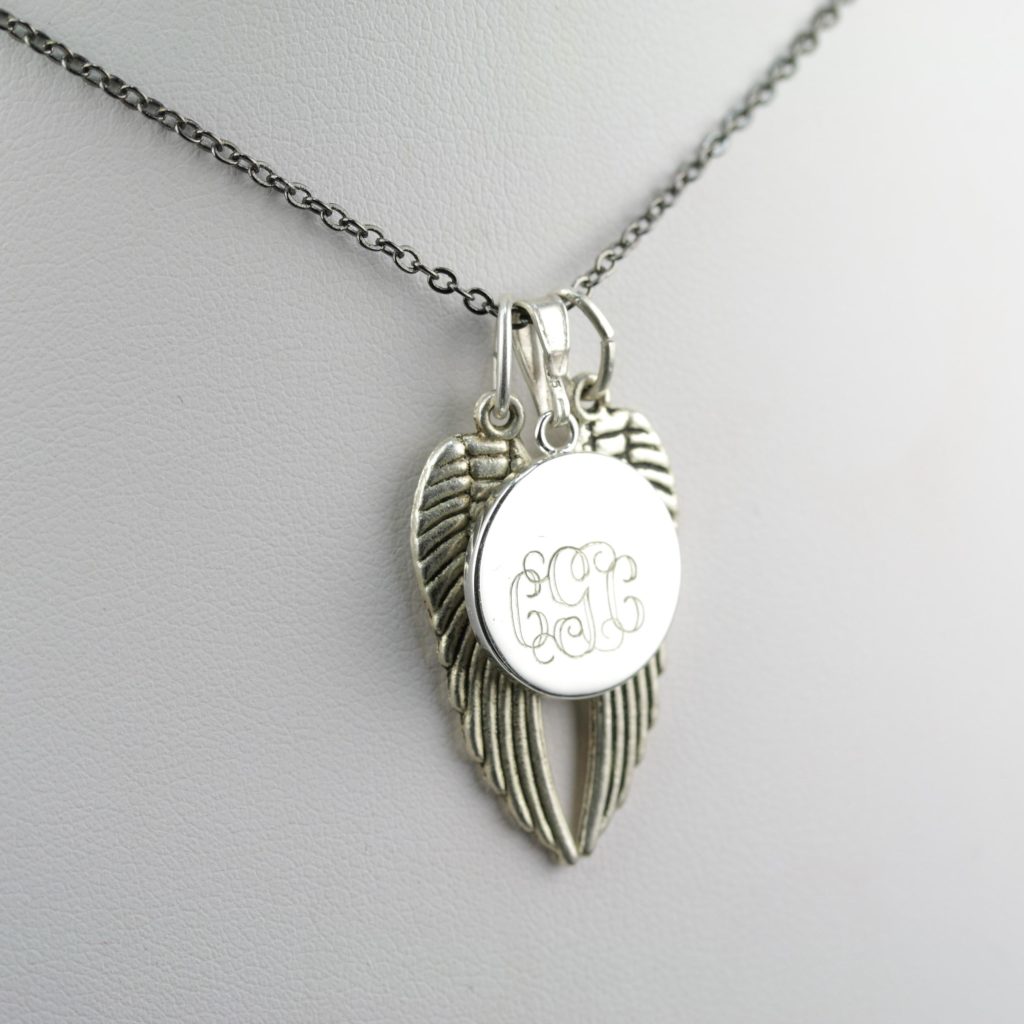 It's very dear to me to keep my mom's initials close to my heart with this engraved monogram charm flanked by two angel wings.
Over the years, I've been honored to engrave pieces commemorating the loss of babies and children, wives, mothers and fathers, pets…anyone precious to us. It means a lot to be part of the healing journey for my customers.
Limitations and Other Negatives
The arm on my pantograph engraver only reaches so far, so there is only so big or so small I can make each font. Big is not a problem for jewelry making. I run into more of an issue that my fonts were for signs and trophies. Thus the fonts don't go as small enough as I need.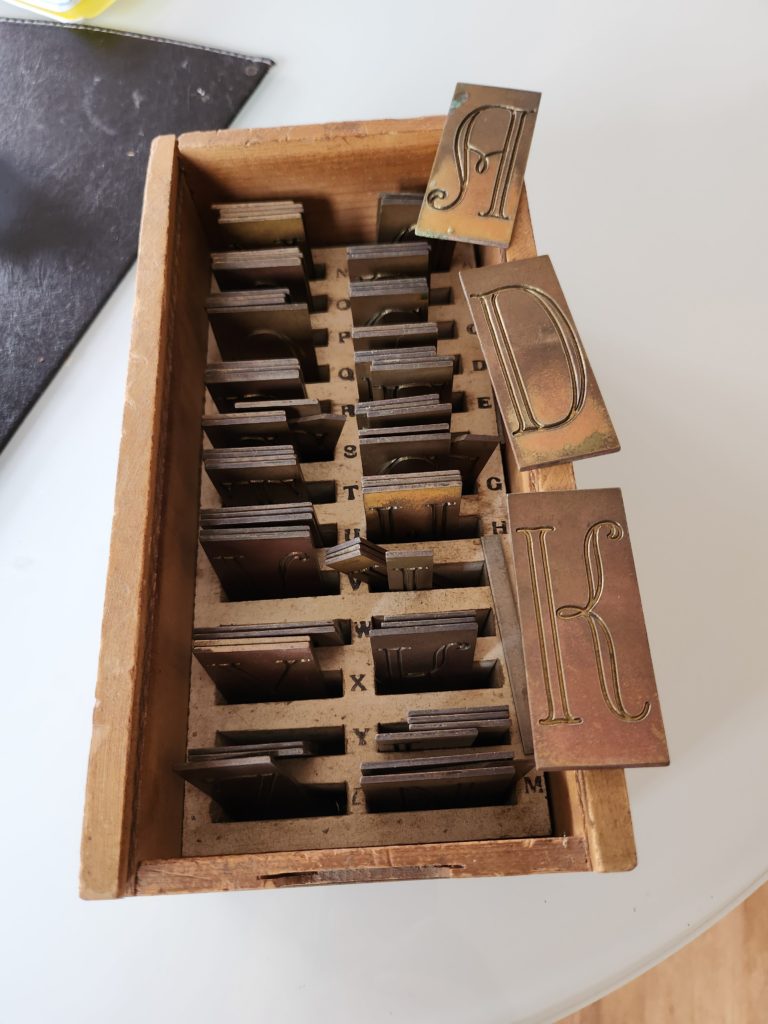 The fonts can't be stretched or manipulated like you could with software. It's a fixed height based on where the arm of the engraver is placed. So you don't have the options you would with a computerized engraver.
The Longer the Word, The Smaller the Text
One thing that can be a negative is that the longer the word, the smaller the text. It can make the word or name hard to read, except close up. It leaves a lot of space above and below the word. I prefer the word or names filling the disk from top to bottom as much as possible.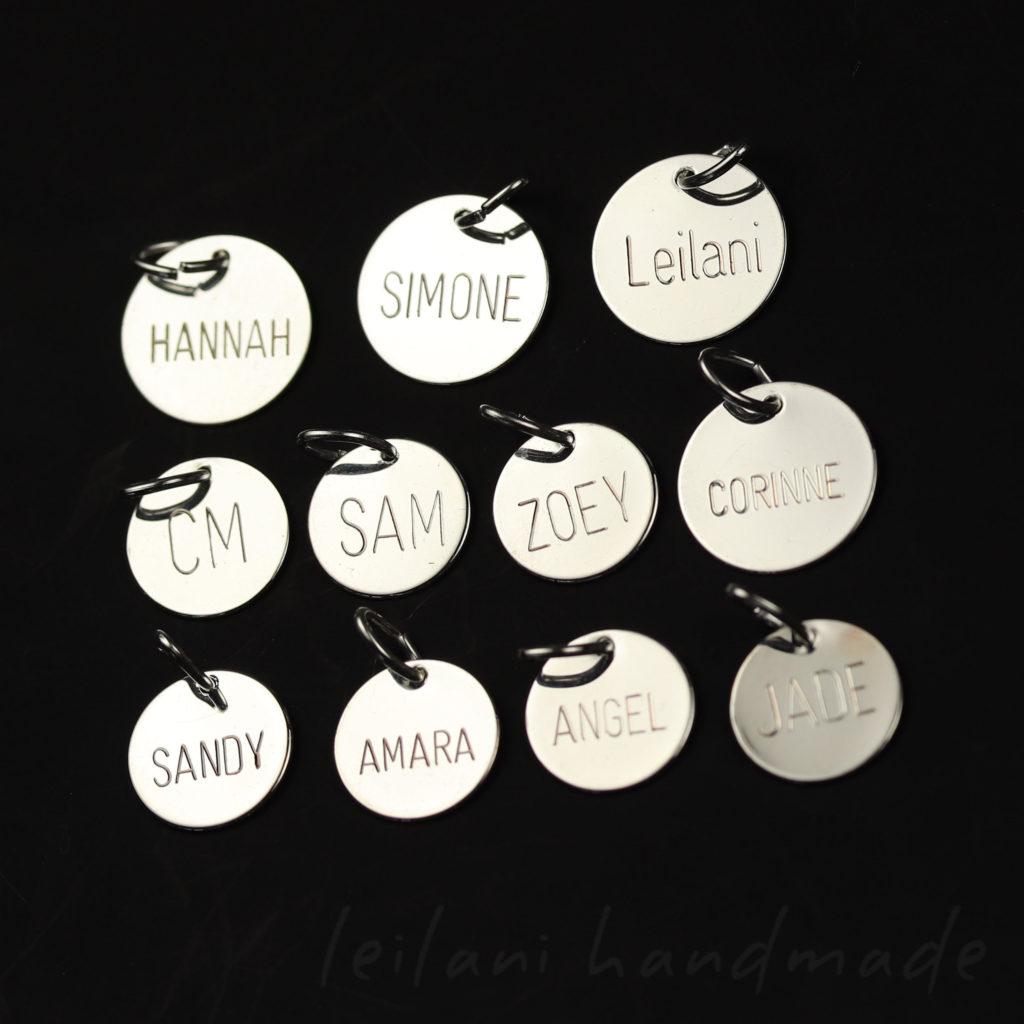 If you look at the examples above, the name Samantha is smaller than the name Desiree. It doesn't look bad, but you see what I mean about more space above & below the text.
It can be Hard on the Body
Sitting for many hours at the engraver is hard on me physically. Like most things I do (knitting, spinning, drum carding fiber, polishing metal components, making components for jewelry, etc.), the repetitive motion can cause the neck, back, and shoulders to be quite sore and worse. After years as a maker, I feel it in my Body.

Even though pantograph engraving is a tracing function, which sounds easy, you still require a keen eye and a steady hand. Therefore, my back is sore after an hour at the engraver. My shoulder, which has damage due to being hit by a car at 16 and from the repetitive motion of all my crafts, has permanent damage. I'm also prone to migraines, so I have to be careful not to push myself too much.

I remedy this by taking many breaks, stretching, and knowing when to quit (yeah, right!). Regardless of how I feel, getting your order out promptly is always of the utmost importance. I turn around orders in 1 business day whenever possible.
What it's Not
Laser Engraving
Engraving with a Pantograph manual engraver is not the same as laser engraving. I'm unfamiliar with laser engraving, and I'm sure there is more than one type. Still, it's popular to offer laser engraving that lightly etches/burns into the metal or removes an anodized surface. I'm not sure what the longevity of these items would be, and it's a personal preference of mine the esthetic of the "old school" diamond drag engravers.
Computerized Rotary Engraving
A rotary computerized engraver is very similar to what I do manually. I once thought I'd also like an automated engraver, but when I looked at them, they were rather clunky and required special ventilation. I'm sure there are tabletop versions that would work just as well for jewelry making. I love my "person power": I can still work even during an electricity outage. 😉
Manual but Skills Required
I love the skill involved with using this tool. When I first bought mine, I naively thought I would sit down and get engraving immediately. BUT it's more complicated than that. I'm thankful that I responded to an ad from a gentleman in Toronto selling an engraver and brass fonts because he sat me down and showed me how to use them. We lived in Montreal then, so we made it a weekend trip. As a young family, money was tight, so I expected to buy a font set or two, and that was it. Afterall, I already owned an engraver.
He encouraged me to take the entire lot and gave me an excellent price, so off to the bank I went. I am trying to remember exactly what I paid, but it was around $2000. I went home with an engraver (a New Hermes, which is my fave!), several font sets, logos, and accessories. I also got the motorized cutter I never got working, but I might someday rig something up. I'm very thankful to this man who saw my potential and got me on my way to engraving (he was married to a Filipina! I think that helped ;)).
It's Not Handstamping
Finally, diamond drag engraving is not hand-stamping. I love the look of hand stamping; it's not comparable to engraving, so I can't compare the pros and cons of each.
Free Hand Engraving
I wish I had the talent of those that engrave with a tool freehand – they are the ones to give total props to as far as engraving is concerned!
What Can I make for you?
Now that you know what pantograph engraving is and isn't and the limitations of what I can offer, I hope that I can make you a special keepsake that you will enjoy and cherish! 🙂