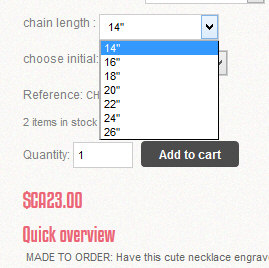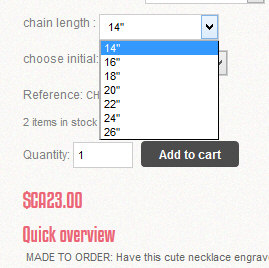 What necklace length is appropriate for a gift? If you google necklace lengths there are many good diagrams to give you a visual idea of the different lengths available. Here's my advice for some of the common chain lengths that I offer with my personalized engraved and artisan jewelry.
First and foremost, who are you buying for? What body type do they have? What length of necklaces have you seen them wear before? As with most things, all necks are not created equally. When I first started making jewelry, I was barely out of my teen years & far more petite than I am now. I really liked chokers, thus I made a lot of choker style necklaces.  So I naively made all my necklaces in the 14- adjustable-to-the-16 inch range, believing this would fit my target clientele just fine. Until a 6 foot plus co-worker tried a necklace and she could barely get it around her neck. My bracelets, in that 7.5 – 8 inch size would not fit her either, and let's not even go there with anklets. It made me re-examine the "average" size stereotype, and why it's more important to know who you are buying for rather than relying on the S, M, L, XL size categories.
Here is my general guideline for picking necklace lengths, but again think of who you are buying for:
14 inch – this is my general child size, or choker size for a petite person.
16 inch – Another length on the smaller size, great for children, teens or petite/slender build people
18 inch – I consider this the "when in doubt" size. It is a decent average length without being too long or short.
24 inch – for those who prefer longer chain or are more bigger boned or curvy/full figured.
30+ inch – this is a nice long chain that I find great for layering with shorter necklaces.
I will emphasize that this has simply been my experience & observation selling jewelry for 15 years. It is definitely not true of all people. I hope it helps with your decision making if you are unsure which length to go with.