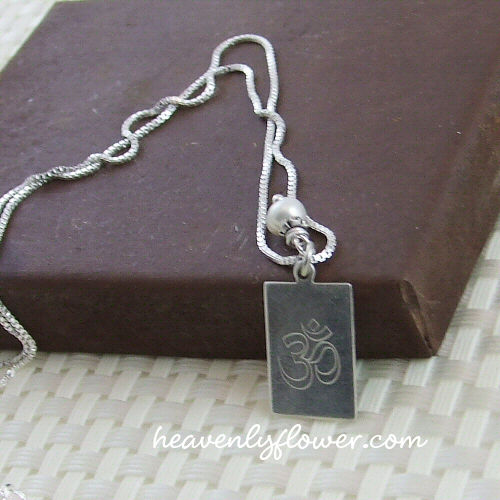 I have been talking for several months now about my newly acquired manual engravers – AKA pantograph engraver or engravograph as New Hermes likes to call them.
I thought it was about time I finally shared a completed piece of jewelry showcasing their engraving abilities. 🙂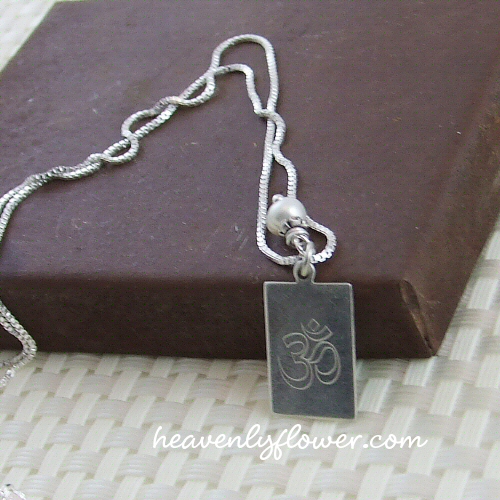 I call this piece a charm necklace because of the size. It is dainty and meant for everyday wear. Above you see the Om symbol engraved onto a 18x11mm sterling silver blank. (Besides the Om, I also have a Celtic knot, mother/child (which you will see in an up-coming post),  heart, butterfly, flower, awareness ribbon, cross, as well as several logos of organizations. I can order more shapes and symbols upon request). Above it hangs a 4mm freshwater pearl – symbolizing wisdom, faith, focus & luck.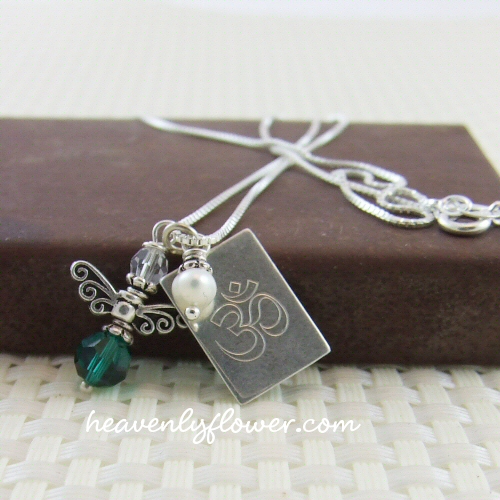 I then added a birthstone fairy in Swarovski crystal – the birthstone is emerald, for May.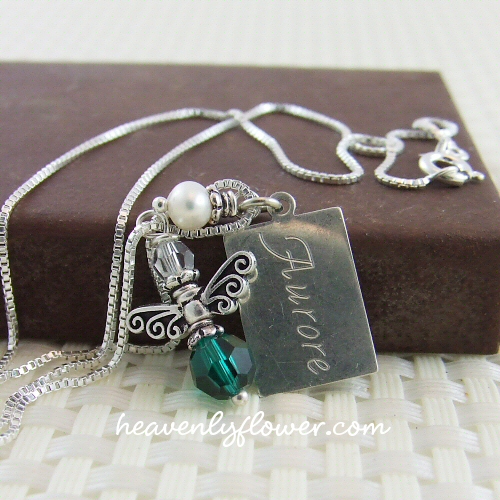 Here's a view of the back of the engraved charm – "Aurore" – the name of the recipient (this was a birthday gift for a dear friend – the entire piece is inspired by her).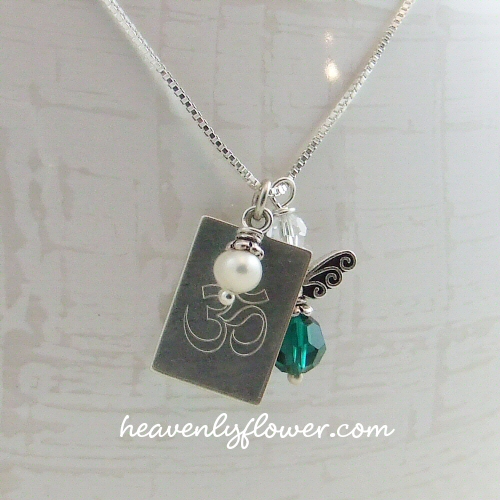 A view of how the piece hangs when worn.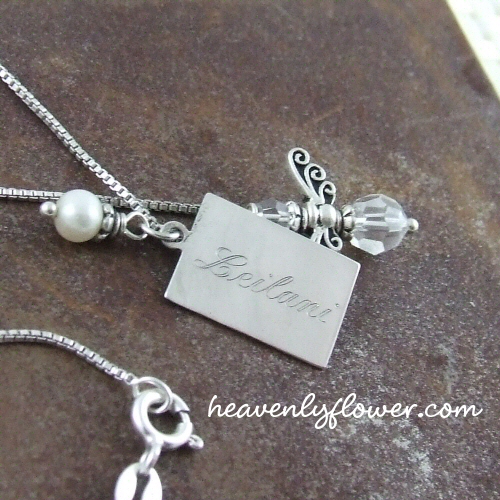 I loved this design, & decided to make one for myself! Here is the back of mine, showing my name engraved in a cursive font.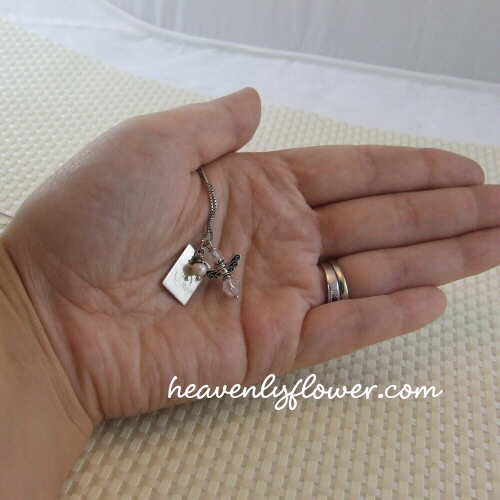 Just to get an idea of the size. It is small and ideal for everyday wear – I wear mine almost everyday!
So a little background – how does the pantograph engravers work? I'll do a future blog post illustrating how they work exactly, but essentially they are large tracing machines. You have fonts and logos usually constructed out of the traditional brass, however recently I have also discovered a kind of hard resin that glides like butter in my machine, & it's a fraction of the price of the brass sets (for example, a new brass font set with a fancy lettering can run you upwards of $800!) One end of the arm traces the font or logo plate while the other end has a diamond bit graver that engraves the image onto the metal. It works in ratios, so if you have it set to a 2:1 ratio – usually the largest size, the engraved image will be half the size of the template….and through approximately 12 different settings (including half sizes), gets smaller from there.
Unlike hand-stamped jewelry, engraving in this manner will give you a near-perfect image since it's tracing a template. It does take a bit of practice and skill to not slip while tracing and get the even pressure (since this is manual afterall!) necessary. Also, blackening the image via oxidation as is the norm with hand stamping will give an engraved image a dull appearance – it is best to simply let it it remain in the colour of the metal. (I love hand stamping too and is another skill I hope to acquire down the road! It is a totally different look & feel!).
My mind is bursting with ideas…but before I get ahead of myself, the plan moving forward is to use this piece as the test object for mywebsite of custom jewelry. If all goes well with the programming I will add more pieces from there.
Until then, for more info on ordering this piece contact me directly: leilani@heavenlyflower.com