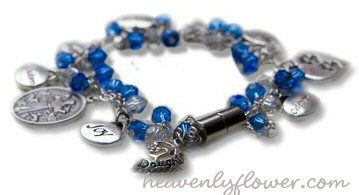 If you are familiar with my work, or have ever picked up my business card, you may recognize this bracelet. It is the official logo for heavenlyflower.com.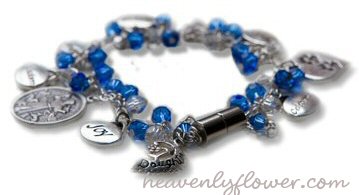 This bracelet has a lot of significance beyond just being something pretty to use as a logo. This piece represents many facets of my life, and it is ever changing.
I designed this bracelet as part of my bridal jewelry. At the time, I wanted something that represented my wedding colours, and a few inspirational charms to serve as good luck for the big day. It wasn't until after the wedding was long over that I realized that the bracelet held potential to become an ever-evolving keepsake of memories & symbolism.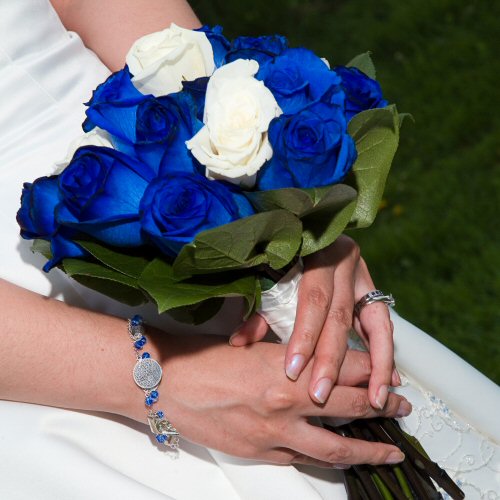 The bracelet originally was made up of sapphire & clear Swarovski crystals, a few inspirational word charms ("celebrate", " honor", "trust", "wisdom", "joy"), symbols (paw print charm for my love of animals, St. Francis of Assisi medal), and an "L" and "R" for our first initials. I also had a mother daughter charm (I will get to that one, shortly…). I used a magnetic clasp because I didn't want to be fumbling with clasps on the big day! 🙂
Fast forward 16 months after our wedding, and the birth of our first daughter. I started thinking about the bracelet again, and wanting to add elements to it that symbolized me now as a parent.
When I took the bracelet out of the jewelry box, I was astonished to realize that the two types of crystals used symbolized both my birthstone and my daughter's (Sapphire for September – when Sophie was born, and April is diamonds – signified by clear Swarovski crystals). Sophie was supposed to be born in October – but was 2.5 weeks early. To me, this was fairly significant.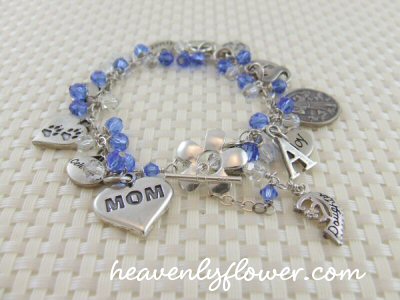 These past couple of years, I have added new elements. An " S" for my daughter's fist name, baby feet charm, and a " Mom" charm. A " teach" and "patience" charm when I needed to be reminded! Just recently I added an "A" for my second daughter, and updated the clasp to a sterling silver flower clasp.
I mentioned the mother-daughter charm earlier. I have half a heart that says "daughter" – I made a bracelet for my mother for my wedding, and it has the other half of the heart, that says "Mother". Her bracelet contained the birthstones (symbolized with Swarovski crystals) for myself and two siblings.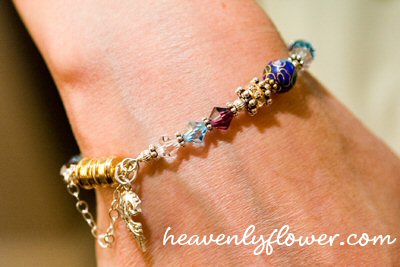 My mother passed away suddenly on October 25, 2008 at the age of 54. My dad had asked me if I wanted her engagement ring, and at that moment of grief I decided that she should be buried with this bracelet (I wear her engagement ring on my right hand and am glad I decided to keep it).
Over the weekend I decided to add my youngest daughter's birthstone to the bracelet – and I used Swarovski bicones instead of the round beads. Ava is very angular in features just like a little ram – she is an Aries afterall, and it just seemed to fit better. 🙂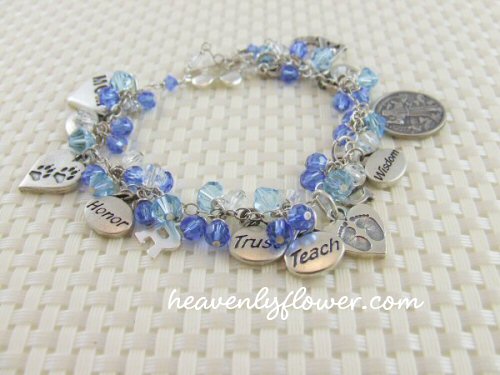 See the rest of my wedding jewelry in the post: Come Tour My Jewelry Box: My Wedding Jewelry Then & Now