For December, Artbeads offered through their Blogging for Beaders program the opportunity for us to try products from their Bali Bead line. Upon reviewing my choices, I decided to try & review the clasps.
You see, I am self-diagnosed with clasp-o-phobia: the fear & doubt of the functionality of most clasps on the market. I have tried different clasps in the past, including barrel clasps, toggle clasps, "S"-clasps, hook & eye clasps, etc…but none really impressed me or gave me a sense of security. I am one who hates the frustration of doing up clasps on bracelets, and also the feeling of a clasp that may become undone during regular use.
So because of this, I have stuck to using two tried and true clasps: the lobster clasp and the magnetic clasp. Although the lobster clasp can be tricky to get latched at times, the security you get from knowing that it is not going to come undone makes it a winner in my books. It's a clasp we are all familiar with, and can be used in adjustable bracelets and necklaces.
The magnetic clasp is a dream for us who hate to fiddle with clasping bracelets. The worst thing that has happened is it accidentally pinching my skin if it was too close to my wrist when the magnets come together. I also like to include a safety chain with magnetic clasps in case they become attracted to another metal object and possibly come undone.
So when Artbeads offered the opportunity to review items in their Bali line, I thought this was a good chance for me to overcome my clasp-o-phobia. Many of the Bali clasps are very ornate and add beauty to the piece. I also know from past experience with Bali products that they are sturdy & well made.
As you can see I am a bit late with December blogging due to the holiday rush, but here are the finished pieces inspired by the Bali clasps…
The first clasps I wanted to try were the toggle clasps. I immediately noticed how ornate & well crafted they were: very sturdy – great for big stones that I love to work with! They also had chain already attached which I appreciated. In the past, the sterling silver toggles I have tried did not contain a chain, and for me to add one was trial and error – sometimes too long, sometimes too short. These totally took the guess work out of it!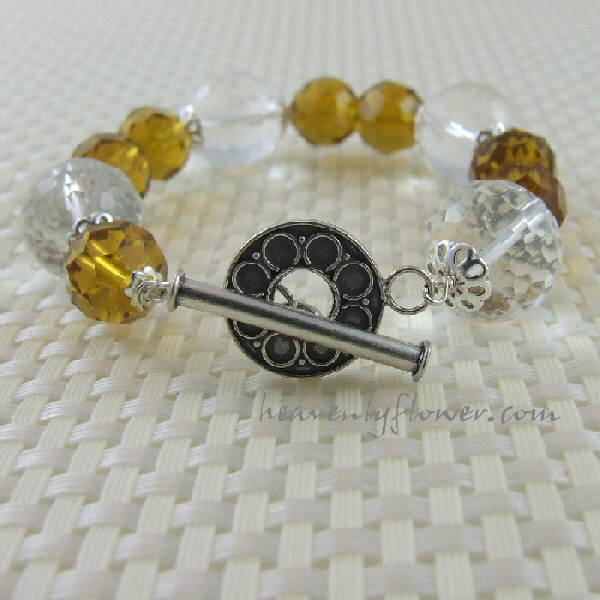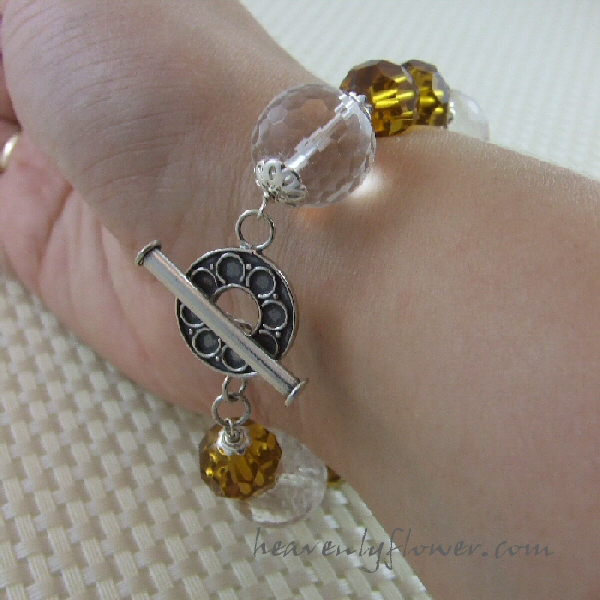 Above: toggle clasp with wire loops paired with 16mm faceted quartz & 12mm reconstituted smoky quartz beads.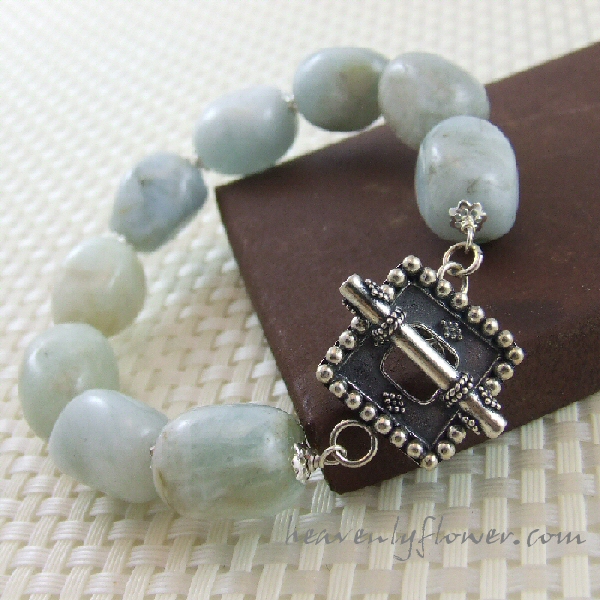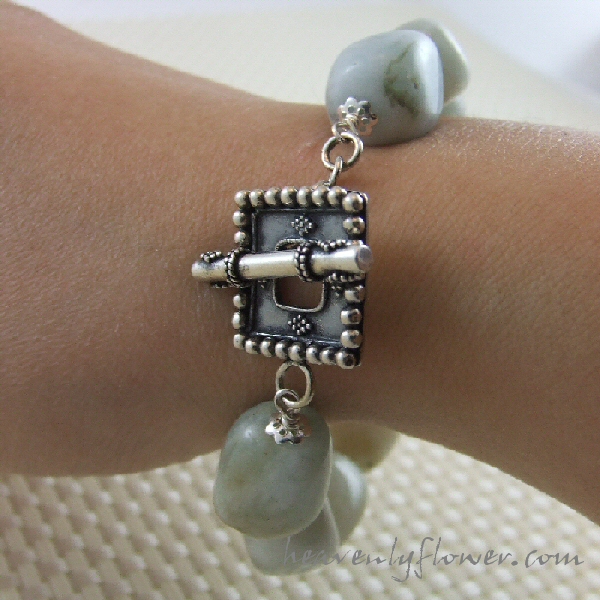 Above: square beaded toggle clasp paired with large aquamarine nugget beads.
The verdict: I *LOVE* these clasps…who knew the functional part of a bracelet could also be a focal point! Very easy to put on and pair well with large stones. You will probably find when buying a bracelet with a toggle clasp you will appreciate going up a size so to have room to maneuver the bar piece through the clasp. For example I usually make my bracelets 7.5 inches – the common ladies wrist size, but these are approx. 8 inches. I don't think I could comfortably get them on if I made them the standard 7.5.
Next I tackled designs around the "S"-clasps. At first, I found these clasps very frustrating. Again very sturdily designed, and very beautiful…but since they are made out of such a strong gauge of wire I found them very hard to get clasped & undone. Some slight manipulation with the pliers to loosen the "S"  part slightly, and success! A beautiful clasp that was fairly easy to use. A good shake and it was clear that these were very well designed: I was not worried of it coming undone accidentally.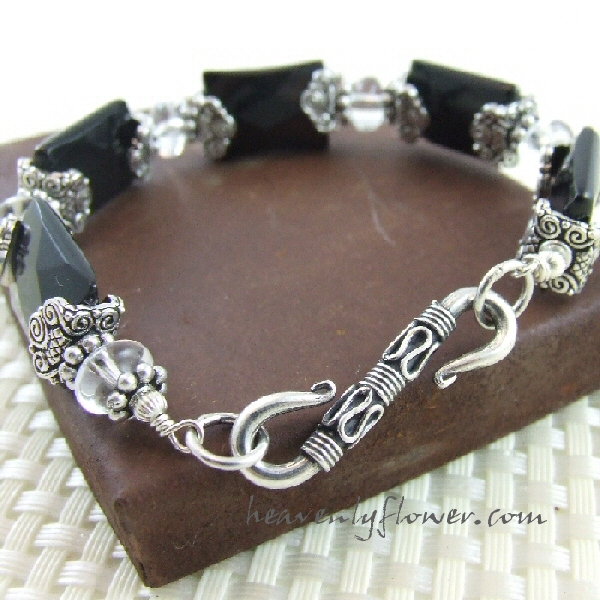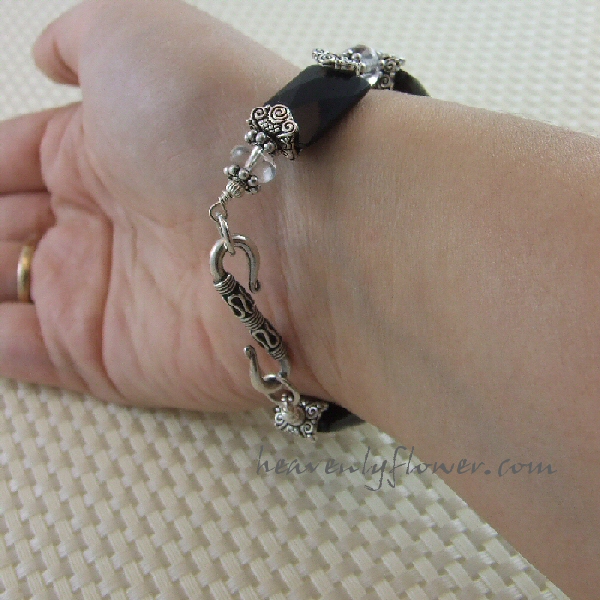 Above: "S' Clasp with double wrapped and snaked wire paired with square faceted onyx beads and pewter bead caps.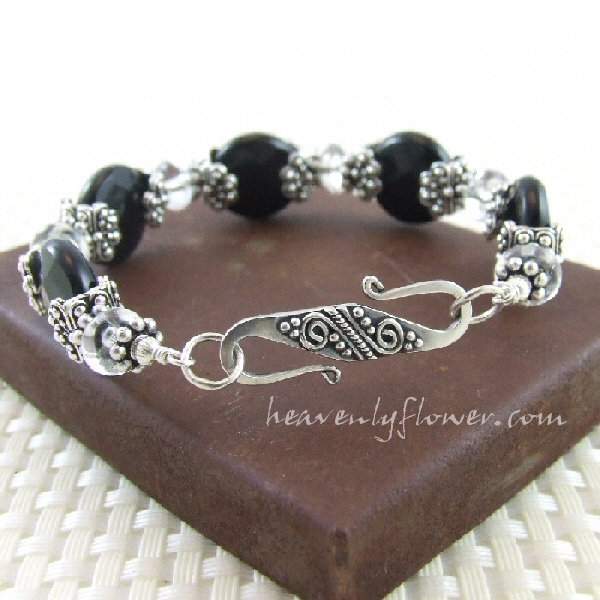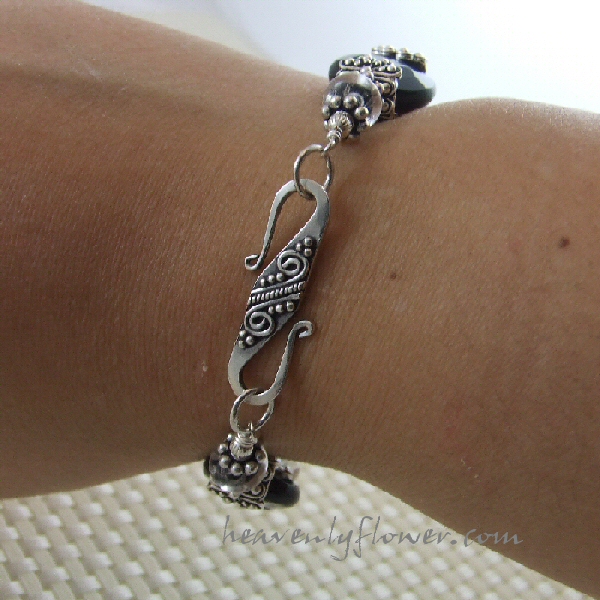 Above: "S" Hook Clasp with granulation & wire work with faceted onyx coins & pewter bead caps.
Finally, I tried the hook & eye clasps. I want to comment separately on these since all three were so very different.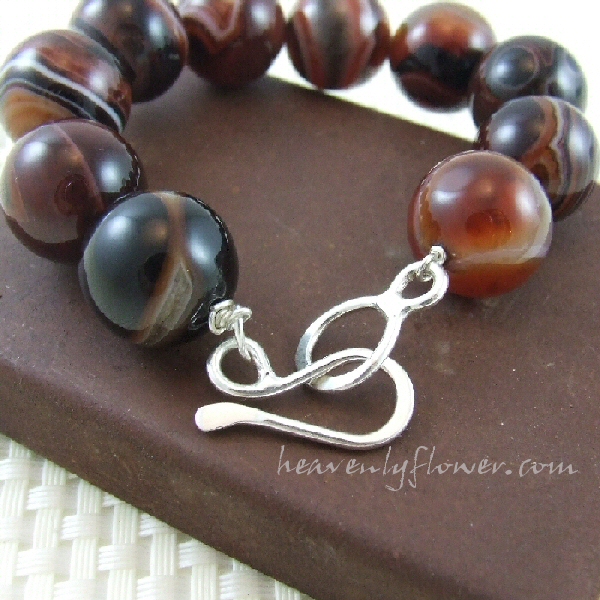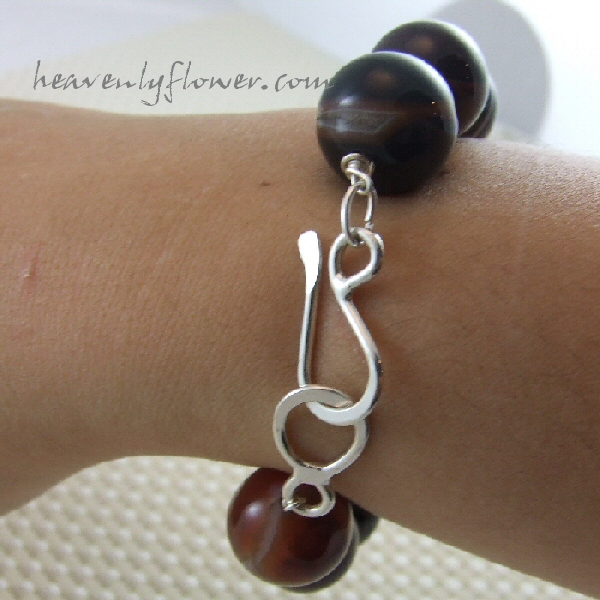 I was really excited with this Simple Hook & Eye Clasp. This large clasp works perfectly with larger stones, as seen above with 16mm red banded agate beads. Because of the size it is quite simple to use.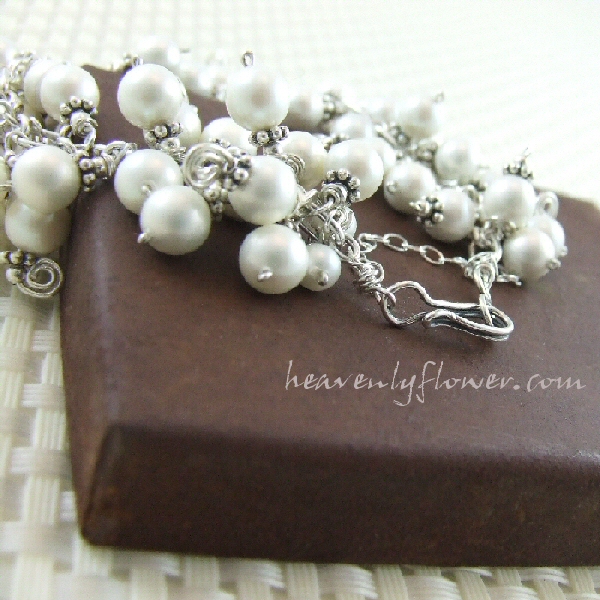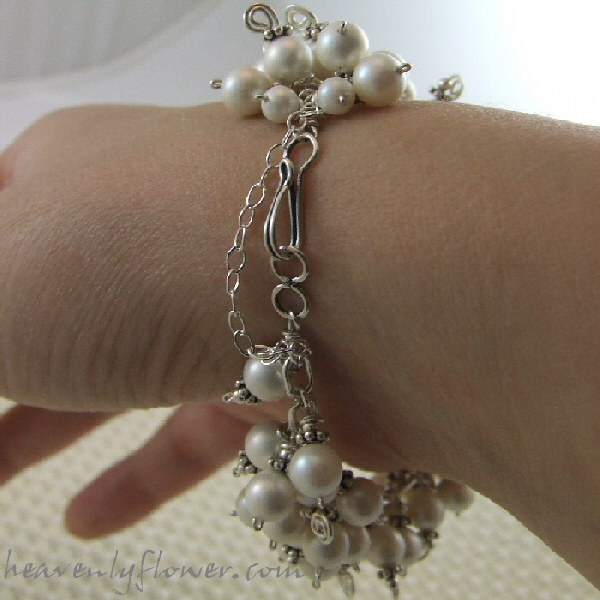 The Hook and Eye Clasp Set is the polar opposite of the previous clasp. Very petite and great when you want a clasp that is inconspicuous. It works beautifully with the bracelet above showcasing 6mm South Sea Shell Beads in Sterling Silver. I was happy to find this clasp very easy to use – definitely a good alternative to the lobster clasp and I will be keeping this one in mind for future adjustable pieces as well.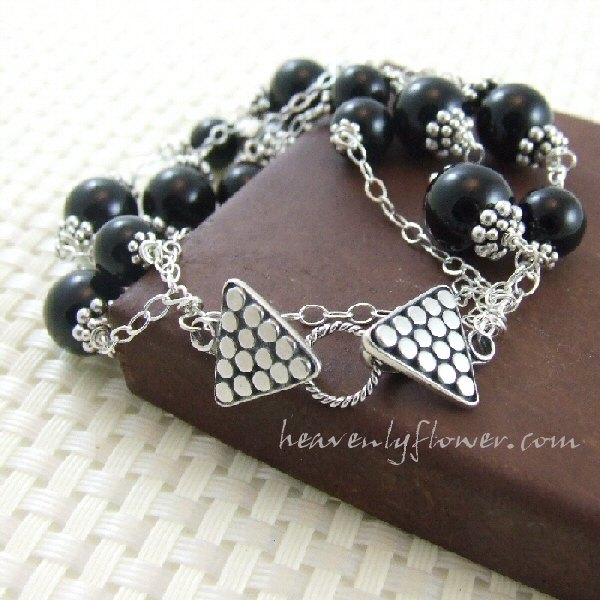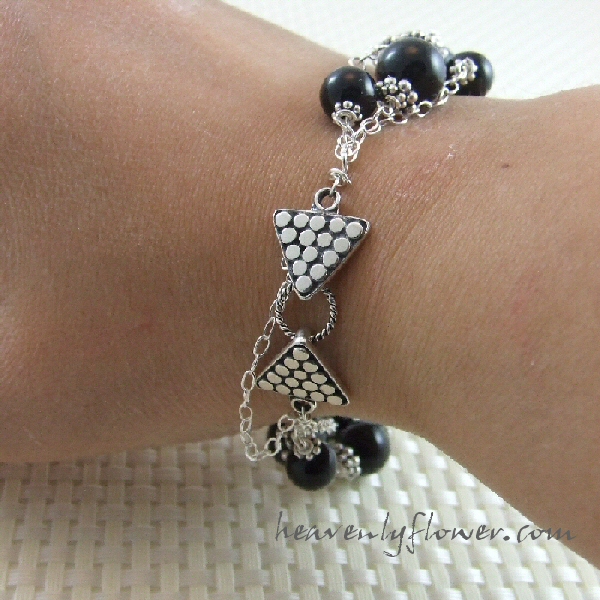 I decided to use the Triangular Hook & Eye Clasp last. I had a hard time deciding what to make with it, considering its design. I found it rather awkward to use. Although it was my favourite clasp esthetically, it was my least favourite in terms of usability. When I finally decided to make a three-strand sterling silver & onyx bracelet with it, I really had to bend the hook part out with my pliers in order to get the clasp undone & easily done up. Because of this I added a safety chain. But to be honest although it takes some practice to learn how to use this clasp, it wasn't so bad in the end. And it looks fabulous!