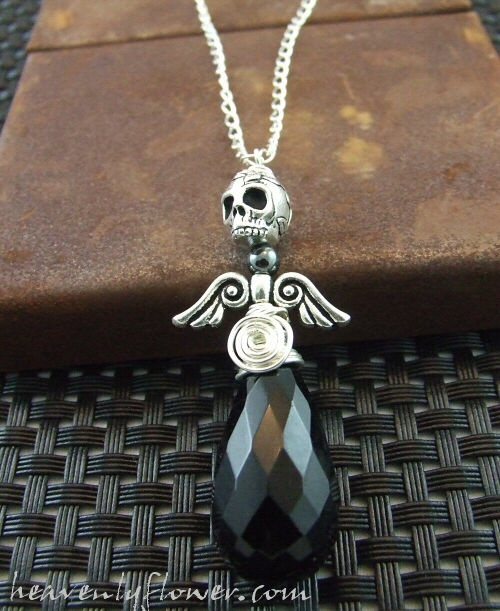 Halloween will be upon us very soon so I wanted to try my hand at some pieces inspired by the holiday.  The first thing I thought of was All Souls Day: Day of the Dead/Dia de los Muertos and the artwork/tattoos that are based around this theme. The second thing that came to mind was a goth/vampire feel. So the challenge was to create pieces based on left over materials I had on hand (since my Etsy & Artfire studios are the places where I list jewelry made mostly from leftover materials from past projects).
I bought these pewter skull charms on closeout awhile back, so I knew they would be perfect. Paired with some red flower beads & hematite I created these Day of the Dead inspired earrings: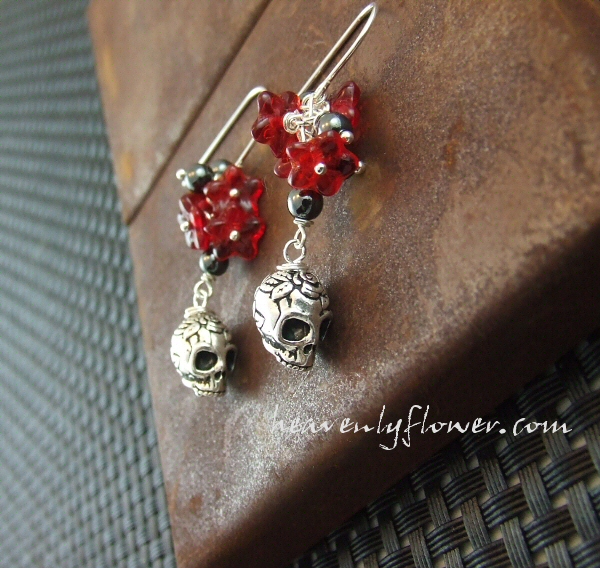 The red flower beads reminded me of the red roses I've seen in tattoos inspired by El Dia de los Muertos.
After those were constructed, I decided to go into a whole different direction. The words "fallen angel" kept popping in my head, as well as "Angel of Death". So I worked with this idea, again with the pewter skull pendants, adding pewter wings. I just needed the perfect "body". So for this time, I decided to wade through my "premium" (read: not leftovers) supplies as the hematite beads I had on hand just weren't cutting it. Fabulous labradorite faceted rondelles caught my eye quickly. They are a nice ghosty gray tone, plus the metaphysical properties seemed to fit. Here's what I came up with: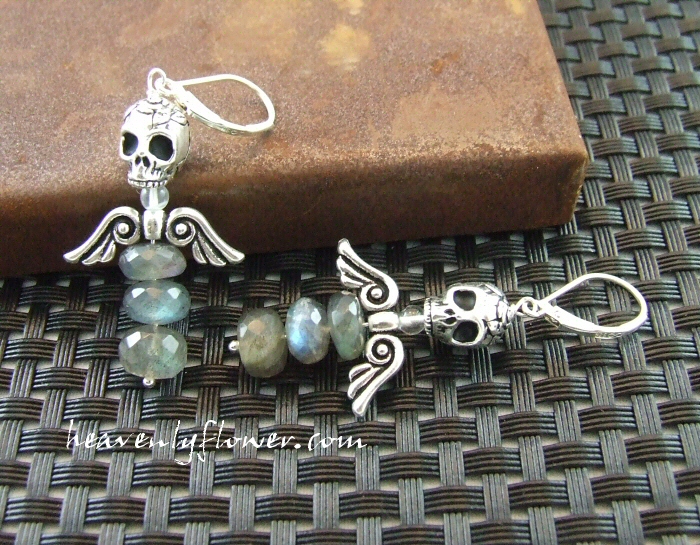 I used moonstone to create the neck of the "angel".
This soon had my mind working in the direction of a pendant. I have a few of these black (dyed) quartz faceted teardrops that I knew would be perfect for  the body. A little wire twisting and voila: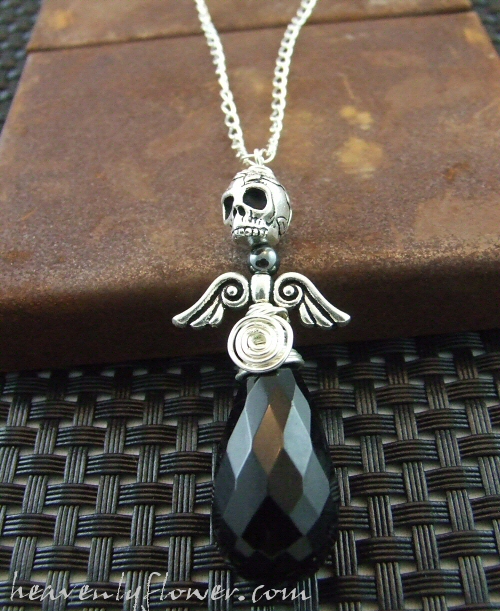 A 4mm hematite bead makes up the neck, & I used a 22 gauge sterling silver wire. I decided to hang it from a sterling silver chain so not to take away from the focus of the pendant itself.
What I really enjoy when making themed pieces – particularly when it comes to holidays- is to come up with a design that can encompass wear year round & not just for the certain event. I find if you are not careful, jewelry designed around a theme can appear costume-y (which of course is fine if you are designing costume jewelry!). I want to create something that could be enjoyed year round. I think with the right customer, these pieces can be enjoyed over & over again.
And you know what – I really don't find these pieces morbid. Perhaps because for me death is a transcendence of the soul, where we are reborn…although the body may die and flesh rot away. To me, that is beautiful…