"What you're looking for is not out there. It is in you."

– Author Unknown
Keeping Busy…
It always fascinates and amuses me, when I tell people that I've had a full or busy week that their automatic response is to express pity or wish me "better days ahead". I used to try to correct them by what I mean, but to them it just sounds like me justifying my miserable existence. 🤪🤣
These days, I just nod and smile. Little do they know, that I enjoy being busy with the things I love: being a mentor to my children, cooking meals for my family, sending a text to check in on a friend or relative, and of course my vast array of interests that make it seem like there is never enough hours in the day.
Creation with Purpose
I never create anything while in a bad mood. I tend to be in a meditative or at least a contemplative state as I work. To me it's called: create with purpose. I know I am putting good vibes out in the world with every piece I make, with every yarn I spin. This philosophy won't make sense to all if many, but it is what drives me to continue with my craft. With so much negativity in the world, much that I cannot control, creating something meaningful with purpose is in my control. So I leave social media and the mainstream media behind, and spend my time being inspired and loving life more.
A Clear Change
In the last couple of weeks, it became more clear how to structure my time and organize my products between the website and Etsy. Unfortunately smHauler has decided to close their doors as a promotional platform for handmade, which I can totally understand. So until I find the time to return to Ebay or another platform, It's just here and Etsy for now.
Etsy for Clearance, This website for new Items
Etsy will be my clearance house of sorts. When I have items that I want to clear out, I'll list it on Etsy, and mark it down. Each month will be a different rotating sale.
The website will be where all new products will be featured, especially yarn and fiber items. If I feel I have been hanging on to an item too long and I need to clear it out, I'll move it over to Etsy with a discount.
I won't be unlisting not-on-sale items from Etsy that I've sold for years, though I may allow some of them to expire.
It's tricky to have my pricing match Etsy when it comes to sales. I'm able to list items here slightly cheaper as there are no listing fees on my own website. Let me know if one of my items is cheaper on Etsy and I'd be happy to match it here.
If you are a US shopper, Etsy automatically converts my prices to USD, where the website is in CAD only. There is a converter at the bottom of the home page so you can calculate the cost in USD.
What's New
I've been playing with color in the studio these past few weeks and I have several new indie dyed yarns as well as some revamped jewelry products.
New Hand Dyed Commercial Yarns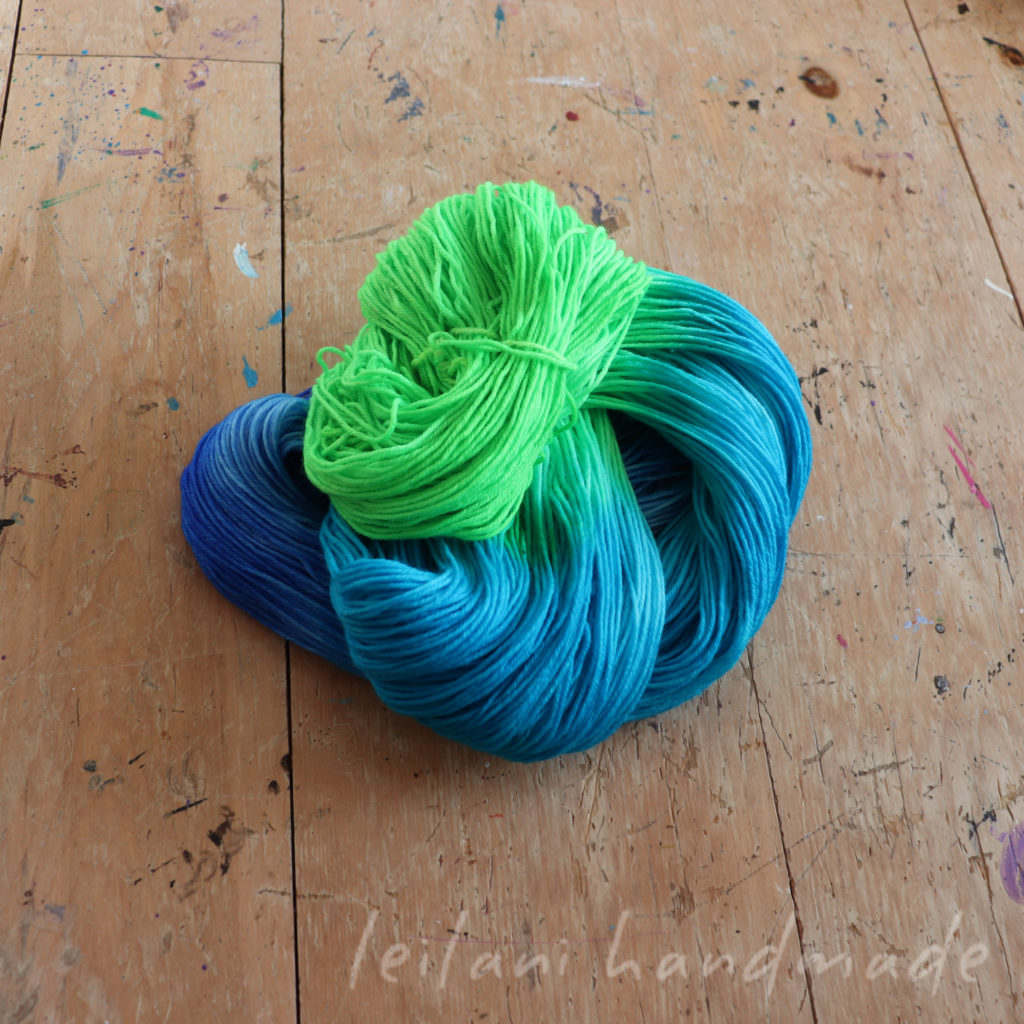 The commercial hand dyed section is starting to fill up with vibrant color! I want to be able to offer handspun and indie dyed commercial yarn for variety. Check out the Commercial Dyed Yarn section to see what's new.
Revamped products available again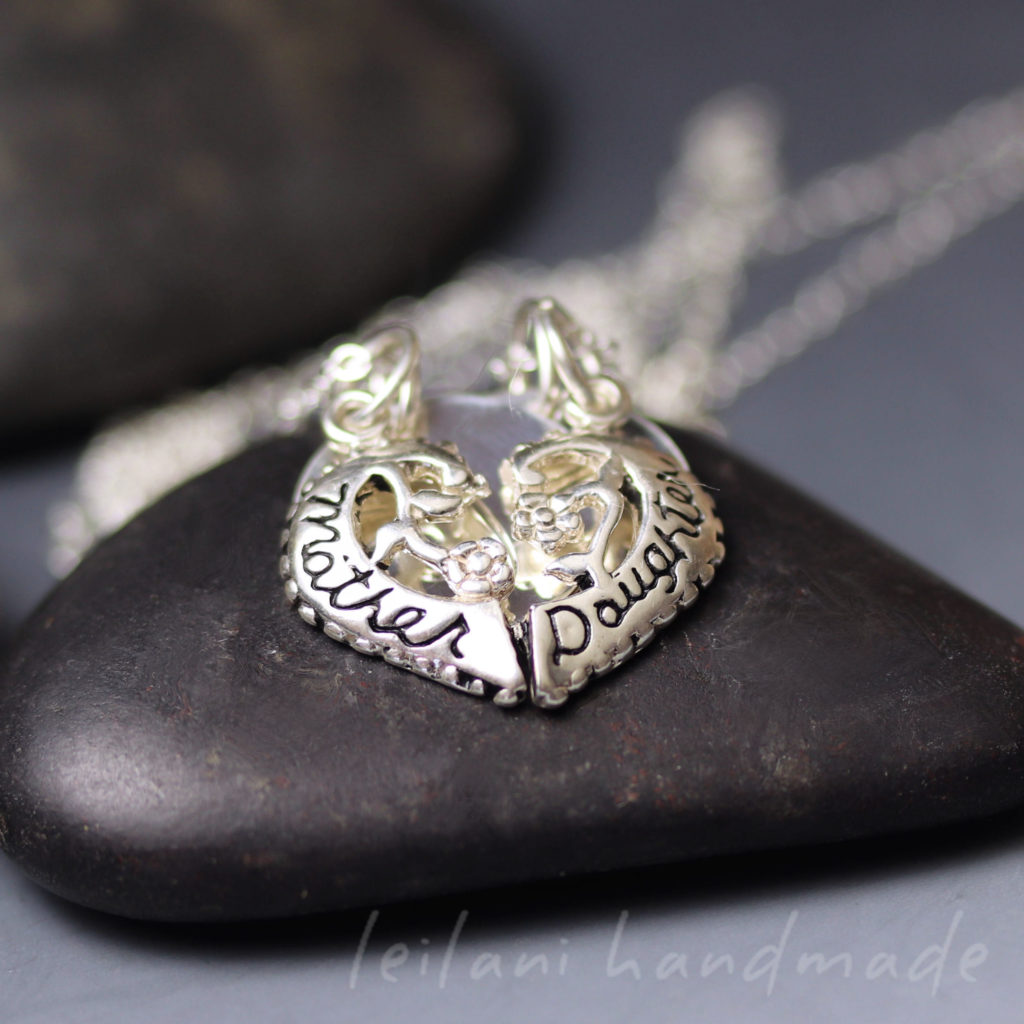 I decided to give these two necklace sets a new font for the engraved initial charms.
Check it out: Mother Daughter Matching Necklaces and Lil' Sis Big Sis Matching Necklaces
Revamped products available on Etsy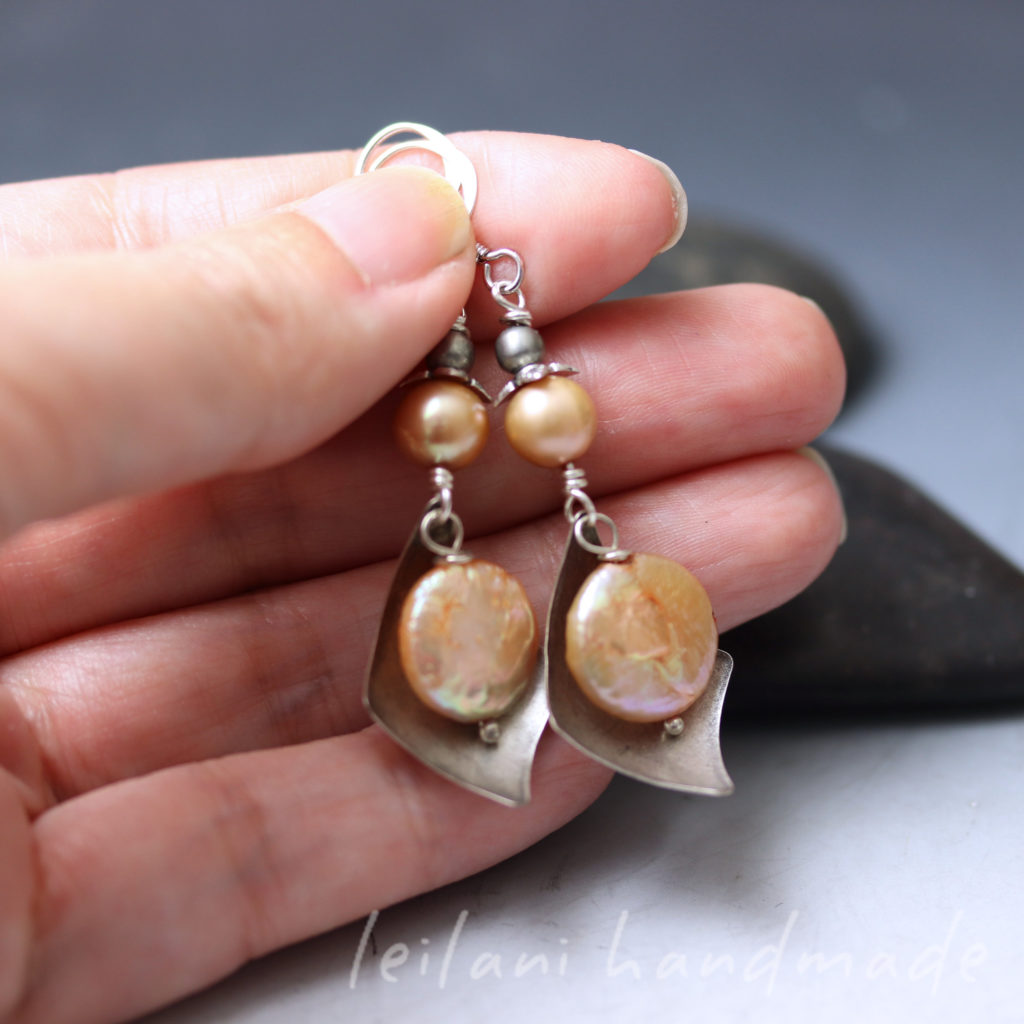 These fun earrings feature a metal diamond shape component that I hand domed. I just felt that the original weren't long enough, so I added an extra pearl or two to lengthen the dangle.
You can get the details here: Peach Coin Pearl Earrings and Abalone Shell Earrings
Sale/Clearance items on the website are available here. Remember that there are price breaks and discounts on most items if you buy multiples. Add the items to cart to see the final discount.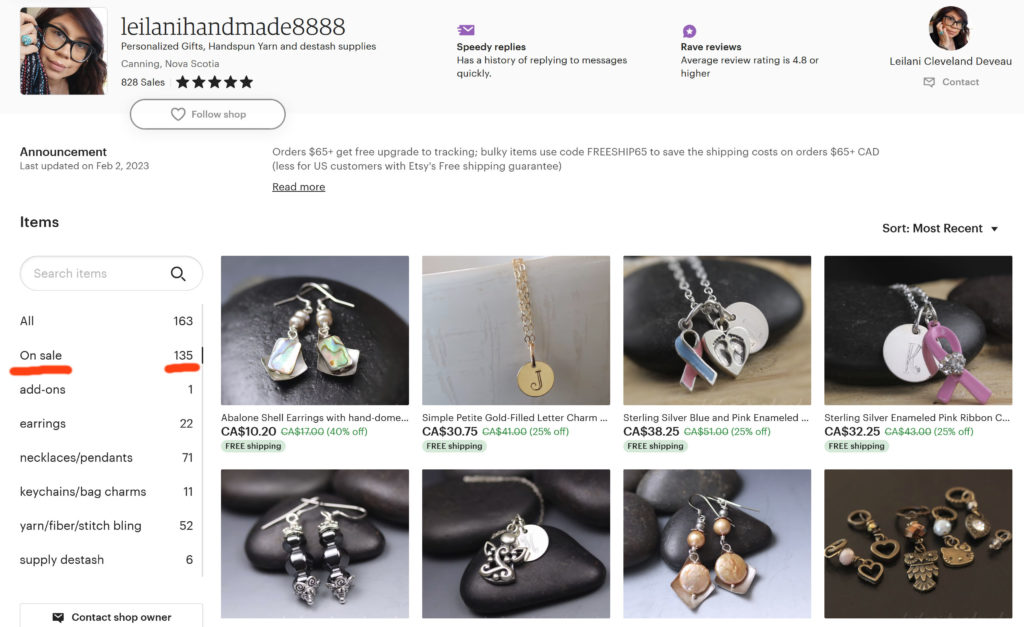 This month several items are on sale from 15% to 40% off in the On Sale section
What I'm working On
Have you read my post on 5 quick and easy hat patterns that work with handspun yarn? Unfortunately, I have not made any more hats since that post. Instead, I decided to get an Ashford SampleIt Loom and I've been enjoying playing around with this new tool! I'll probably do a separate post about it, but it was incredibly simple to set up and get started, and should be a good way to use up some old handspun.
I decided to get the smaller, 10 inch size even though the next size up was only $20 more. I like the compact design for easy storage. For my intent and purpose, this will do just fine. I purchased mine from The Fibre Garden in Ontario even though I could purchase it here in Nova Scotia, simply because I have received exemplary service from John & Alan in the past. And bonus: I ended up getting a lacquered loom for the price of an unfinished one!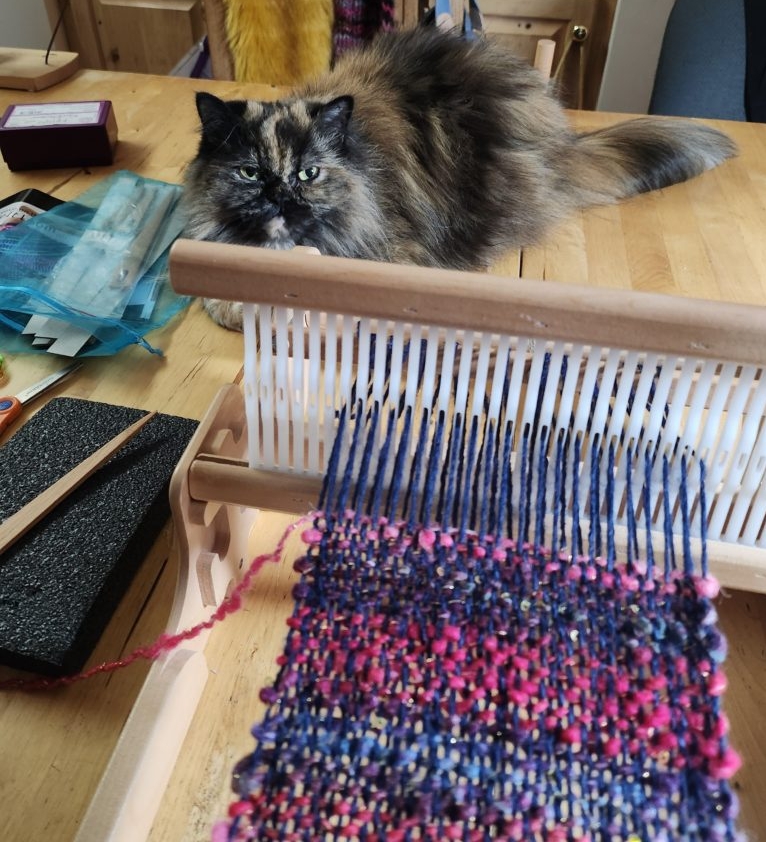 Current Spinning Project: Vegetable Fibers
I haven't spun in a couple of months, and that is odd for me. To get back into it, I decided I would do a case study of sorts with several vegetable fibers that I have yet to spin. In the past I've spun bamboo, cotton and tencel (a man-made fiber derived from wood pulp). I'm currently spinning rose and soy, as well as spinning bamboo yet again. I'll also spin cotton and tencel so I can get a true comparison of all. The rose fiber reminds me of bamboo or silk, while the soy fibers feel a lot like cotton.
I also have milky mohair, ramie and linen to spin. Hopefully I can do a bit a day. One thing I am very excited about is that I am finally getting comfortable spinning from the fold which is something I always felt a bit awkward with. Practice makes perfect, as they say.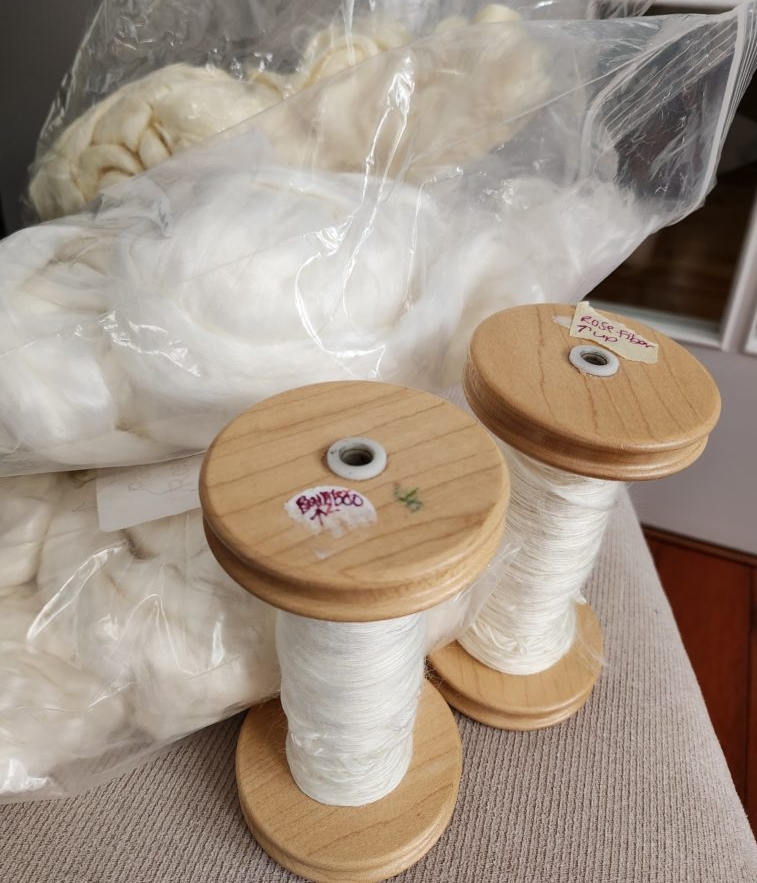 Prepping for Natural Dyeing
When I started dyeing yarn and fiber, it was always the goal to try natural dyes. The process seemed daunting to me in the beginning so I decided just to stick with conventional commercial dyes until I felt comfortable with that. Now when I browse my dyeing books and literature, something has "clicked" in my brain and I can't wait to give this a try this spring/summer.
I want to dye outdoors until I understand more the risks of all the ingredients, including some of the mordants. Natural doesn't mean non-toxic, afterall…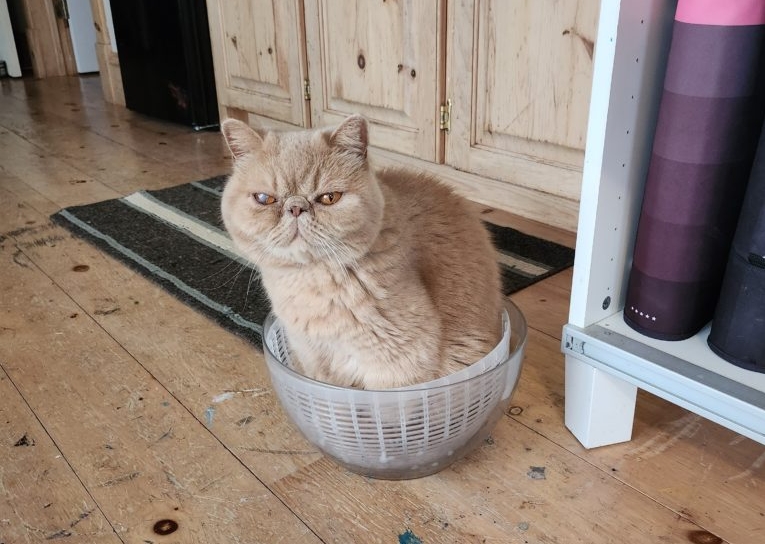 Now you see what it means to be busy in my world, and hopefully you can understand why I feel like I'm living a purpose driven, creative life. Hopefully this inspires you to take up or continue on with a passion. You need not be saving lives or have a million social media followers to make a difference in the world. Doing what you love shifts your mood and raises your vibration. Imagine what happens when more and more people find their purpose, no matter how "ordinary" or "mundane" it seems.
There are many ways to make the world a better place. Start with you.