"If you hear a voice within you say 'you cannot paint,' then by all means paint, and that voice will be silenced."

– Vincent van Gogh
Now is the time
When I left the corporate world to explore a creative life, I was secretive and embarrassed to admit it. It didn't feel like people took what I did seriously. And who can blame them? I gave up a steady salary and the "prestige" of a career to stay at home and play with beads!
Never before in recent history has it been more important to inspire and create. That is my (humble) opinion. It comes from both my intuition and observation. After the past few years, the world needs YOU. Your inspiration. Your creativity. Your positivity introduced by what you create.
If there was anything you've ever wanted to try to do, now is the time. That creative energy will help off set all the chaos and negativity that seems to be relentless these days. We can start a creative renaissance!
What does it Mean to Create?
To create could mean well, just about anything. If you are not into an art or a craft, create a beautiful space to share with friends. Put an intention forward to support others, even if it just means smiling at strangers in the grocery store.
Imagine if everyone created something beautiful and positive every day. No matter how small, it doesn't matter! Take it a step forward and be brave enough to try that new skill or hobby you always wanted to.
Some Days are Harder than Others
I know not all days are inspirational. Today, I didn't feel like creating or being positive. Instead, I replanted my seedlings into bigger containers. It's not what I wanted to do, but by the end of the afternoon I felt a sense of satisfaction for channelling my negative feelings into something productive (and thus, positive).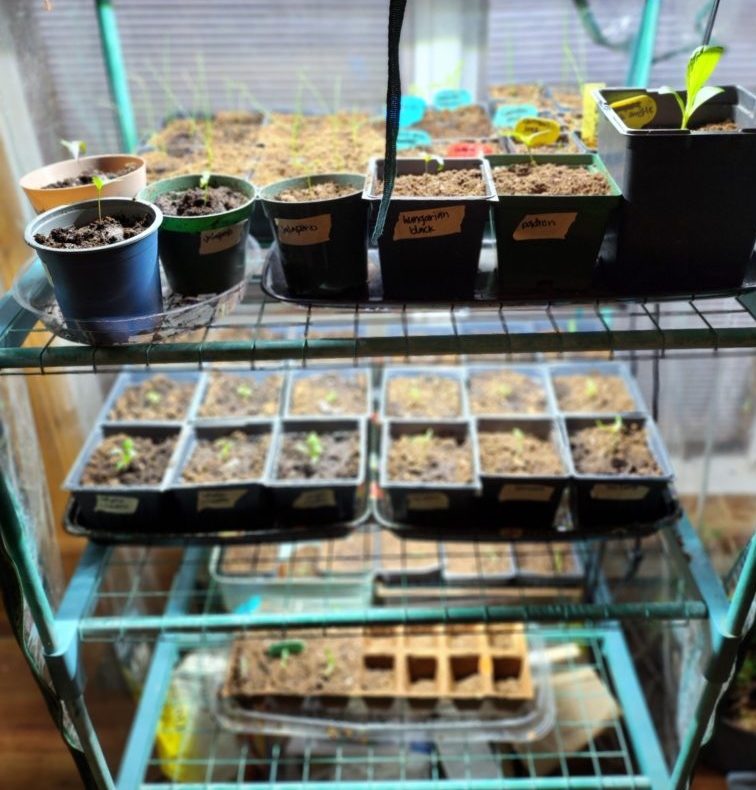 March Update
Follow me on Pinterest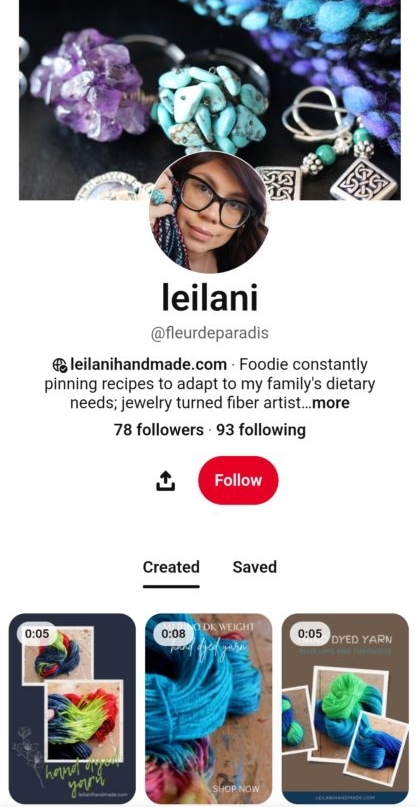 I no longer use social media actively. In 2020 I completely abandoned Facebook and Instagram and I'm not sure if I'll return. But I've been thinking about putting up pins of my creative work on Pinterest. The other day, after doing some research and watching some YouTube videos for advice, I decided to go for it.
Pinterest is more of its own search engine than a social media platform. I use it almost daily for recipe inspiration. So, it seems a good fit for me. I also like that they encourage individuality and expression but in a positive way. If you use Pinterest please give me a follow.
I may consider social media platforms where artists and creative types tend to gather. But for now, the Meta brand is just unpalatable for me.
What's new
New Bouclé Yarns
I enjoy spinning bouclé and have amassed several skeins. So I decided to list them as 1 listing where you can browse all that is offered on one page. Some are mohair and some are Wensleydale, and some are plied with cotton while others are plied with silk thread. Descriptions on each available when you choose a skein from the drop down menu.
These yarns are available here on the website only. I only list clearance yarn items on Etsy. I'm happy to entertain offers for bulk amounts of yarn or payment by barter.
Revamp: Celtic Braid Earrings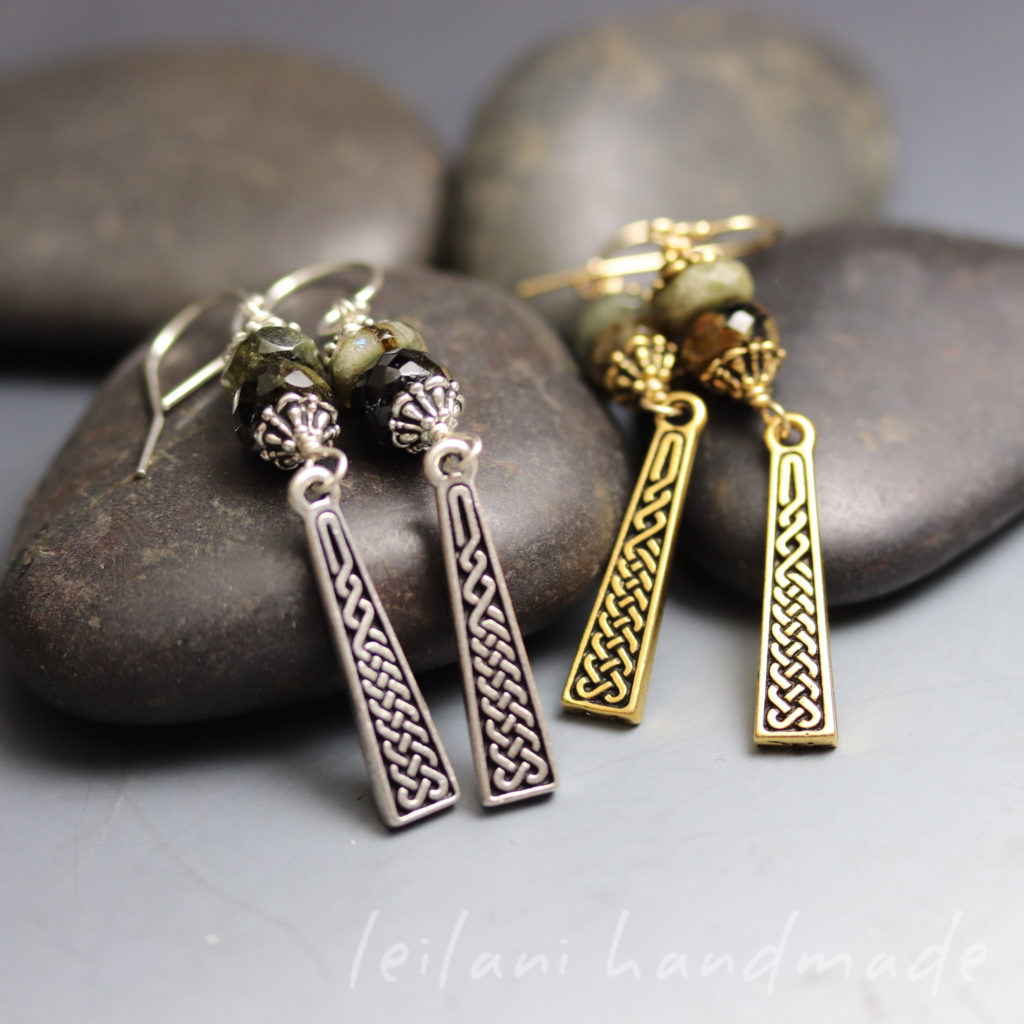 These earrings have been available for many years, and originally you got to choose from either Malachite or Onyx beads as accents. I felt that they needed an updated feel, so I decided to pair them with this amazing faceted green tourmaline. Honestly the pictures don't capture all the beautiful nuances of these gemstones. I'm pairing the silver version with tourmaline that have more of a grey-green tone, whereas the gold has stones that have a more yellowish green tone. Each has an element of either grey-brown or honey-brown as well. I'm really happy with both the look and the feel of these earrings.
New On Sale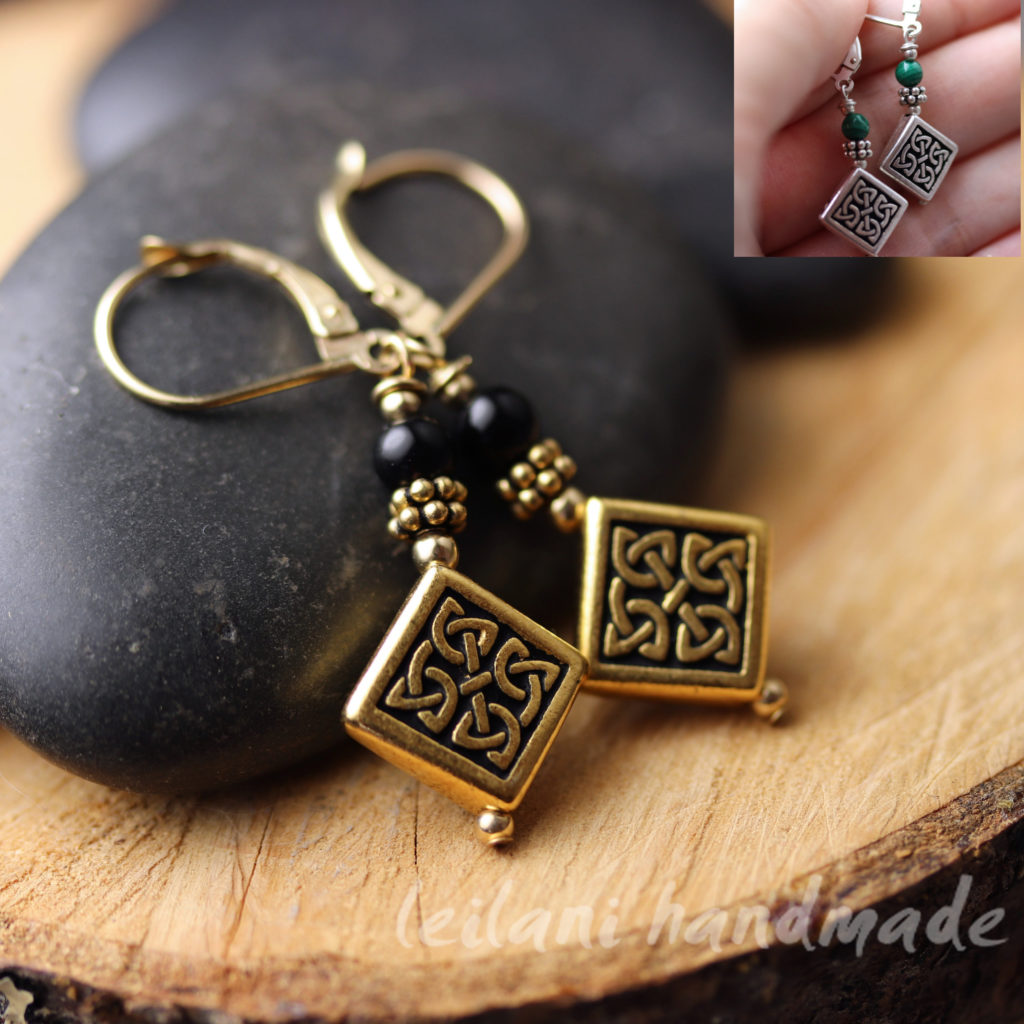 I've added some new products to the Clearance section. I want to retire some older designs, while others are on sale for a limited time.
What's New on Etsy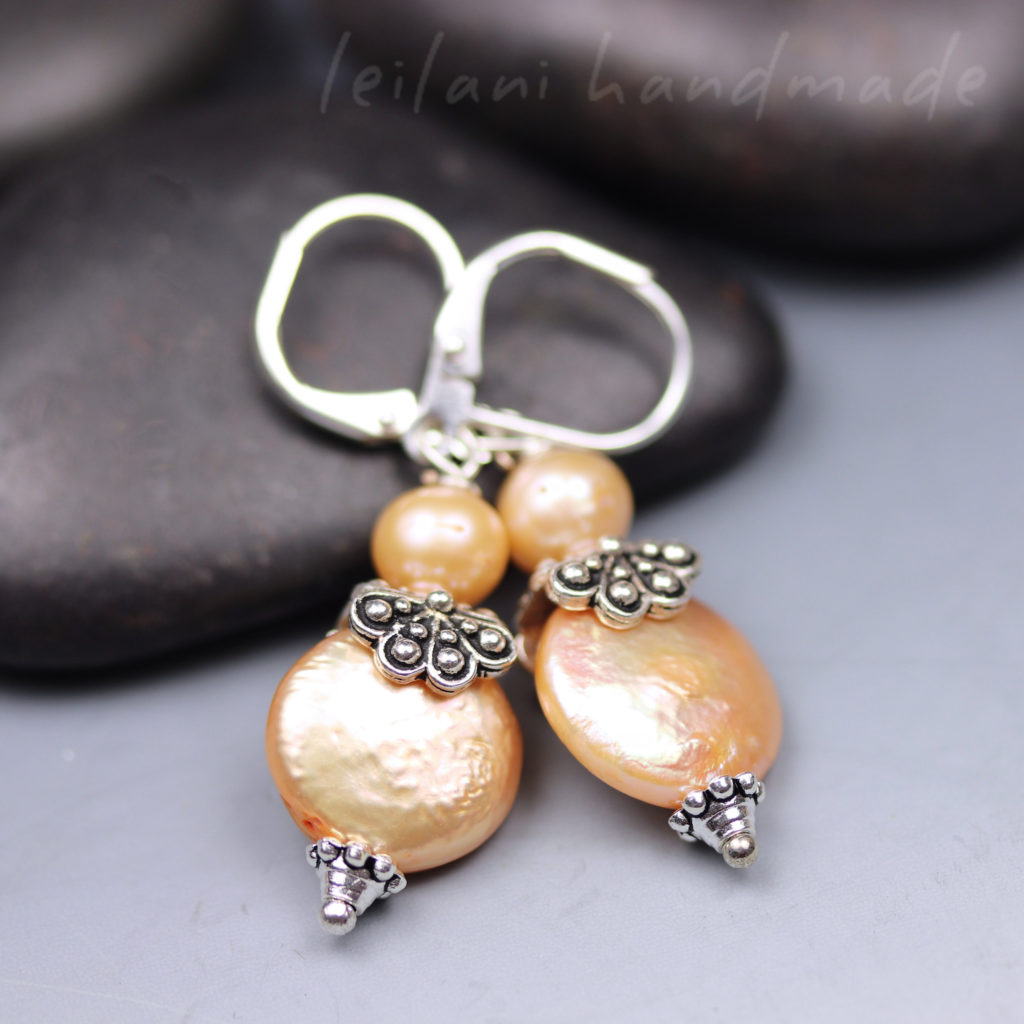 I like to list the one of a kind and limited edition items on Etsy. I typically mark them down right away, and I find Etsy a better audience for these type of items. New this month:
Peach Freshwater Pearl Leverback Earrings
Jade and Tigereye Leverback Earrings
Marble Amber and jade Leverback Earrings
Moukaite and Jade Leverback Earrings
Turquoise Chip earrings on Long Gold-Filled Kidney Wires
What I'm working on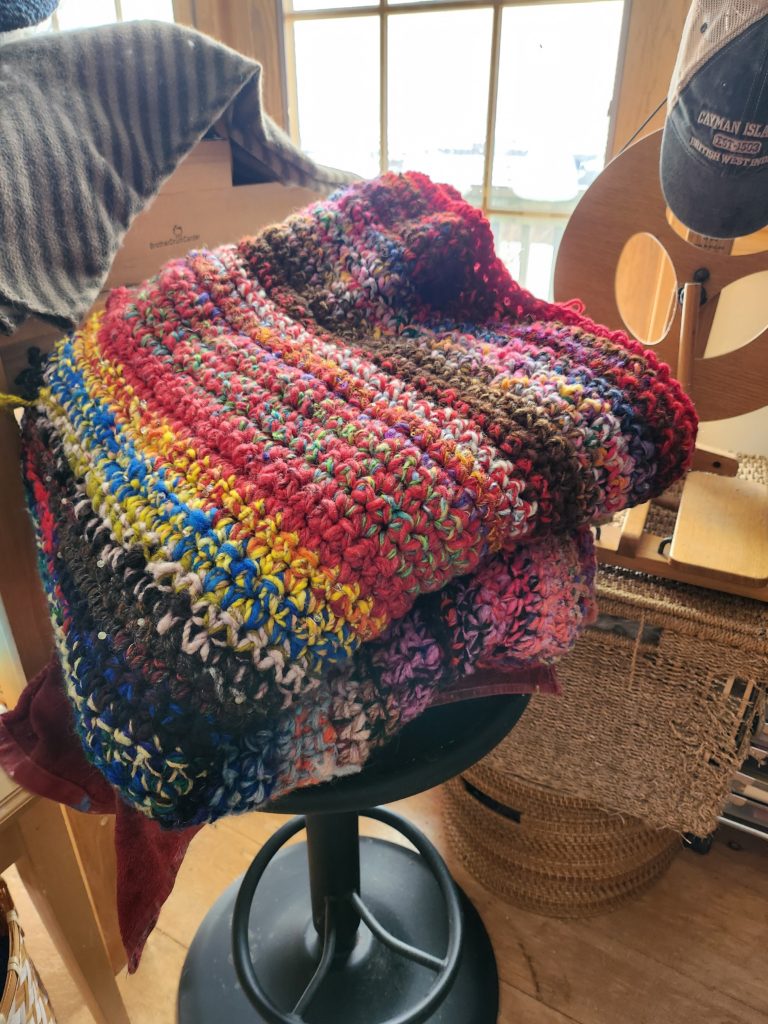 I took an entire week off this past month to just work on personal projects. One is this massive it-was-going-to-be-a-rug, now it's an "ugly" weighted blanket.
I started this project several years (!!) ago, and I have not done any work on it in the past 3 years. I wanted to preserve some of the first yarns I ever spun. Bulky, uneven and of a tougher texture, I think most knitters would tell me to discard it.
Practice Makes Perfect
In order to get good at something, you have to practice. A lot. And for the first 3 years when I was teaching myself to spin, I spun just about every. single. day. Unless I was gone overnight or had a migraine, I was spinning. Back then I wasn't spinning merino or any of the finer top rovings. It was a lot of cheap wool rovings that I now realize aren't that easy to spin! In retrospect I am really glad that I learned to spin on such challenging fiber, because it makes me a more versatile and nimble spinner today.
…the rest becomes an Ugly Blanket
But throw it away? Is it really good for nothing? It's wool, it came from an animal (mostly small farms in New England) and it needs to be respected. So at first I thought I'd make a rug out of it, but I misjudged the size since I'm crocheting holding 2 strands of this bulky yarn together. Now I'd say it's turning into a delicious weighted blanket.
Not so Ugly Afterall
I have to pause this project for now because I'm running out of yarn! There are a few older skeins that I may want to experiment on my SampleIt loom. Once I determine that, I'll pick it up crocheting this monstrosity once again. But as you can see below, the ugly project is not so ugly after all!
This is just single crochet using a size N hook.
New Reeds For the Ashford SampleIt Loom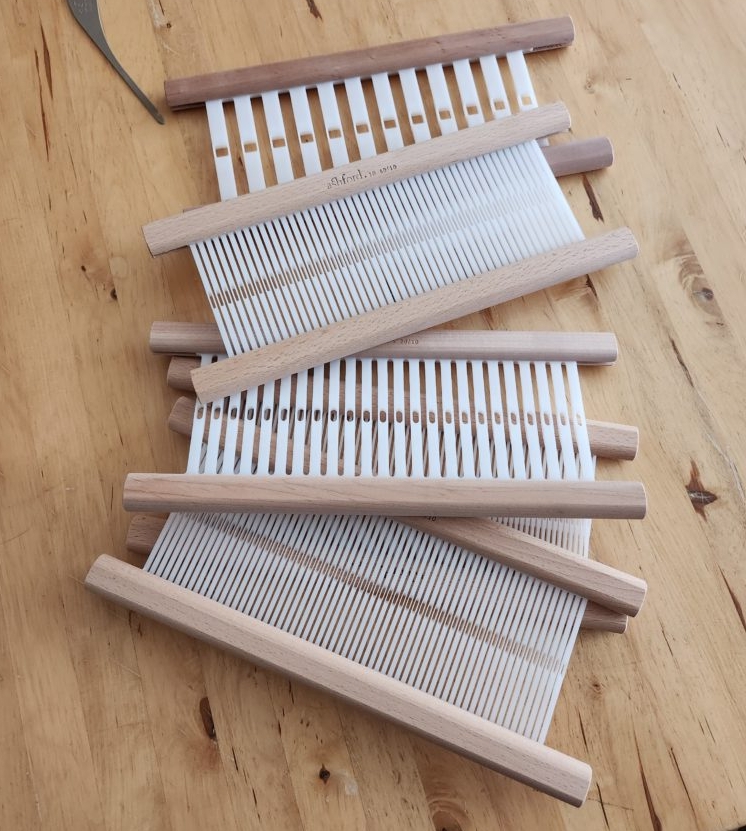 I'm really enjoying my little 10 inch SampleIt Loom. So much so that I had to have every reed available for it! So I contacted John & Alan at the Fibre Garden in Jordan, Ontario and John responded that they did indeed have them all in stock (or would be in stock shortly). By the following week, I had all the reeds.
And wouldn't you know, I haven't had the time to play with them, yet! The goal will be to try each size and do a mega SampleIt Loom post, with video! Fingers crossed it will happen this year (ha ha!).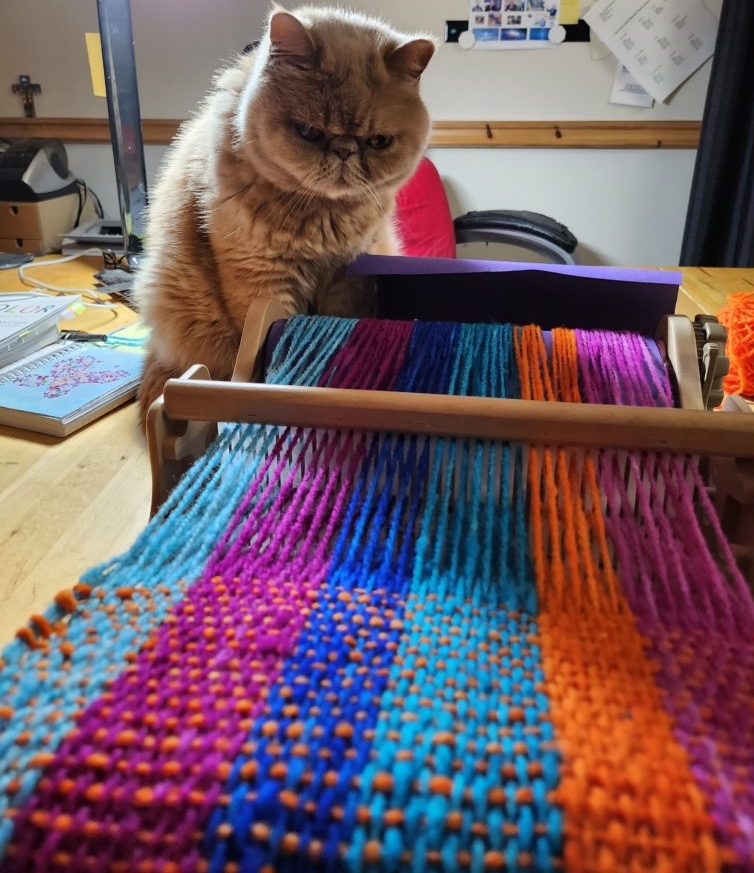 What is Inspiring you?
I hope this month's post inspires you to get started with creative projects you have been meaning to start or have put off finishing. Can I assist you in any way to get started? Offer you an encouraging word? I've been a maker for a very long time, and it has so enhanced my life in ways I can never truly express. At one time, I could sincerely say, creating saved my life! This was long before I ever delved into the fiber arts.
I'm always open to chat, so please leave a comment or drop me a line any time!
We all need a purpose and a drive toward something positive. At first creative work may seem a waste of time in a society that puts so much emphasis on "the grind". But I promise you the enhancements you will make in all aspects of your life will make it worthwhile. I'm living proof…