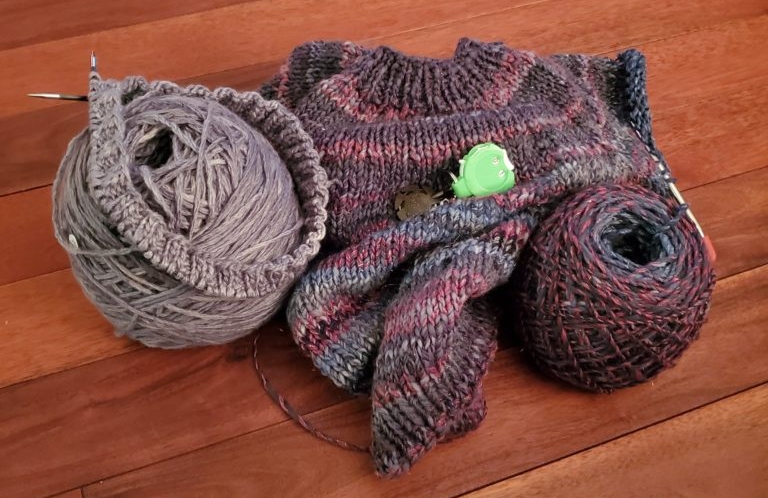 "The intuitive mind is a sacred gift and the rational mind is a faithful servant. We have created a society that honors the servant and has forgotten the gift." – Albert Einstein
My week at glance, at least the creative projects I've tackled this week anyway! It's getting close to the Christmas holidays and thus my "me" time is limited. Still, I have made the commitment to invest in myself more. That means more time for my personal projects and goals. Including, listening more to my intuition, trusting in myself and slowing down to hone my gifts, both physically and spiritually.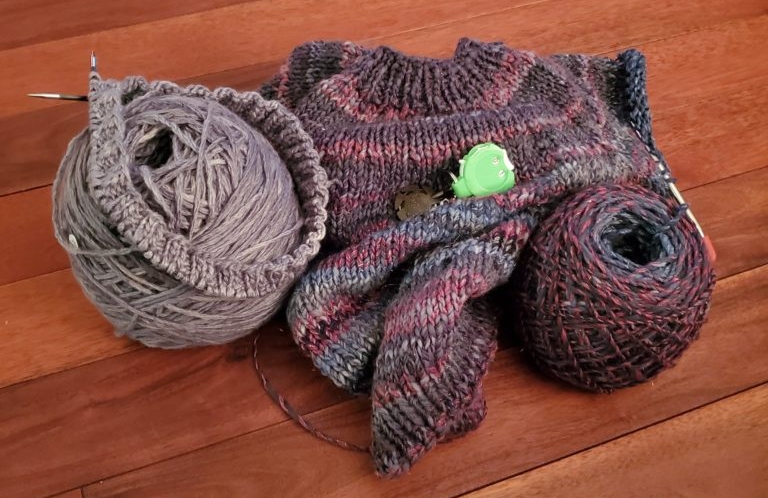 Most Satisfying Moment this week
My most accomplished moment this week, was getting my yarn backlog sorted, tagged and listed. It is always a job getting my handspun weighed, measured and priced, not to mention photographed! Descriptions are also hard. I really wish there was a way you could touch and experience my yarns with all your senses. I am quite confident that you would be intrigued and excited to work with my fiber creations.
You can view all my yarns offered in the handspun yarn section. I also have most of my yarn available for sale on etsy, but the full compliment is available on this website.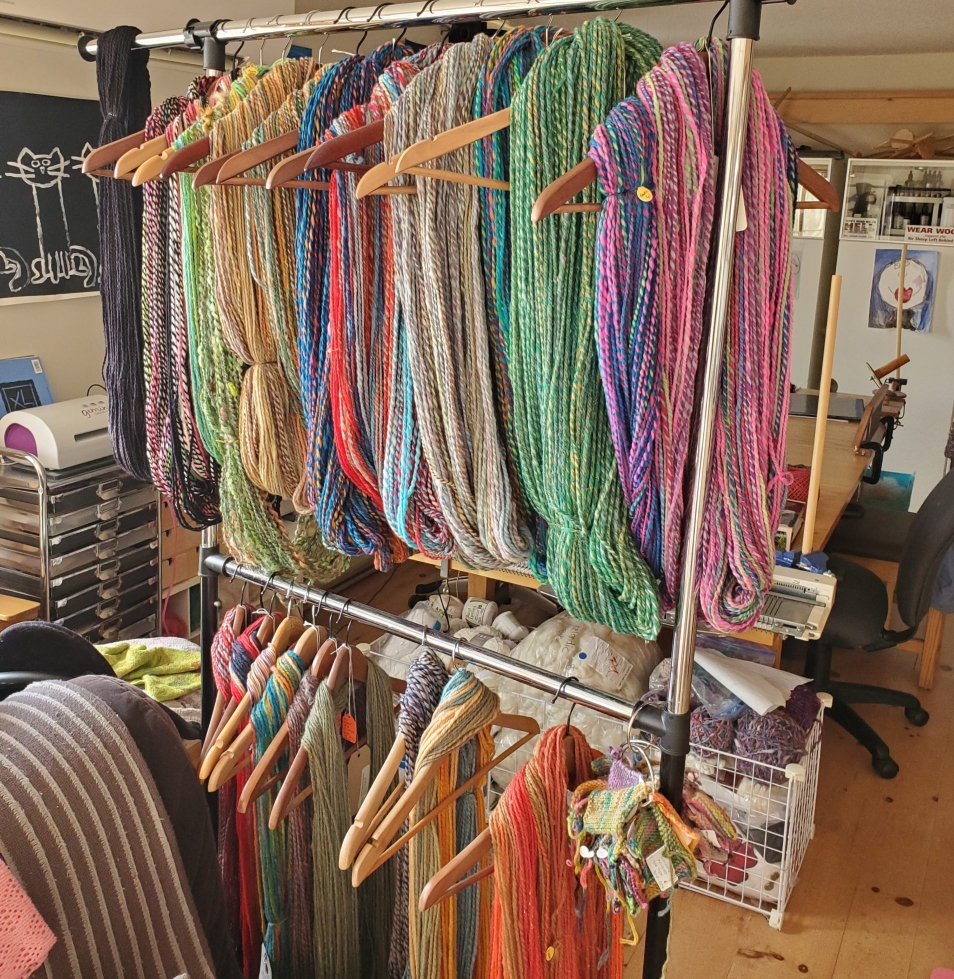 Some of the New Yarns at a Glace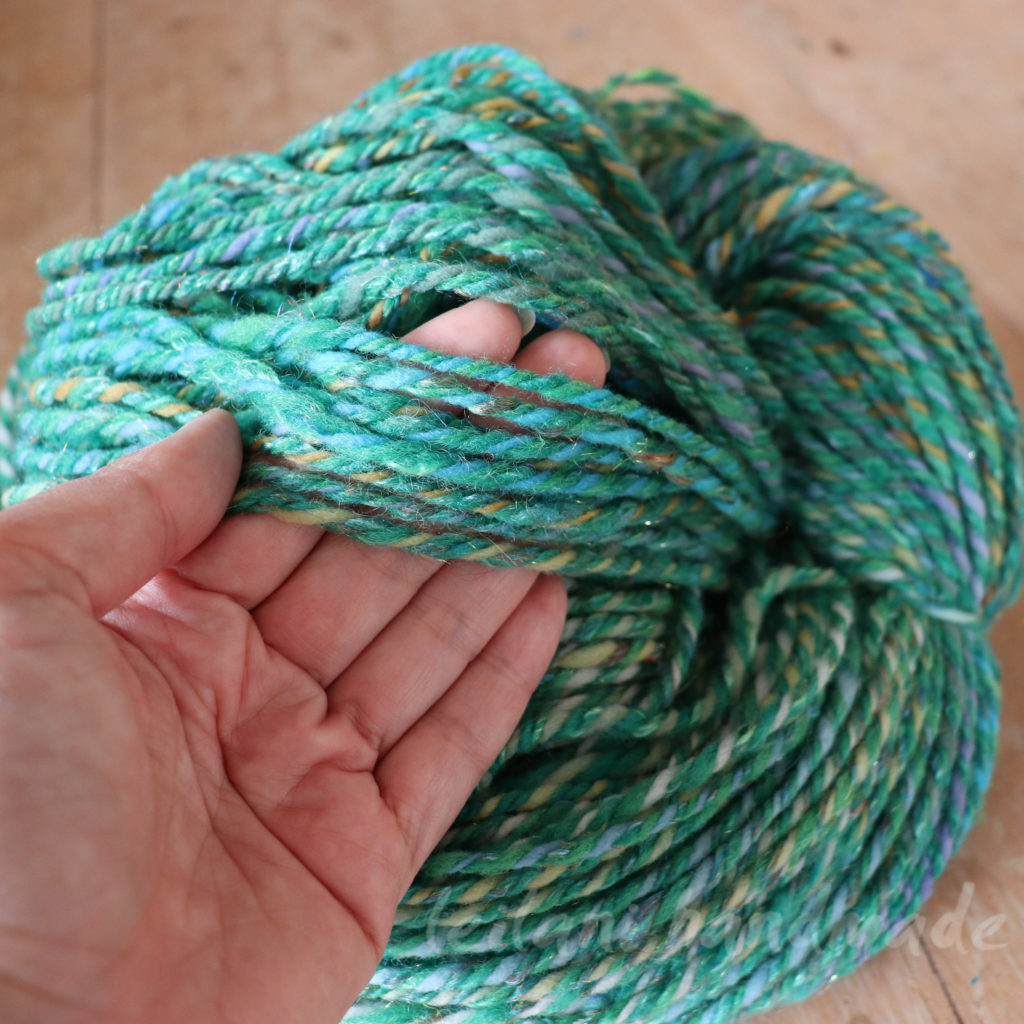 Yarn Revamp
One reason why I love working with fiber, is that it is incredibly versatile. Not just for the items that can be made with it, but for the fact you can revamp it if you are unsatisfied with the finished project. Like this handspun superwash merino & tencel.
Tencel is a cellulose based fiber, so it's very much like bamboo or cotton fiber. I blended tencel and merino together and spun it, I assume for socks but I really can't remember why now. Sometimes I just want to experience spinning blended fibers.
After spinning I dyed the yarn. Tencel being a plant based fiber will not dye with acid dyes, so my thought at the time was to leave the tencel showing as little bits through the wool. In the end, I didn't like the effect and shelved the project.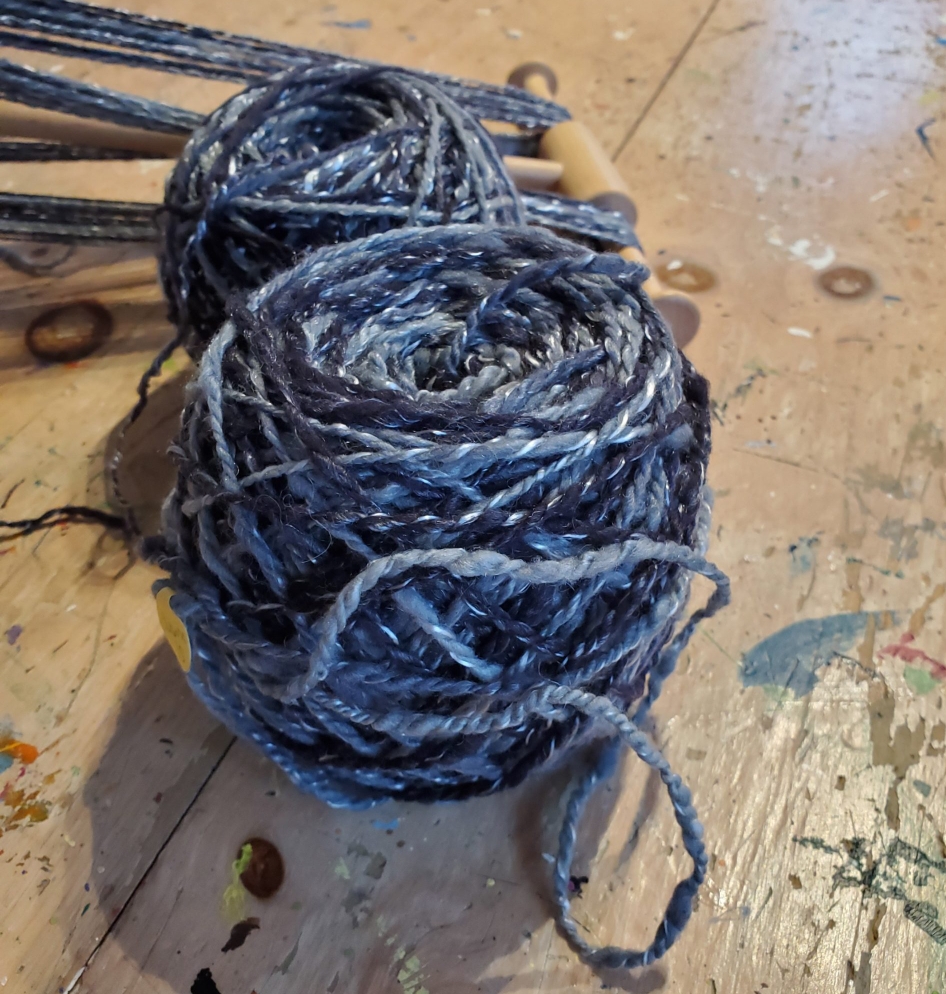 So I decided to re-skein the 2 balls and have them take a bath in MX Fiber Reactive dyes. This dye will work on the tencel but leave the merino wool unchanged. I did a mix of slate and grey, and set the yarn to dye overnight. You can read my post on dyeing cotton yarn for more info on dyeing plant based fibers.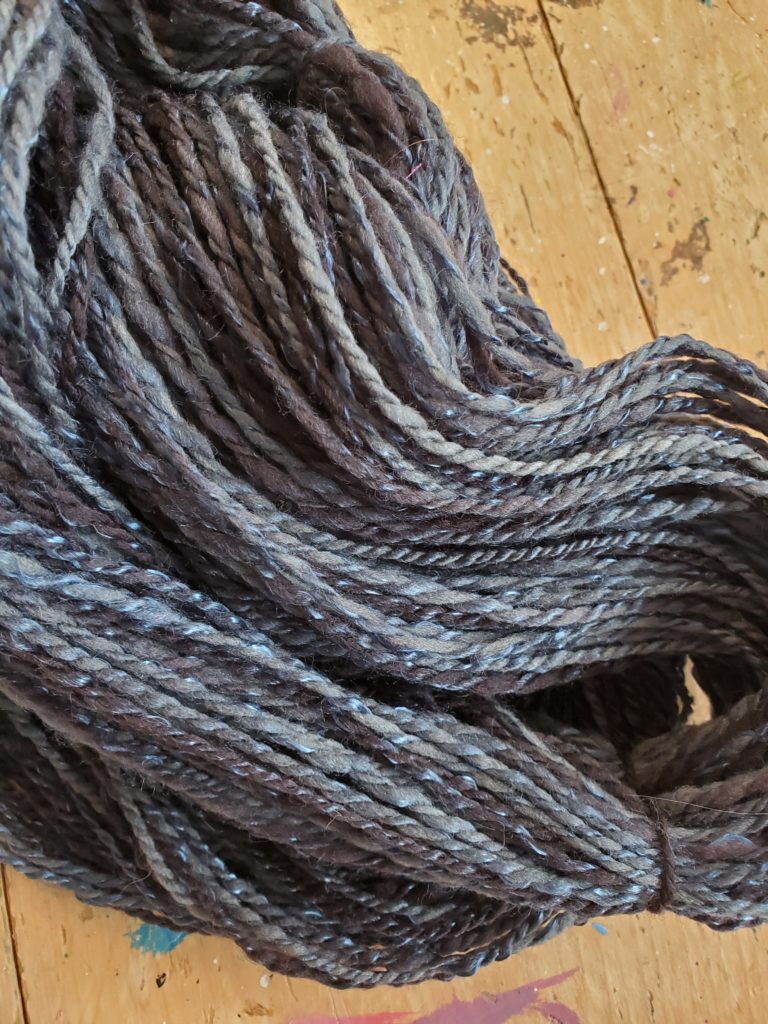 After the yarn was rinsed and dried, I loved the grey-blue bits of tencel showing through.
A note on tencel: although tencel is cellulose based (derived from wood pulp) it is technically a man-made fiber, so not exactly "natural" as bamboo, cotton or wool would be.
Experimenting With Setting Yarn with Steam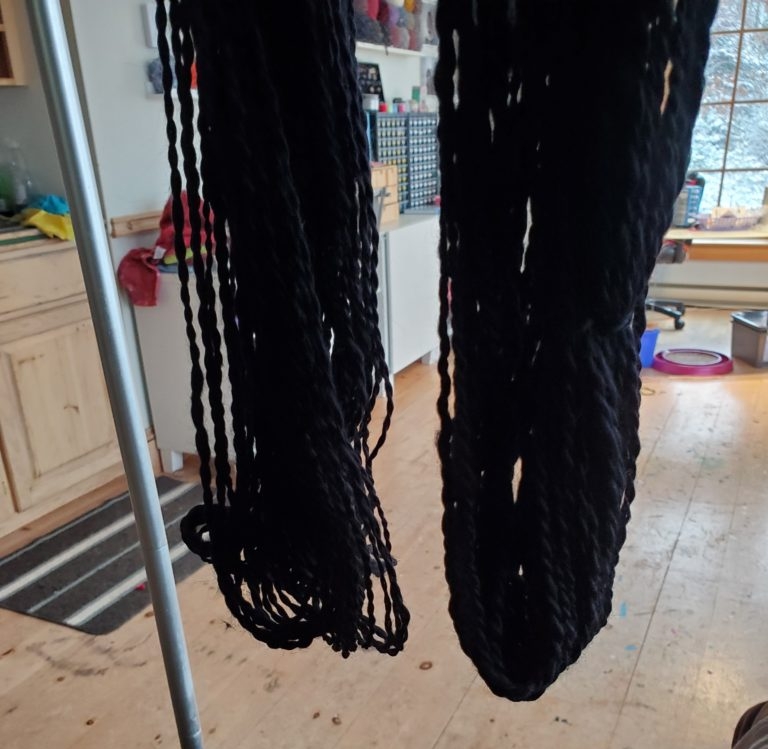 A few years ago, I saw a video either on a blog or social media where the spinner set their yarns using steam from an iron, rather than going the whole soak and dry route. I was really intrigued by this, esp. by how you could watch the plies of the yarn align simply by the steam.
I really enjoy washing and setting my yarns in the sunshine – something about them being charged in the sun adds to all the good energy I put in when I spin them…not to mention how much I enjoy giving them a good thwack on the side of the house! 😉 But now that it is winter setting yarns indoors becomes a bit of a pain.
The other day it occured to me that I could use my garment steamer to set my yarns. It is an under used tool (I bought it to steam my wedding dress back in 2006 thinking I would use it often after that, but it's pretty much been sitting in one closet or another over the years). The results were great and very satisfying to watch. I now want to try setting my knitted items with steam, so I may do a separate post on the entire process.
Why My Creations Make Great Gifts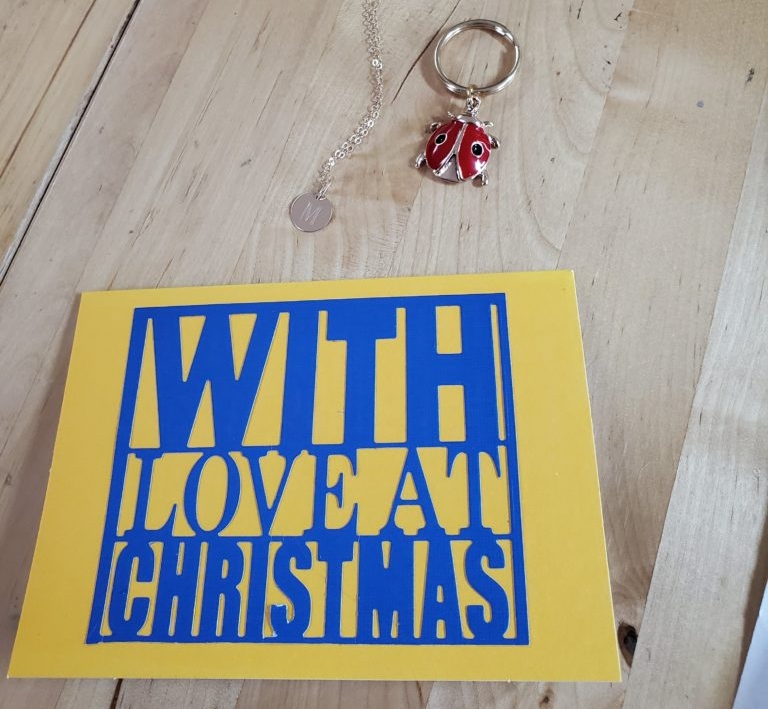 I adore all my orders but the special gifts really excite me the most. It is my calling to uplift others, support them and be there when their loved ones can't. So when I am asked to send a special Christmas gift to a fellow Maritimer from someone thinking of them on the west coast, I am more than happy to oblige. I also made a simple note card for their gift message. I really hope they like their new necklace!
Larger projects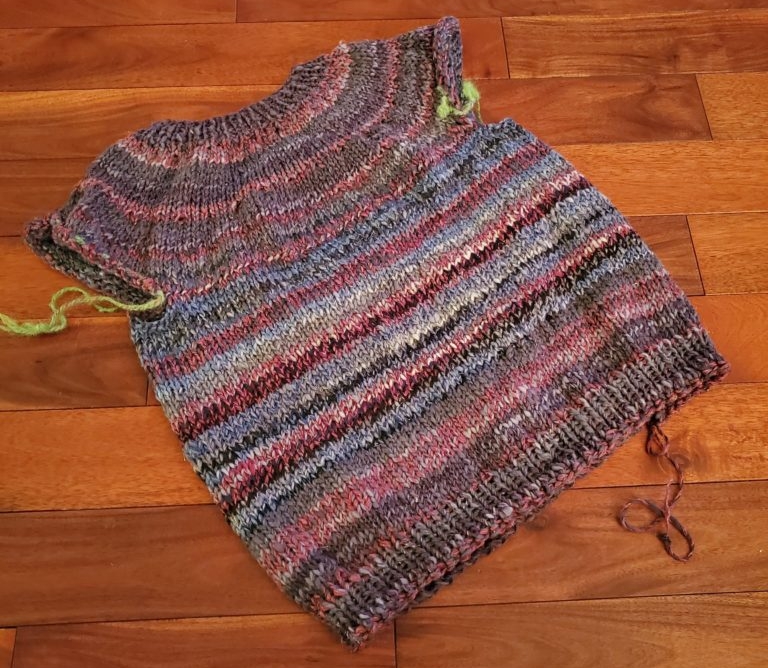 It's no joke that I love to spin, and in order to get good at something, you have to put the time in. Needless to say after hundreds of hours spinning over the past 10 years I have amassed a lot of yarn. I do sell some of it, but much of it is here to be used, mostly because I feel it's simply not up to par to sell.
It was time to do some larger projects, because hats, socks and mitts were not making a big enough dent. I started making sweaters over the summer and this is my 3rd one, I'll have to do a separate post on the pattern and tutorial I bought to kick start my sweater knitting.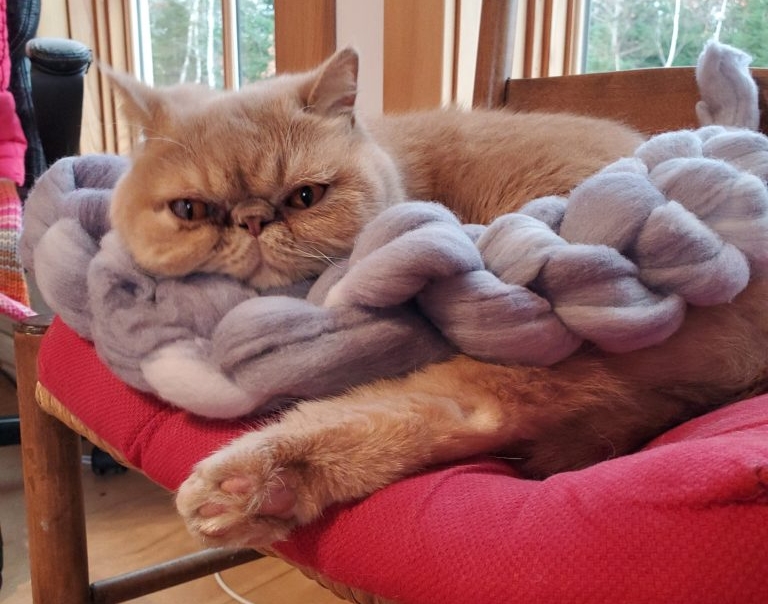 It's getting late and my bed is calling…until next time,