Better Late than Never
I originally intended for this post to happen back in December, just in time for last-minute gift-making. Well, since the internet is forever, I guess it doesn't matter that I'm two months too late. 😉 The following five hats were made with tried & true free patterns that I use with my sub-par handspun yarn (I sell the best stuff for others to enjoy).
I want to show how handspun yarn is so beautiful that it doesn't need any fancy patterns, nor do you need too much of it. I get it; it's pricey. I was thinking of the price I have to sell mine versus the time and effort to produce them, and well, ouch. But it's okay; I aim to create positive products and materials for others to enjoy.
So if you have a cherished skein of handspun, a simple hat pattern is just the thing to turn that skein into a wearable keepsake you can enjoy over and over again, rather than staring at it in your yarn bin. 🙂
I'm a Spinner, not a Knitter (or Crocheter)
Yes, I knit. Yes, I crochet. And I knew how to do both before I started spinning yarn. But the truth is, I'd rather be spinning. I've knitted all the basic things, and I'm sure I'm capable of cabling and fancy patterning, but I don't want to. I like simple easy-on-the-brain patterns for knitting (crocheting) on the go or knitting (crocheting) in bed at the end of the day.
So without further adieu, here are five patterns I keep returning to when I want to make a quick and easy hat with my handspun…
Camelot Hat by Lion Brand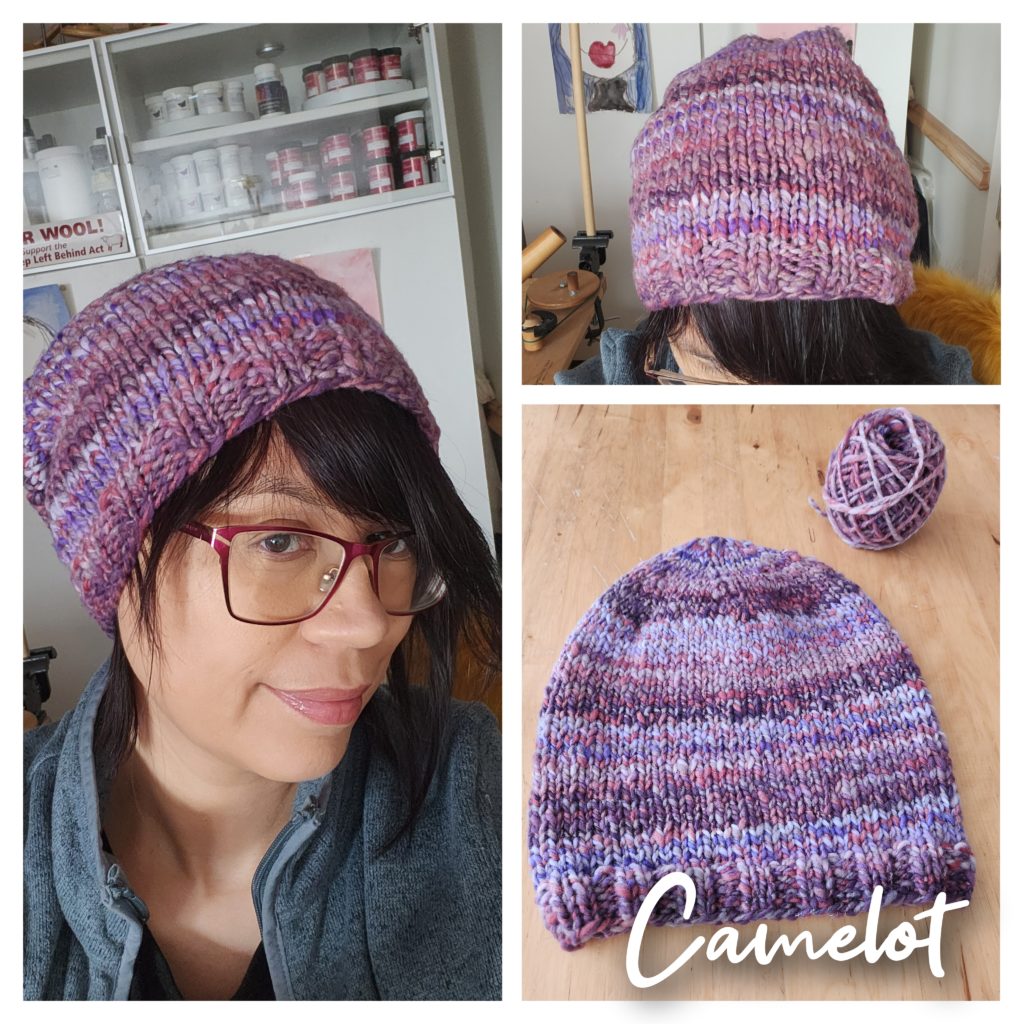 The Camelot hat is a pattern by Lion Brand that I've had on hand for several years. Like many, I started knitting with name-brand yarns from the local craft store. This is a bulky yarn pattern which a lot of handspun is, so it's a great choice, and it works up fast.
Quick and Easy Beanie by Knit Picks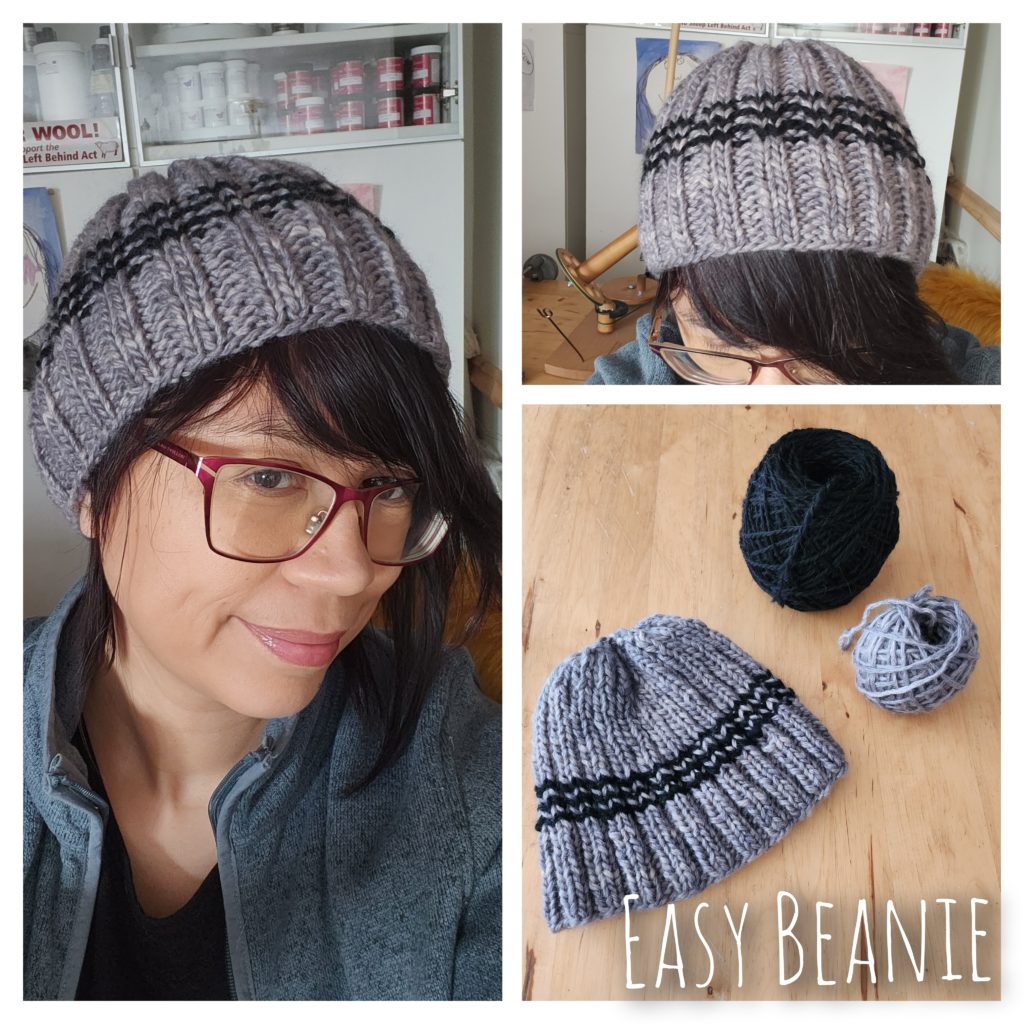 This Quick and Easy Beanie Pattern from Knit Picks is another fave. In this instance, I was knitting with a sub-par 4-ply cable. It knitted up fine, just not up to par to sell. I had to use a two-ply bulky Merino yarn for the stripe that came the closest width to the cable. But, because it is a different construction, it looked off as a solid stripe. So instead, I alternated with the 4ply, and it worked perfectly.
Barley by Tin Can Knits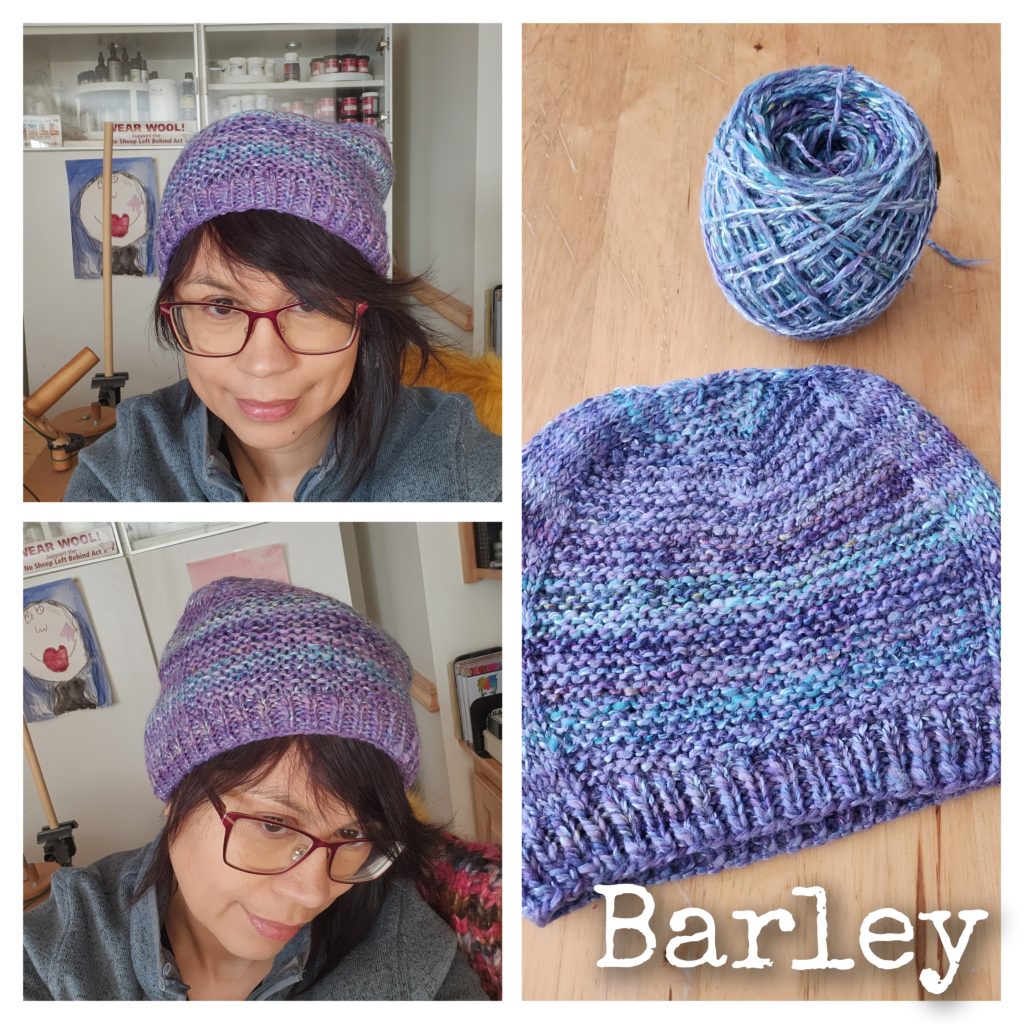 A fantastic I-can't-believe-it's-free pattern is Barley by Tin Can Knits. It's so versatile, giving many size options and a beanie or slouch option. This yarn is an experimental blend of merino wool and bamboo, which I had to dye separately (different dyes for animal vs plant fibers) and then blended while spinning. I held both rovings in my hand and pulled a bit of each simultaneously. The results are a gorgeous yarn in feel and wear. It's a: I-could-sell-this skein, but because it was a new concept, I wanted to knit it myself. It worked beautifully with Barley, and I enjoy wearing this hat.
Yawl by Berroco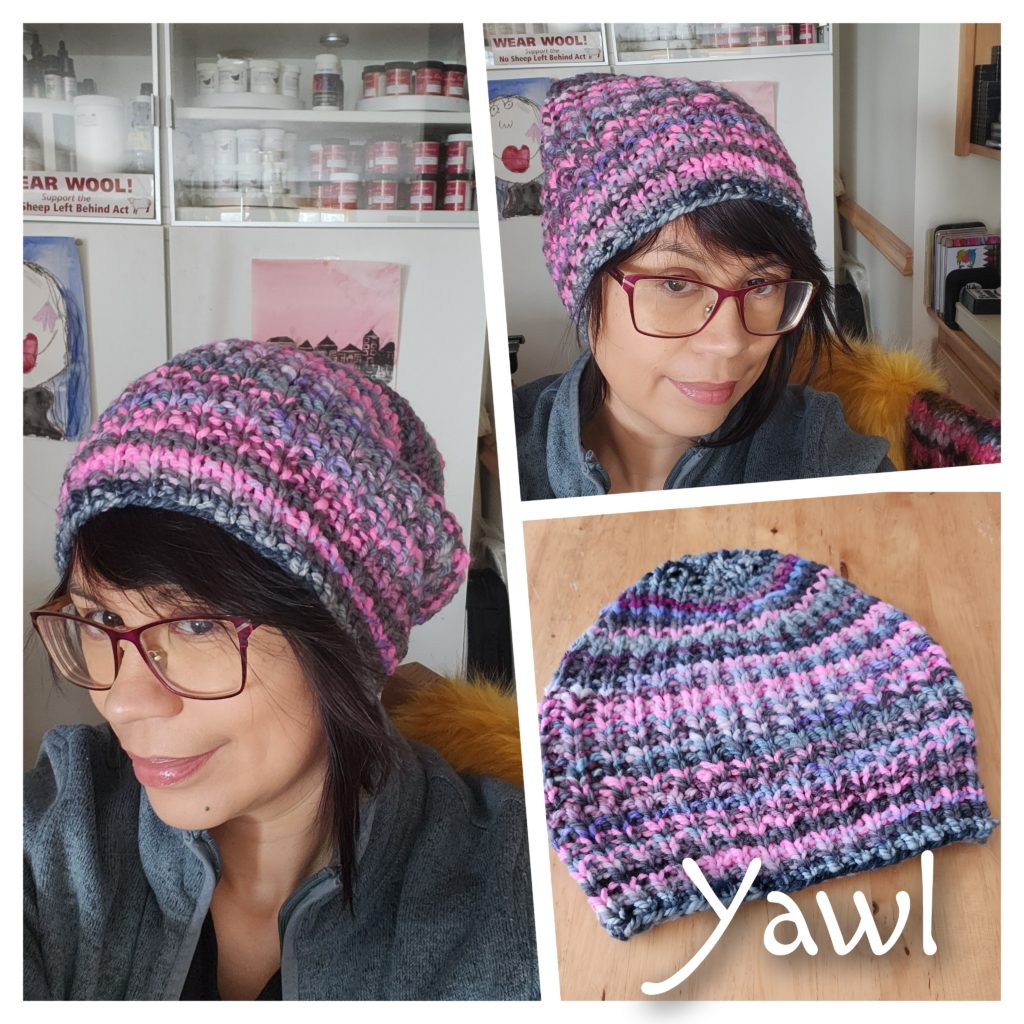 I recently stumbled on Yawl by Berroco, looking for a new bulky yarn pattern. It's so easy and fun to knit; you'll be finished in no time. This is a use-up-that-ply handspun yarn. I had this ply of yarn on a bobbin that sat there too long and needed to be completed ASAP. So I chain plied (AKA Navajo plied) it, using a spinning technique where you move your hands through loops to create a 3ply yarn. (It reminds me of crocheting a chain).
I don't sell much chain ply since there is a noticeable bump where the loops switch in the yarn. It's not very apparent in the finished product but may be off-putting to those unfamiliar with the technique.
Flash Beanie by Judith L. Swartz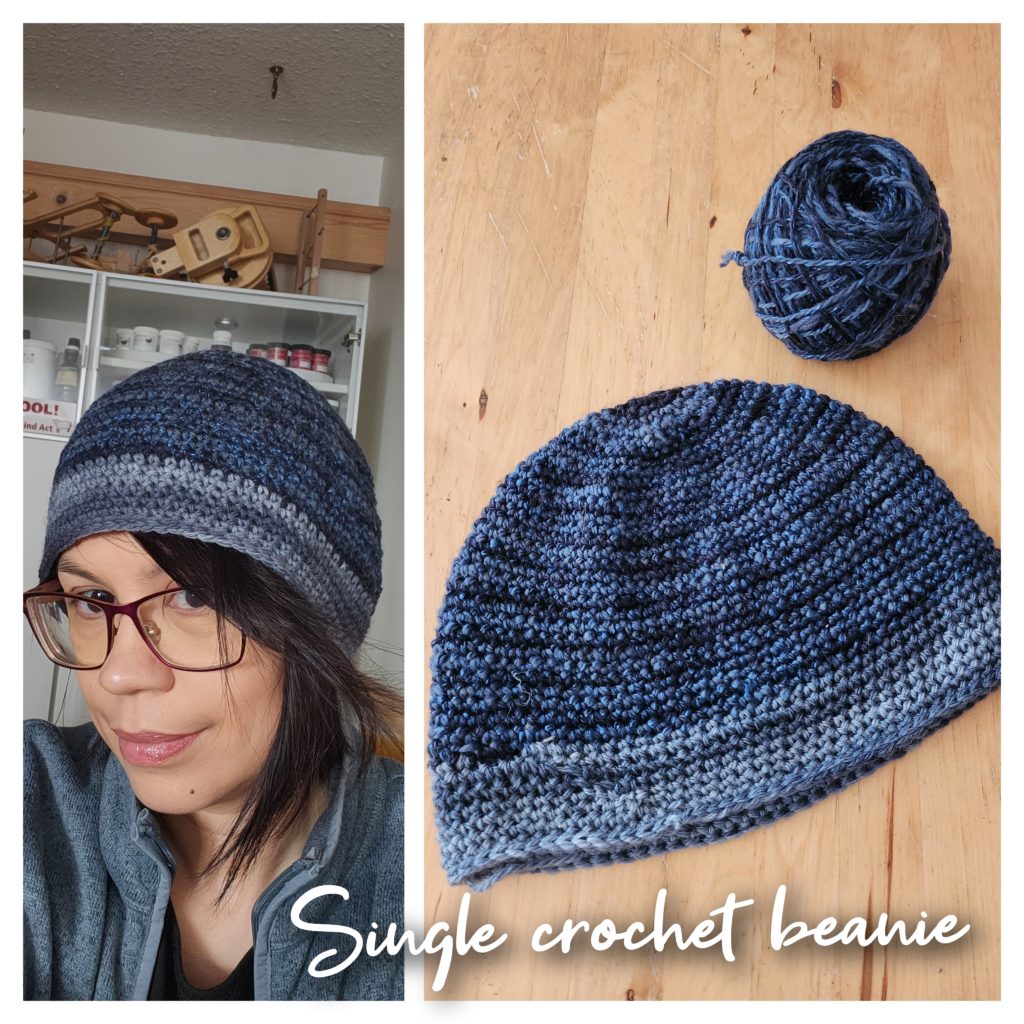 This is another pattern I've had for several years. It came in a download of 5 different crochet hat patterns from Interweave. I was concerned I wouldn't find it again, but here it is, bundled with eight other crochet projects. It's another versatile, forgiving pattern where you can make design decisions on the fly.
One thing I like about simple crochet hats like this is that they work from the top down and don't unravel once you make the stitches. Well, unless you intentionally pull them out, anyway. I tried several bands on this hat before deciding on this grey hand-dyed commercial yarn. The handspun is a superwash Merino and Tencel blend, another new experimental blend for me. I spun it natural color, combining the two fibers as I spun.
Tencel is a man-made material derived from wood-pulp (cellulose) fibers, so it cannot be dyed with acid dyes like wool. The yarn was dyed twice to accommodate both fibers. An overdye of sorts, but each fiber will only take up the appropriate dye. The superwash Merino is a very dark grey. The Tencel is a dark blue.
What About the Funky Art Yarns
If you have some fantastic loopy or chunky art yarn, I recommend weaving with it or using it as an accent in a knitting project. But that's a post for another day…
But I should be Advancing my Knitting (Crocheting) Skills
Don't be discouraged if you have been knitting (crocheting) for a while and you're still doing beginner patterns! They are perfect for my time constraints and showcase my handspun beautifully. These patterns would also be great for charity knitting. Think of all the hats you could crank out with simple and easy patterns!
I plan to do more posts like this as I go through the many patterns I have amassed over the years. Until then, check out my handspun and indie-dyed commercial yarns to inspire your next project.