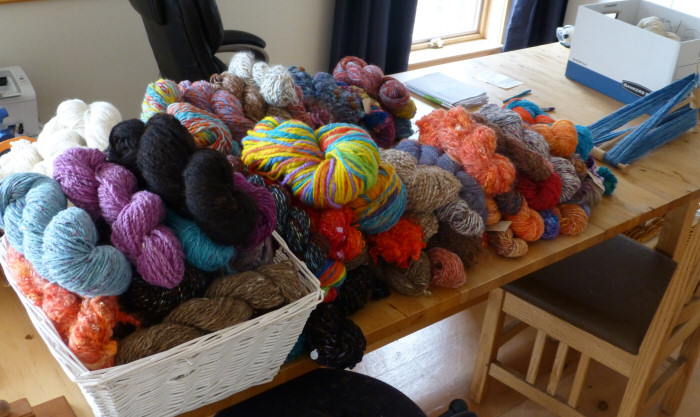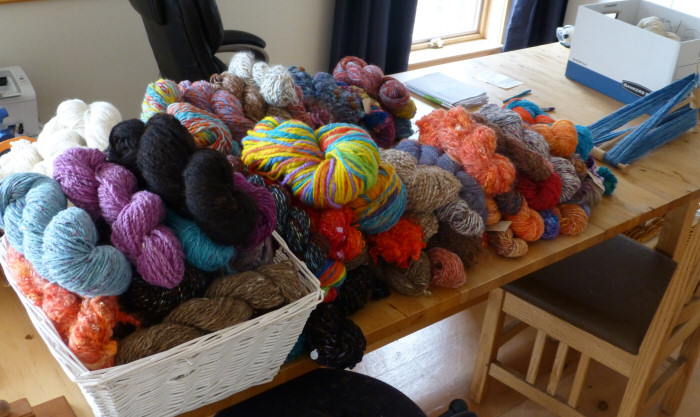 This is the culmination of 4 years of hand spinning. All the experiments with both dyeing and spinning: locks, roving, all of it. All the hours put in to hone this skill. Some were hits, some were misses. I would say the majority are acceptable, if not pretty darn good for a gal who hated the drop spindle but decided to just to throw caution to the wind and buy her first wheel in 2012. I adore spinning. To hell with knitting. I will sit and spin all day any day. 😉
Now with two wheels (first my Lendrum and then my Spinolution wheel) I can work much more efficiently and that means the yarn stash has the potential to grow even bigger, faster. I didn't do a lot of processing (skirting, washing, or dyeing) fleece last year. We seemed to be in a perpetual state of renovation. But that didn't seem to stop me from combing, carding and spinning.
I laid all this out on the table the other day, and I was a bit disturbed at how big the yarn stash has grown. With all that time sitting and spinning I haven't had, well, any time to knit or crochet or weave. It feels a bit stagnant to me, in the sense that – as much as I feel you can never have too much yarn, having these around is stunting my creativity and zest to try something new. There is literally too much choice right now.
One reason why I find it hard to let go is because spinning is such a cathartic process for me. It really is therapy – if not a spiritual experience. So the finished yarn carries a lot of those emotional qualities for me.
The other reason is that I look too critically at my work, and assume it is not good enough for anyone else to enjoy.
Excuses aside, it's time to get these ready for listing and hopefully into some new homes (my handspun is probably the only thing I sell that I am not unhappy about if it doesn't sell ;)). I have a few skeins drying now – some of these have been in storage so have become compacted and needed to be fluffed up and looking their best again. 🙂 I also have my pricing spreadsheets set up and shipping rates worked out. I just need to get photographing and listing. I'm not sure if that is all going to gel together by the end of this month – which is fast approaching. I was hoping to get a least a skein or two up this week but I guess you just can't rush a good thing.
You will find the prices will be affordable if not downright rock bottom. These yarns have served their purpose as a teaching tool to hone my skills and I am happy to give away the time and possibly even partial cost of materials in order to make way for new skill building. The hardest ones to price will be my merino and alpaca yarns, since they were the most expensive of my fleeces to obtain. They are so soft and fluffy and – the hardest ones to part with. But I am all about intention and energy and my hope is that these yarns will make it into the hands of people who can appreciate all these qualities that come with them.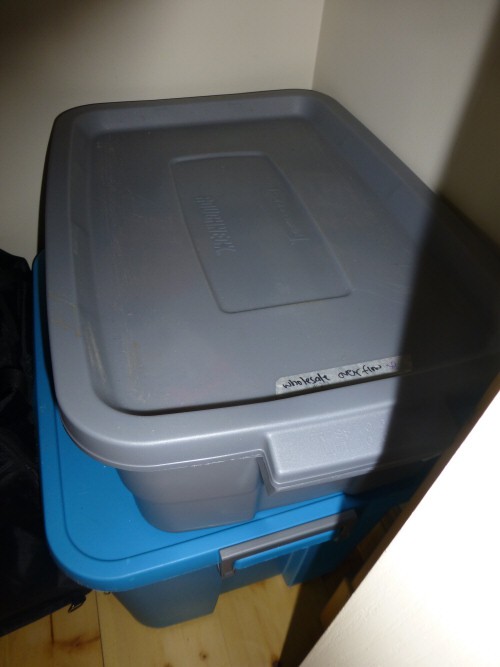 Then when I am done with all that, you see these two containers in my closet? The label on the top bin says: wholesale overflow. And that is exactly what this is. 13+ years of wholesale, clearance and closeout jewelry supplies. In my lifetime, I will never use all of this. So these materials will have to find a new home as well. Now, to clone myself several times in order to get all this done… 😉