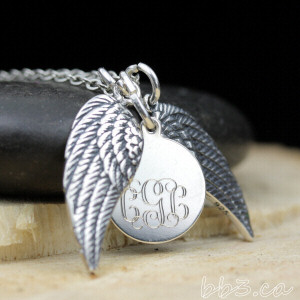 If you subscribe to my newsletter, you know that I have been revamping my work to sterling silver since mid-January. This month, I was honored to revamp the one piece that is most dear to me: a necklace that I developed bearing my mother's monogram. I called it "Wings" and it is a memorial necklace.
I stumbled upon the original design quite by accident, playing around with charms and engraving blanks- and I really liked the 2 angel wings together. It was as if they were hugging the disk in protection. At the time most pieces I had seen with angel wings only had one wing – or were a completely different design altogether. I knew I stumbled upon something I was really feeling, but with the current fonts I had it simply did not seem "finished". Wings was benched for awhile – until I purchased an interlocking monogram set.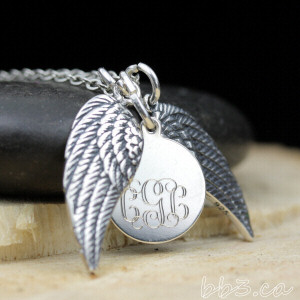 The original design was made out of silver plated components and when I finally offered it up to sell the original price I listed them at was $17 – because I still felt weird selling a remembrance piece. It seemed really wrong as it was a memorial necklace for my mother. But over the years I have heard the stories that go along with the necklace: loss of children, mothers and fathers. Friends and relatives. I was beginning to feel part of one's healing process, and that in turn was very healing for me.
I've been "test driving" the new design and really like it. It's smaller in design compared to the original, and I am finding the older I get, the more I like to either have a very subtle piece – or the option to layer with other jewelry. And although the price is significantly higher than the silver plated "Wings" (double the $23 price the original had been currently selling for) you really can't argue with quality. Most of the cost incurred is due to the fact that these are cast wings. Unlike the culinary grade pewter charms I tend to use, these wings are completely sterling silver, making the cost significantly higher. Unlike the silver plated option, there is no fingers crossed that the item will not tarnish to ruin: you can polish the sterling silver version again and again.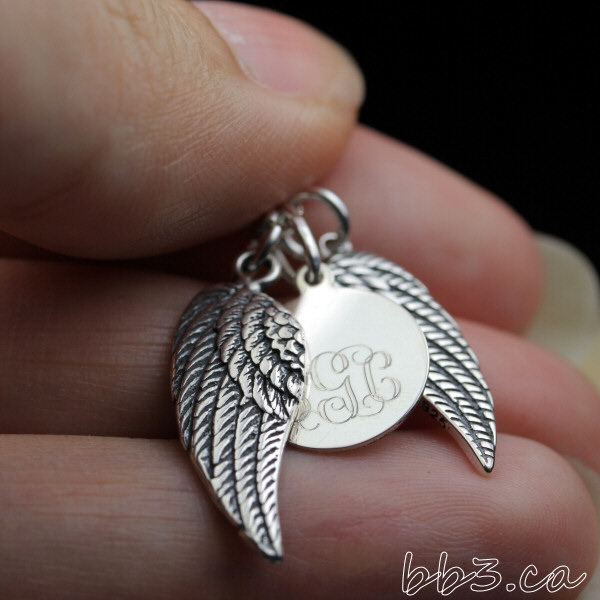 Switching this piece in particular to sterling silver means it will stand up to the elements and I know I will cherish my piece for years to come.
If you loved the original "Wings" piece don't despair: it will be coming back as a keychain/bag charm & a metal bookmark. I had a purchase for a rear-view mirror charm once, and I love that idea. That is a possible development as well.  For those of you who love gold, I have not had any luck finding 14kt gold-filled wings yet that I like. But I do have the engraving blanks ready to go, for when the time comes.