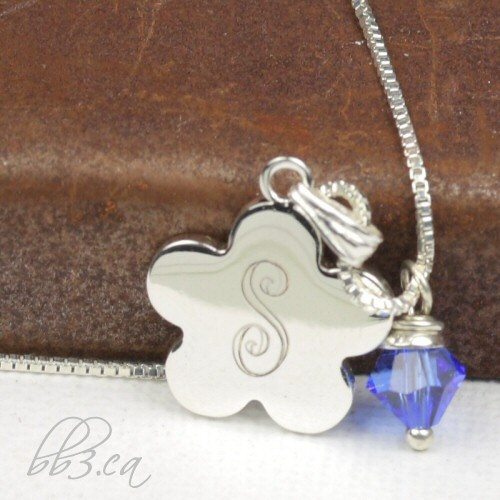 Check out these new and revamped designs and leave a comment to have a chance to win one!
In an earlier post I talked about the addition of new engraving fonts this year, & that I would be adding or re-vamping some products. Here's a run-down of 2 products now available.
I did a re-vamp of my Child's Personalized Flower necklace. One of my best sellers, I felt it needed a face lift of sorts, & the new curlz text is a playful double line font which gives this piece the fresh new look I was hoping for.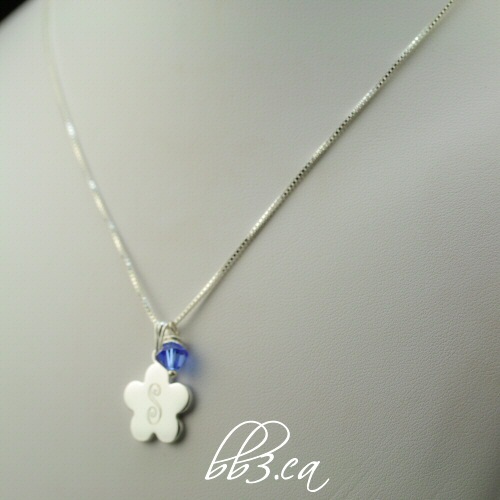 Personalized with 1 initial & paired with your choice of Swarovski crystal birthstone color, the sterling silver chain comes in not just 14 inch child length but 16 & 18 inch as well. This piece could easily be enjoyed by a teen or young adult.
Also new is the addition of gold: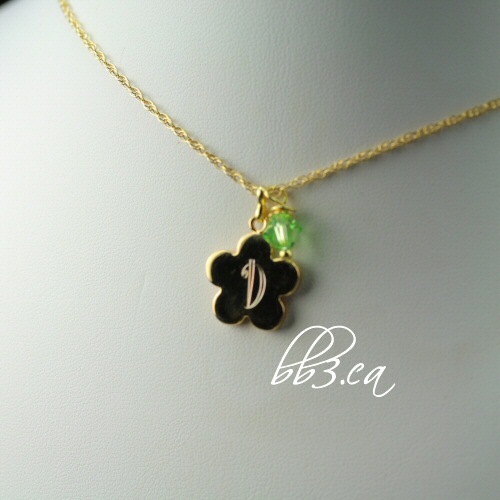 Sadly when I did my inventory counts back in January my supplier is not carrying the flower blanks anymore. Once I go through this wholesale lot, this design will be retired.
I've had this idea on paper for awhile now and I'm really happy with the finished product. It's a keepsake necklace with your choice of charm, 1 or 2 initials, & type of curlz font (modern or vintage). I have butterfly, bunny, turtle & teddy bear in a culinary grade pewter charm. All are available in both silver & gold except for the bunny which is currently only available in silver. The necklace comes in a variety of sizes from child to adult thus can be enjoyed by all.
This collection is too cute for words & to welcome spring I have a giveaway for the month of March for the bunny option. Simply fill out this form to enter. I'm taking entrants until March 31st, 2014.
Here's a quick run down of both the curlz fonts: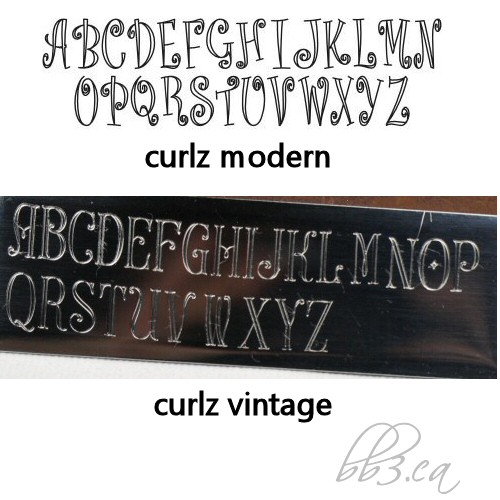 The curlz modern is brand new to me. The curlz vintage however, is a very old set that I obtained a few years ago, used. I don't know what it is actually called, but since it is the same size and has a similar flow to the curlz font I just purchased, it only seemed natural to called it curlz vintage. 🙂
Don't forget to enter the March giveaway of a personalized bunny necklace. And if you happen upon this post after the 31st, don't despair. Simply leave a comment below of your favorite necklace, and I'll draw for a random winner every time we hit 25 comments (from 25 unique visitors). That gives you a 1 in 25 chance of winning! Once we reach 25 comments & I draw a winner, I'll announce it here and put a new comment so the fun can start all over again. 🙂