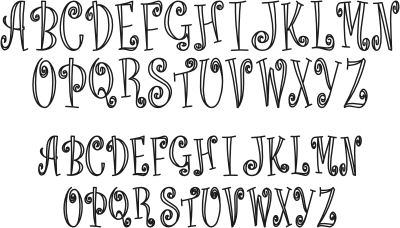 As mentioned in a previous post the studio is open but you will see some favorite customizable products on the website missing. I have 2 new engraving fonts and thus am updating/revamping the missing products. I should have prototypes completed within the week, and barring the need to order in supplies we should see the new and improved products back for sale in about 2 weeks. I'll reintroduce them one at a time here on the blog once ready, as well as on my newsletter where you can also receive discounts and a chance to win product.
I actually own many fonts for manual engraving, however not all are suited for the kind of engraving I mostly do. I usually do jewelry with one or two letters, or monogram initials, and some of the fonts I have are either too plain or not suited size wise or style wise for either. A couple products I offer now are on the time consuming side as I have to fiddle with the font to get it to look proper for one initial rather than a whole word. A slanted font will look lovely in text, but horrible as a stand alone initial. In this case I need to play with the size and the angle of the blank when I engrave. It's a skill I certainly can do, but the more time it takes to engrave one piece the more expensive, essentially, the piece becomes. I am committed to offering my products at the best price, but this also means it has to be a fair price for me. I literally time myself when making a piece, and will always continue to look for ways to become more efficient without sacrificing quality. Time is money, as they say…
So here's a peek at the 2 new fonts I am adding to my collection. The first one is called Curlz. It will replace most of the engraving on the children's pieces: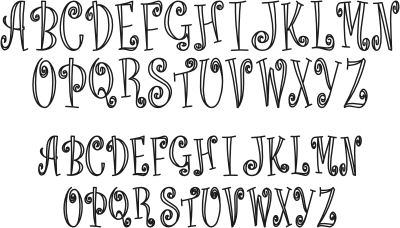 It's a fun font and on the larger template side, so suited for 1 or 2 initials for most of the work I do.
I also obtained an upright script, as I the script I use now is slanted, which as mentioned above needs a bit of play in order to look good as a stand alone letter. An upright script will alleviate the need for measuring and guesswork when engraving one or two initials.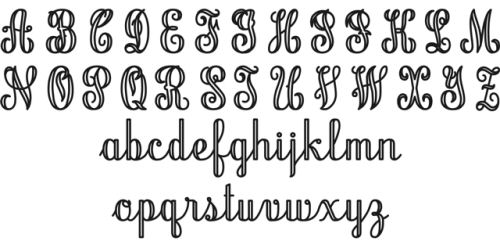 I am also going return the use of the Old English font, especially on personalized bookmarks. I also already own a curlz type font that I am calling curlz vintage. It is very old and a collector's item to me. It will be another variation available. Be sure to keep an eye out both here on the blog & on the website or sign up for my monthly newsletter & never miss an update on new and improved products. I look forward to sharing them with you!