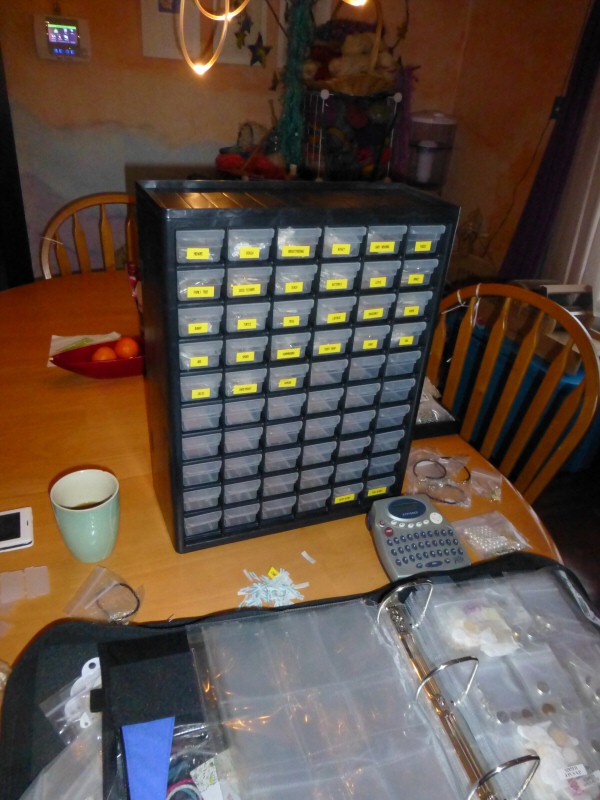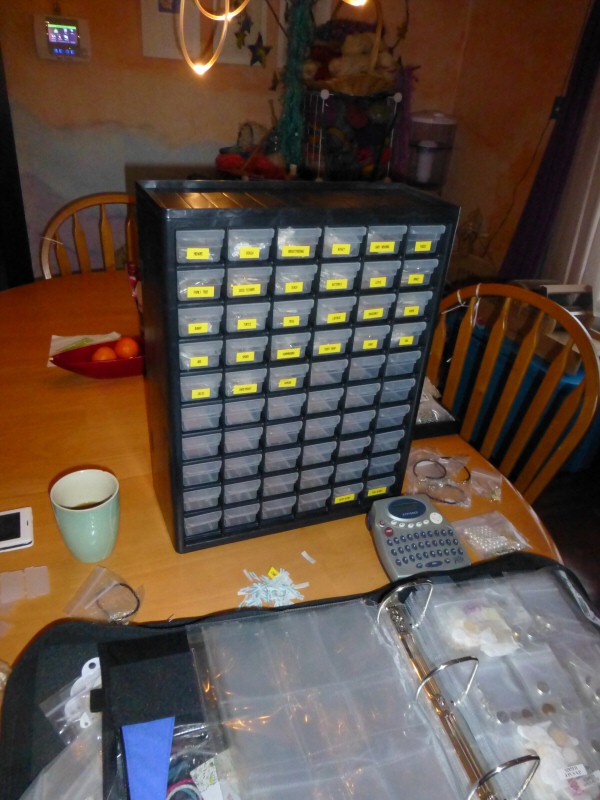 I've taken over our diningroom here in our little vacation home in Nova Scotia. It serves as a makeshift studio space for me when I'm in town. When we want to do sit down lessons, the girls will also do "schoolwork" here. It is a high traffic area in this home and prone to clutter. Creating tends to lead one into the direction of a…creative mess, but I cannot work in an area prone to chaos. The energy simply doesn't flow. If the energy gets stuck my ideas feel stuck too.
Which brings me to my early New Year's organizing today. I had originally set up binders with business card/baseball card inserts to hold my supplies (as shown above). Tiny ziplock bags organize all the components necessary to make one item from the website. I usually have on hand at least 3 of these pre-pulled supplies per item. I try to aim for 6, if not 12 for very popular items. Efficiency is very important. It is the main reason why I can keep my prices so affordable. If you can imagine, it takes less time to pull the supplies needed for 6 necklaces at once than to pull them one at a time after each order. Having the supplies pre-pulled means they are ready for assembly and engraving at time of order. It is also the secret as to why I usually can turn around an order in 24 hours, and is handy for travelling when you are working out of more than one location.
I am finding though, as my product base grows I am becoming more and more frustrated with the binder setup. It is easy for things to become misplaced, particularly since the binders are becoming so full. Most of the time the item I am looking for is staring me right in the face in a sea of supplies that all look the same. The fuller the binders are also means spillage, and more misplacing of products that are located…somewhere in there. Not being able to find what I need will send me into a feeling of panic, and I usually enjoy what I do. But not when I am stressed out unable to find something, or taking more time than usual and my family is waiting on me to get done.
After scouring the internet, including jewelry suppliers and wholesalers with somewhat pricey solutions, I found the most affordable option today at Canadian Tire: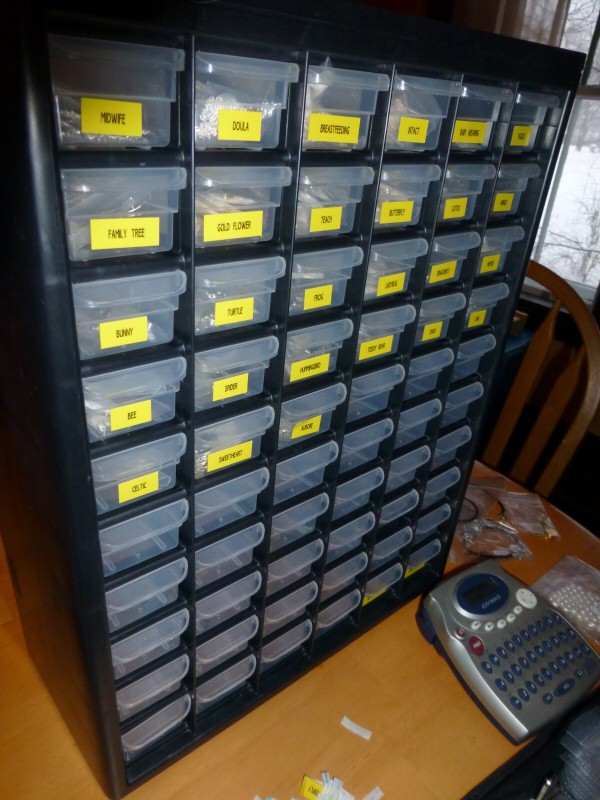 It's a small parts cabinet with 60 drawers. I got two for $39 each! They are lightweight, stackable and can even be mounted to the wall, which is great when space is at a premium. With my handy Dymo label maker everything is clearly and neatly labeled. This is going to make me really efficient; so much so that it's time to reassess and adjust the pricing on some of my items…lower. 🙂