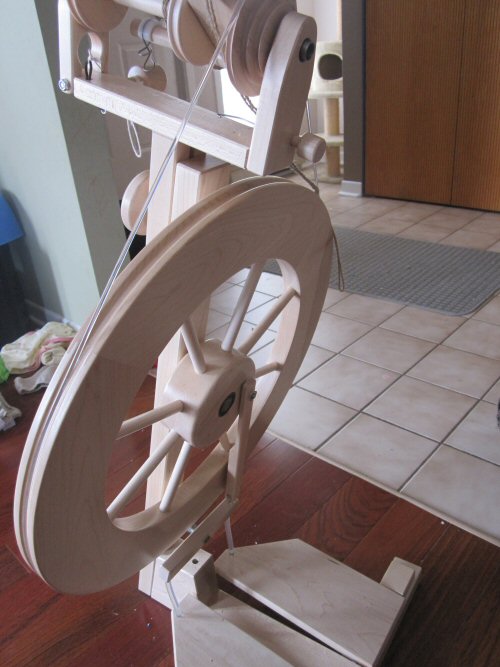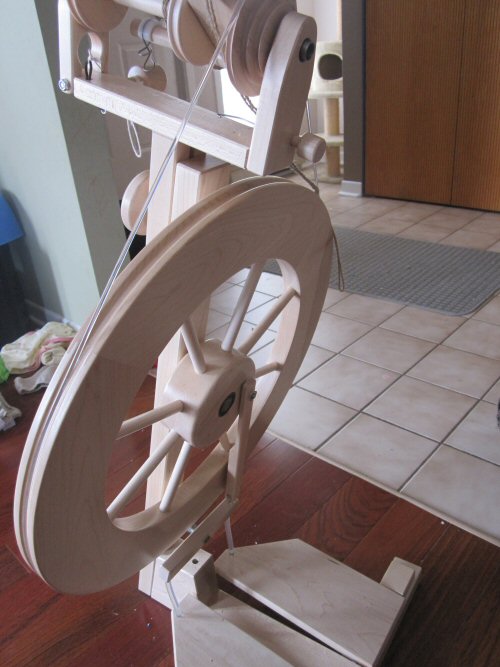 This is my new baby. Surprising, no? It's definitely not for jewelry making, although you can spin beads into the fiber. 😉
We are a Waldorf Inspired household. Before I had my children I could have cared less about knitting and crochet. I had been slowly making time to teach myself to knit last year,but  finally decided to make a concerted effort at it during the holidays. I had a 3 month old, and spent a lot of time nursing & rocking…and I thought it would finally be a good time to dedicate a good amount of time for learning (read: a nice, quiet creative project so not to disturb baby). It went okay at first, but I found myself wanting to know more about the textile I was working with. How is yarn made? What is the difference between natural and synthetic fibers? Between machine or hand spun? Drop spindle or spinning wheel?
After watching a few videos on YouTube, I was totally intrigued about spinning and really wanted to get a wheel (I was pathetically clumsy with a drop spindle).
So after considering my options, I ended up purchasing a Lendrum Double Treadle. This is a scotch tensioning wheel, which meant nothing to me at the time, but I so enjoy spinning on this type of wheel now. Another post is needed for technical whatnots…
I chose this wheel because it is compact, folds for storage (not that I have never had a chance to store it!) and is locally made in Ontario. I am waiting for a plying head/jumbo flyer that I ordered back in the spring. Lendrums are in demand and worth the wait.
You can find  a local Lendrum dealer by visiting his website.
Spinning, understanding fiber and how yarn is formed has been like a kick start to my brain as far as knitting and crochet goes. Although I am still very much a beginner, since spinning patterns/stitched/formation make so much more sense to me. I bought this wheel in February and spin pretty much everyday we are home. A joy!
More info to follow…