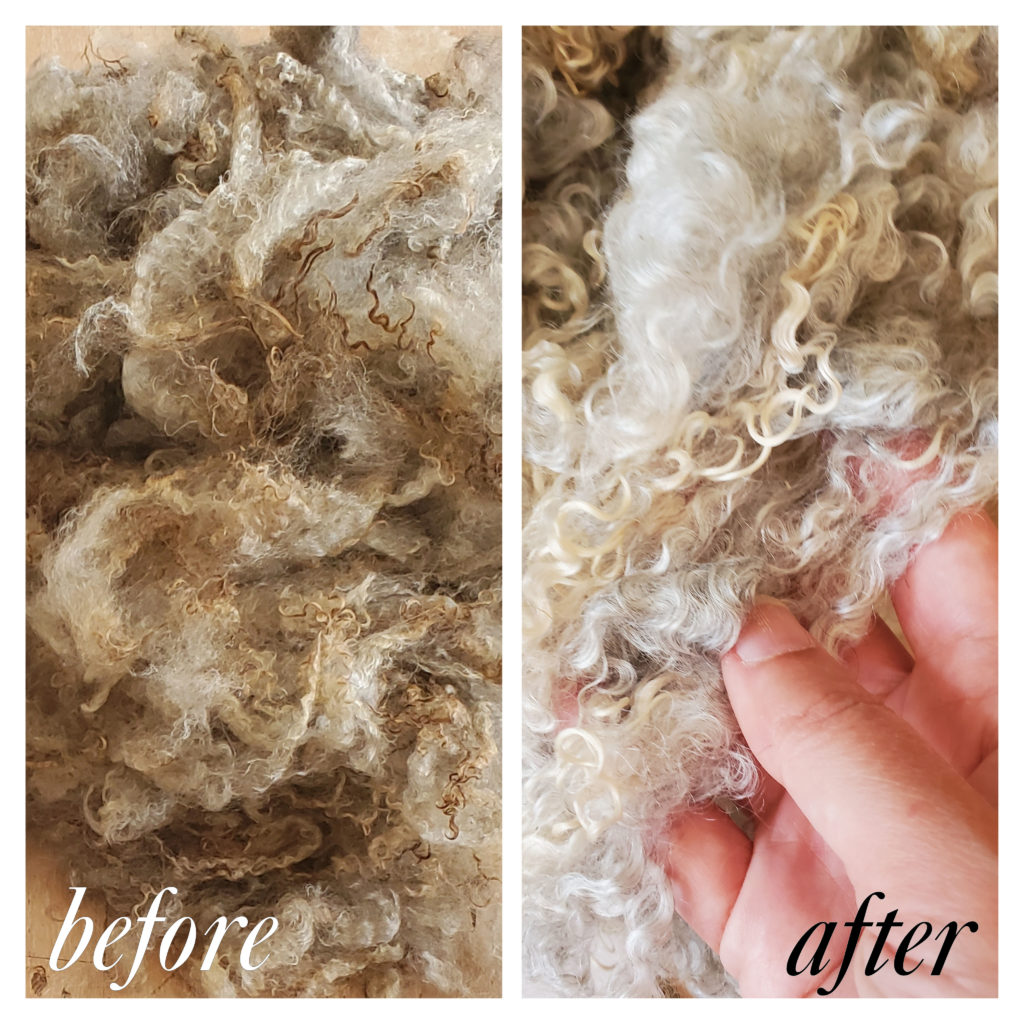 An Unexpected Project
A few weeks ago, I attended the 100 Mile Food & Fibre Festival in Billtown, Nova Scotia. I swore I would not buy any more raw fleece. I have so much unspun fiber.
But, after checking out the different vendors, I could not resist a half fleece from Ambleside Farm in Petite Riviere, Nova Scotia. Besides gorgeous fleece, it was nice to make acquaintance with someone who also has attended wool shows in the US (like Rhinebeck…oh, how I miss you, Rhinebeck!).
Why Process Raw Fleece
There is something lovely and reverent about taking a raw fleece and turning it into a wearable garment. Initially, I bought raw fleece for the sheer economic benefit: I get all that wool at a discounted price, and all I have to do is throw some elbow grease into it!
Sometimes a little elbow grease turns into a lot. Processing fleece by hand can feel like a back-breaking endeavor. I've learned my own do's and don'ts over the years of trial and error fleece scouring. It will vary from person to person, but here is my process, step by step.
I decided to film my process of scouring. It's easier to show than describe, and I'm a visual person who appreciates seeing things happen in real time.
This is crudely filmed with my cell phone for educational purposes. Please excuse my mumbling/fast-talking… I'm not comfortable talking to myself out loud – HA! I did not edit these videos but subtitled them, so you can understand me better.
Step 1: First Soak
Sheep fleece must be scoured to remove dirt and lanolin, AKA wool wax. The sebaceous glands secrete lanolin and helps waterproof the fleece for the sheep. Raw wool has a delightful pungent "barn-y" smell which I like…and my cats adore! It tends to keep this smell mildly even after washing, but I don't find that it lingers after being transformed into yarn.
In Summary:
Fill plastic bins with hot water to soak the wool
add a de-greaser. The most popular cost-effective product for scouring fleece is blue Dawn (I kick it up a notch by adding Simple Green)
start adding the unwashed wool, careful not to over fill the bins
gently press down on the fiber to encourage the release of dirt.
don't overly manipulate the wool so not to encourage felting
let soak 24 hours
How Much Soap?
I don't measure the amount of soap degreaser I add. It depends on how dirty the fleece is. In this instance, the wool wasn't too dirty so I squirted in some Dawn and added a splash of Simple Green. I wish I could be more specific, but it's really by feel. If your fiber is not getting clean, add more soap in the next water change.
Why I chose this Fleece
This particular bag of fleece was super clean. It also had a uniform crimp, a nice feel in hand, and a combo I had never spun before: Romney, Corriedale, and BFL (Blue-faced Leicester). I figured it would be a breeze to scour.
As mentioned in the video, Simple Green and Blue Dawn are my fave products for scouring. It's cost-effective and readily available. There are some amazing scouring products out there specifically for wool, and they work well, but they are on the pricey side (yes, I'm cheap). Plus I have to order it rather than pick it up at the local hardware or grocery store.
Step 2: Rinse and Repeat
In Summary:
24 hours later
You see oily lanolin residue floating at the top of the water
Drain & refill bins (away from septic whenever possible)
I'm Cautious With Septic Systems
When I lived in town, I never gave much thought to dumping the dirty water down the drain. Then we moved to the country and I started to question whether I should be dumping this greasy water down the drain. I'm unsure if lanolin would build up in your pipes over time like cooking grease, but I'd rather not take the chance. I empty the bins in a discreet area on our property away from the house, just in case.
In Summary:
The fleece is back in for a soak and already you'll notice the water has become clearer compared to the first soak
It's not necessary to leave the fleece to soak for 24-hour periods
You could change the water more frequently, but this is what works best for my time schedule
How Many Soaks?
Your fleece will get cleaner with each water change. How many times will depend on how dirty the wool is.
In Summary:
The fleece soaked for 48 hours and then drained
I placed it on a clean part of the lawn and rinsed it with the hose
A slight bit of oily residue floating on top in the water this time
Feel very little oil when touched
Will attempt a final soak
Can repeat if needed
When the water looks relatively clean and the wool feels fairly clean you can prepare your fleece for its final soak.
In Summary:
I spread the fleece out on the deck for inspection
It feels pretty much clean at this point
I contemplated what I should make with it
Currently thinking I should spin it into an art yarn, to preserve the gorgeous crimp
Will make an upcoming video on the process of making yarn with this fleece
For the final soak, I added a bit of vinegar to the hot water to remove any soap residue
Fleece will feel gummy (sticky) if the soap residue is not removed
Gummy wool is hard to work with
I don't mind a bit of lanolin in my fleece before spinning
Don't forget the Vinegar
Adding a bit of vinegar to the water for the final soak is important to make sure all the soap residue is removed. Just like adding the Dawn and Simple Green, I don't measure. A splash of vinegar will do. Remember you can always repeat this step if you still notice any soapy residue in your fiber.
In Summary:
After the final soak, I laid the fleece out on the lawn to dry a bit in the sunshine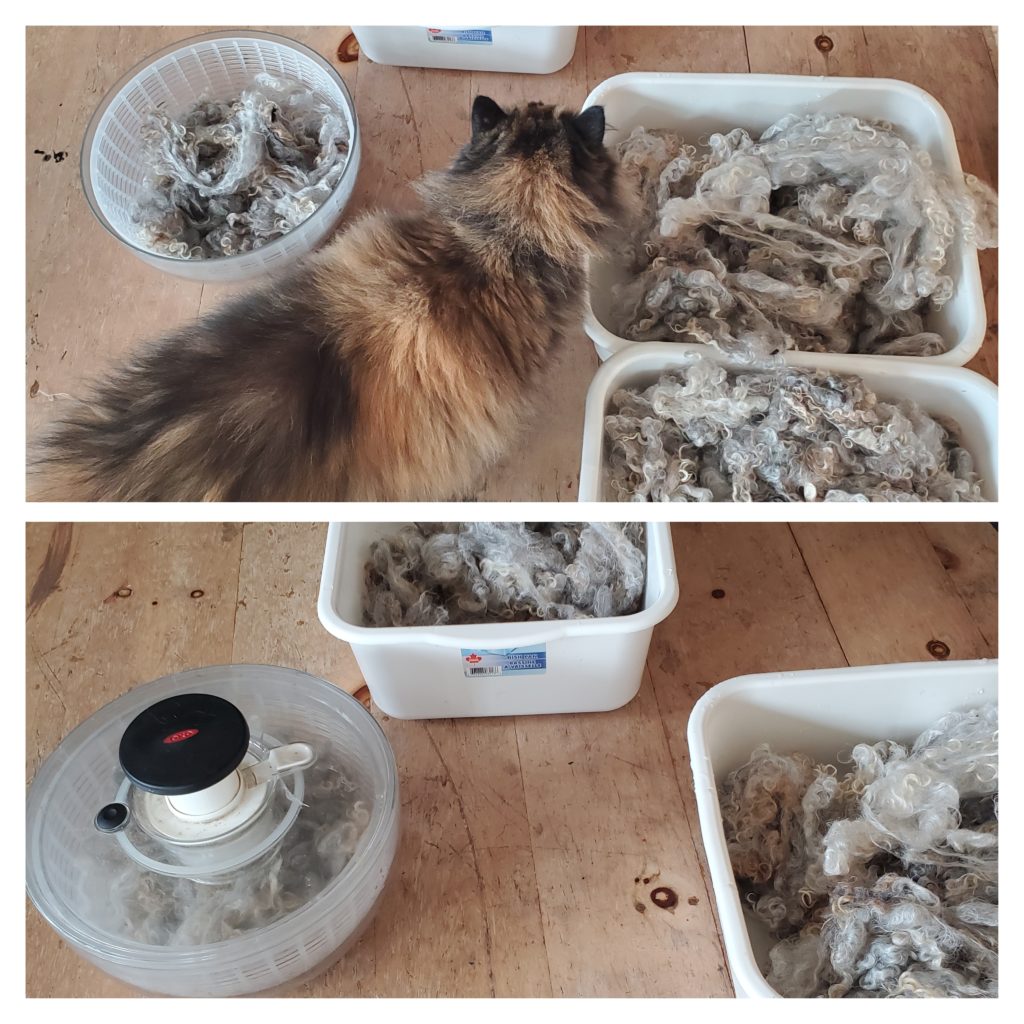 Time for Drying
After the sun disappeared for the day, I brought the fleece inside to prep for the drying racks. I ran small amounts at a time through the salad spinner to remove excess water. A salad spinner is a dedicated tool in my studio. I use it a lot: even for freshly dyed yarn to spin out extra water before hanging it up to dry. I purchased mine after Christmas a few years back for 40% off, so keep watching for those sales!
In Summary:
I placed the fleece on the drying racks set up in my basement
these racks are repurposed merchandise racks obtained for free
Will leave for a few days flipping ever so often
could run a dehumidifier or add a heat dish if need be
Clever and Free Drying racks
If you are Canadian, you will remember the popular department store chain, Zellers. When it closed several years ago, we snagged these merchandise racks for free. Our basement has pegboard already installed so they hang off pegs (also from Zellers). These racks have gotten a lot of use over the years. I've even used them outside for drying fiber in the summer months. They will rust over time if left outside, however. It's always great to find inexpensive tools and you can't beat free!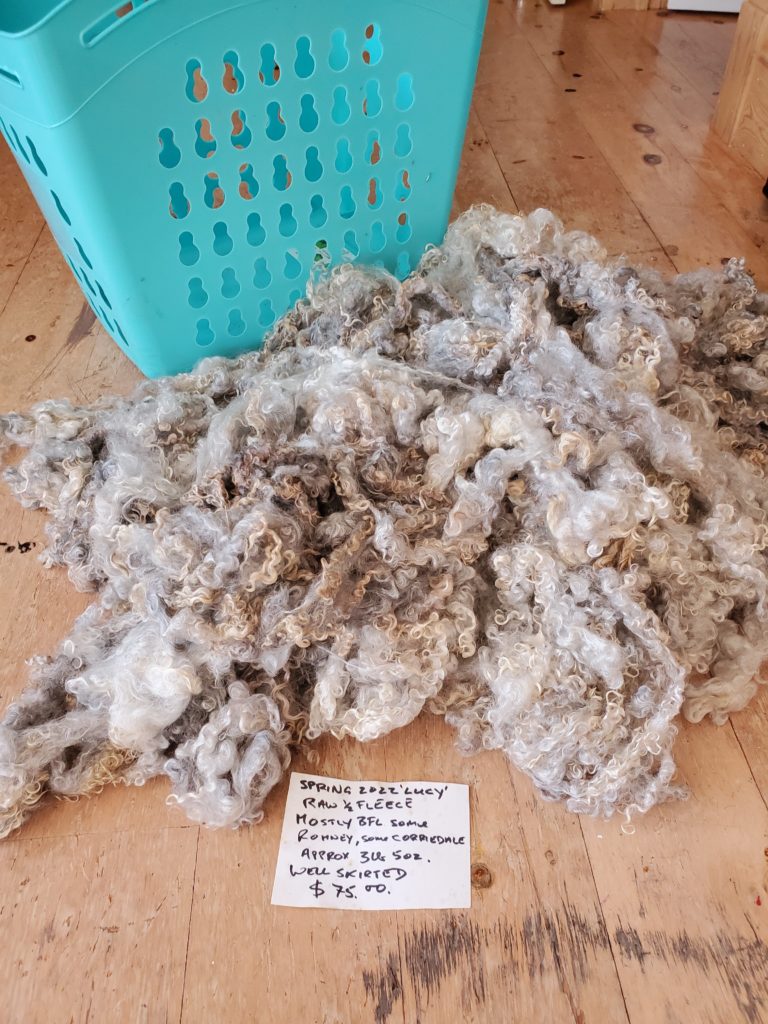 Do's and Don'ts when purchasing a raw fleece
DO decide what you would like to do with the fleece once cleaned, what breeds you would like to check out, and your budget. It is easy to get overwhelmed if you don't have a plan, esp at a large wool show or fiber festival.
DO be adventurous and try new fiber breeds. If you are like me and want to work with as many breeds as possible, then the budget is all that needs considering before shopping
DO ask questions. You can usually tell how the animals are treated by getting to know the producer. Some farms breed sheep for both meat and fiber, so keep that in mind if you don't agree with meat eating
DON'T buy a fleece that is not well-skirted. If there is a ton of VM (vegetable matter), dirt/mud, or poo, it's best to skip this bag. The more dirty a fleece is, the cheaper it tends to be, but remember this means more work for you (and a lot more discarded unusable fiber)
DO take a look at the crimp: are they even in size/length? Is the crimp appealing to you?
DON'T buy a fleece where there are broken locks – and/or evidence of lice
DO check for the bag over for second cuts, which happens when the shearer goes over an area more than once.
DON'T buy a bag of fleece with too many second cuts. Those shorter cuts are a pain to pick out and not good for spinning.
DON'T buy fleece that appears to be matted or otherwise unhealthy
DO purchase a fleece that you like the color, crimp, feel, and price of!
A Note on Free Fleece
I've been given free raw wool in the past. But now that I've picked and scoured many a fleece I would probably say no to any incredibly dirty ones. For the reasons stated above, it is a tedious job. Also to keep in mind, hobby farmers don't always produce a healthy fleece, and meat breeders are not concerned with the quality of fiber. So you may end up with a lot of discarded, unusable wool. Not a great return for all that work.
Keep in mind alpaca does not contain lanolin in their fiber so that's usually an easy one to work with. I'll do a separate post about alpaca fiber in the future.
If someone asks for a product in return for the free raw fleece (eg. just make me a sweater), I would caution against this. It really depends on how much usable wool you get and people are often unaware of how much yarn is needed for such a product.
Browse for yarn inspiration
Looking for some handspun yarn inspiration? You can check out my handspun yarn section to see some of the skeins I've made in the past. I'll be blogging about the progression of processing this fleece in the future.
Scouring fleece does not have to be a daunting task. Know what to look for, and trust your gut. Be sure to have fun, and I'm happy to answer questions or hear your comments. 🙂