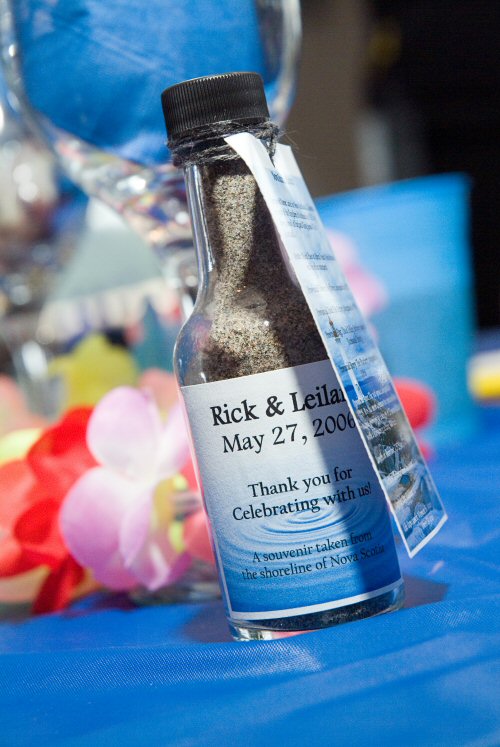 This year during our wedding anniversary, we went through some of our wedding photos for a little nostalgia. I thought I would post photos of our theme for those looking for a little wedding inspiration. I have posted my wedding jewelry on here before but not sure if I shared our favours, etc…
Credit for these photo should go to Chris Gallant Photography (if you are looking for a photographer in Halifax, NS for your event, I would highly recommend Chris & his team for their creativity, easy going attitudes and fun personalities :)).
I cannot remember off the top of my head the suppliers we used for flowers & cake – if you are interested send me a message directly and I will look it up for you. 🙂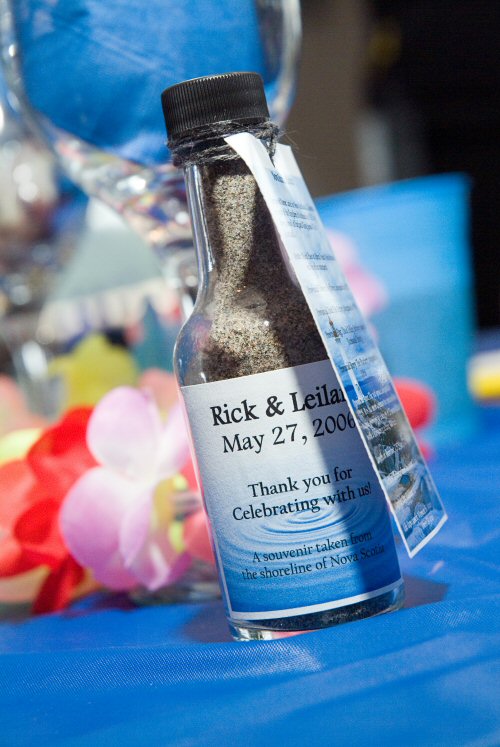 Our theme was tropical inspired on account of my Filipino heritage and the fact that we wanted our reception to be low key and laid back, however I still wanted to keep some traditional North American elements. These were the wedding favors I made myself. We had a lot of guests attend from all over Canada & the US, even one couple coming as far as Switzerland. So I got sand from the seaside of Nova Scotia, washed and bottled it myself. The bottles were bought in bulk online – hot sauce jars essentially. I made the labels as well as a "Nova Scotia Facts" tag.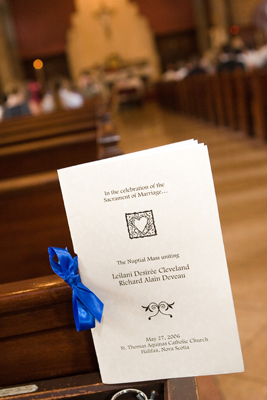 Programs were made at home on my ink jet printer…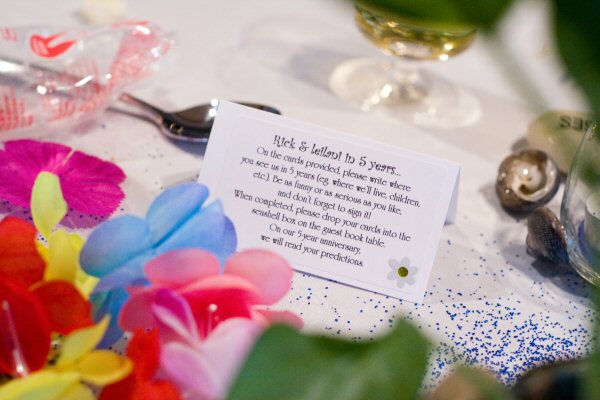 This was a fun little game to help our guests pass the time while waiting for us to arrive at the reception. We left cards and pens on the table so they could write predictions of where they saw us in 5 years. After they were completed they places them in a keepsake box on the guestbook table.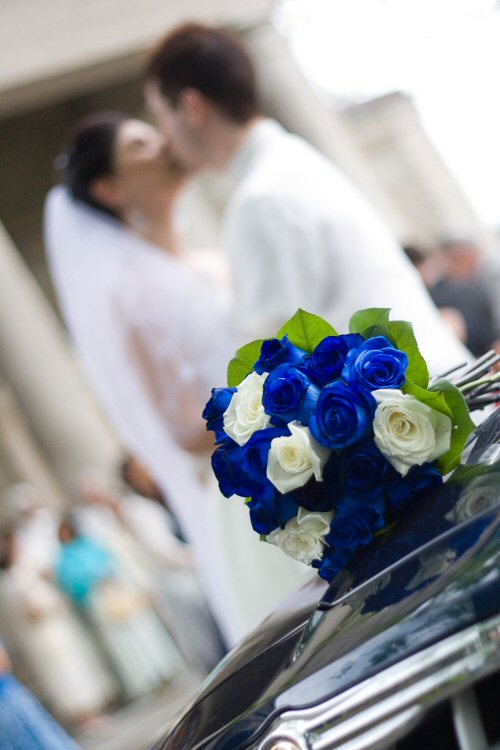 Dyed blue roses…they weren't as expensive as we thought! I wanted something basic/traditional but slightly out of the norm… 🙂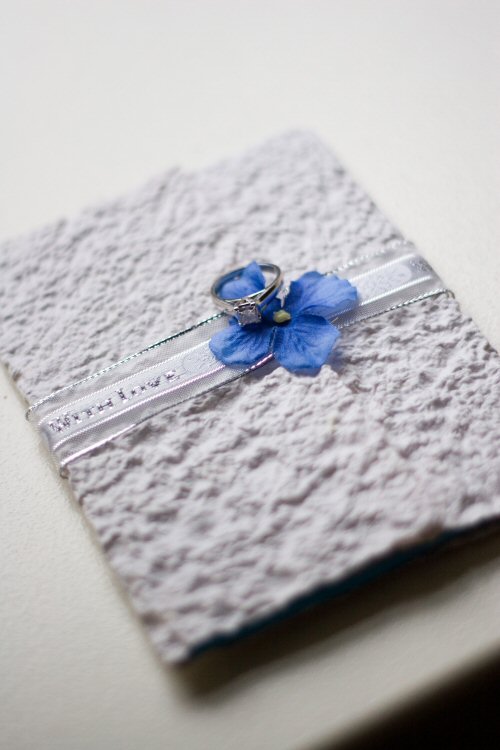 Handmade wedding invitations. Textured paper and faux flowers and ribbon on the outside…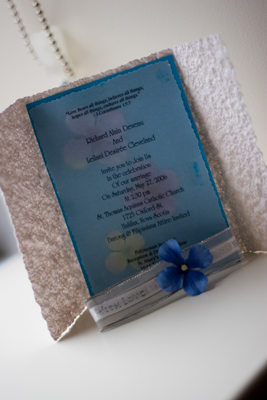 …the inside: announcement printed on vellum paper. The back is more faux flowers arranged on blue paper.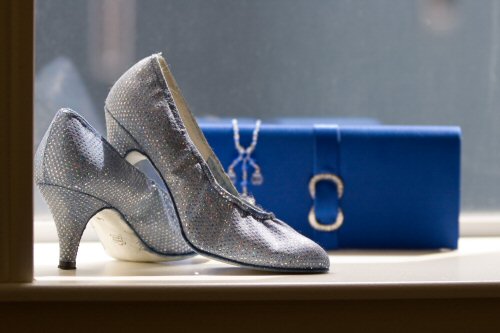 My shoes and clutch. These are ballroom dance shoes (for comfort) I hand dyed blue painting the color on with a brush. I had intended to go much darker but after two applications really liked the subtle blue tone. The clutch & shoes were purchased online. You can see my wedding necklace I made draped on the clutch.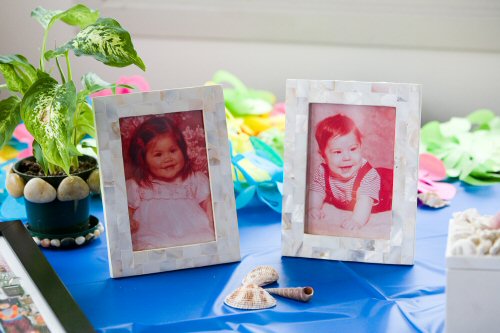 On the guestbook table, we had photos of us as babies as well as a collage of the two of us made up of photos of us growing up (you can see it poking out on the left hand side of this photo).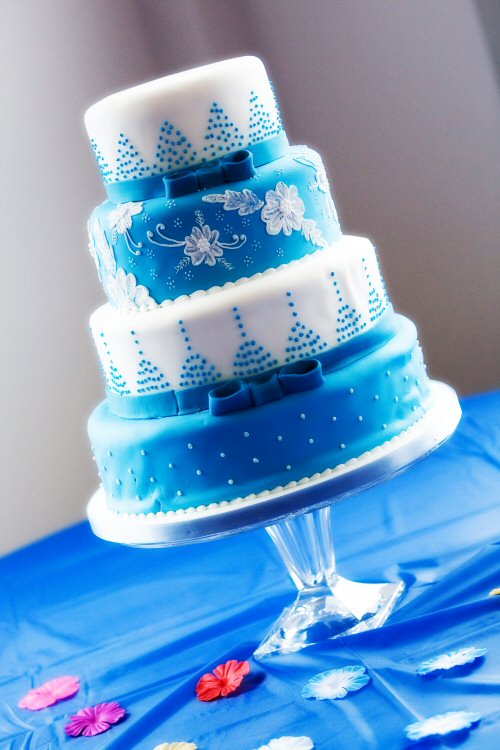 I remember the cake maker was really excited to make our cake because he never got a request for a blue one.
For wedding jewelry inspiration, you can see mine here on these posts:
https://leilanihandmade.com/tour-jewelry-box-wedding-jewelry/
https://leilanihandmade.com/artist-inspired-prophetic-charm-bracelet/