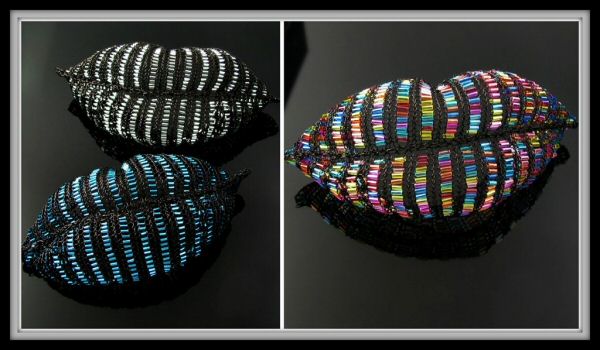 I have known Catrin, the artist behind Cat's Wire for approximately 5 years now. Based in Göppingen, Germany, we "met" online in a jewelry group, & I have thoroughly enjoyed watching her art evolve over the past few years. I am passionate about beading myself, although have not done much in several years since becoming a mother, and her crochet wire sculptures are utterly delightful & fascinating. To be honest it took me forever to decide what photos to even showcase here, so be sure to follow the links to her work below, you will not be disappointed!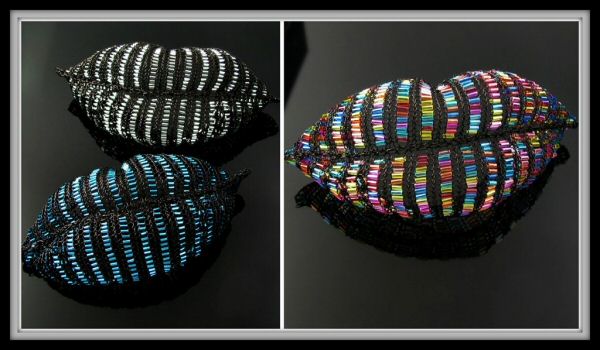 How long have you been creating beaded jewelry/objects?
I started with my first wire crochet experiments in winter 2008. In spring 2009 I opened my first shop and got more serious about what I did as I found out that I was hooked and there was no way back.
Over the years I tried out several techniques, but nowadays I mostly do wire crochet, wire knitting with a crochet hook and bead looming.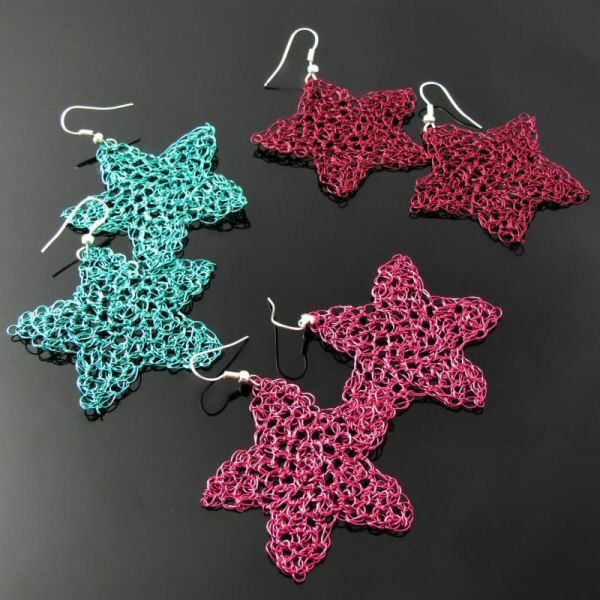 What made you start creating with wire/beads?
Unlike so many artisans I was not a crafty kid. I had a severe glue trauma and remember how I argued about a wire pendant with my art teacher once which is really funny if I think of it today. I dropped out of the crafts course and never learned to sew for example. I knitted a lot at times, mostly sweaters, but stopped doing it years ago.
Then I saw a report about Etsy on a German TV show about computer stuff. I checked it out and was drawn in by all the beautiful handmade items. I stumbled upon a wire crochet piece and after going back to it a few times I got myself a book from which I learned about wire gauges, but never did any of the projects. I bought some cheap wire, grabbed my only crochet hook and started experimenting which is actually what I still today. I do have more hooks now and the wire is not that cheap anymore, though 😉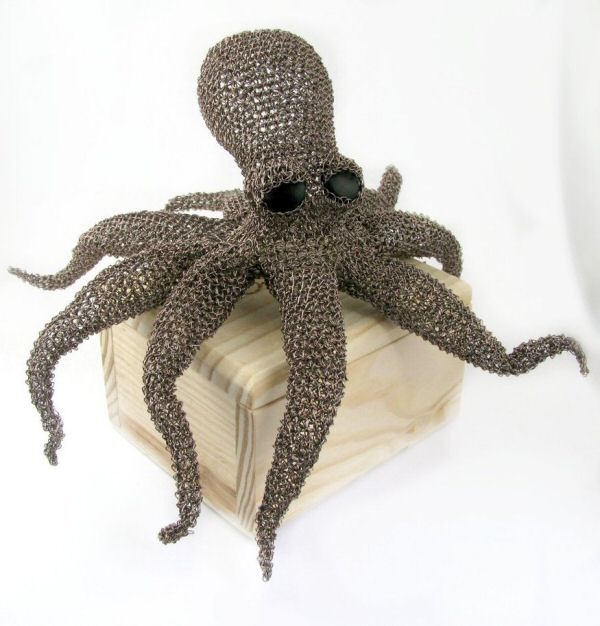 What inspires your designs?
It would be easier to ask what doesn't inspire them. It can be nature, a scent, a color or even once a bowl of soup (true story). More often than not you can't see what inspired one of my wire pieces. Many times I don't even know what a piece will end up as, a pendant can turn into a ring, a ring becomes earrings. I do have to plan most of my bead loomed pieces, however, as they are based on more or less exact patterns which I make myself.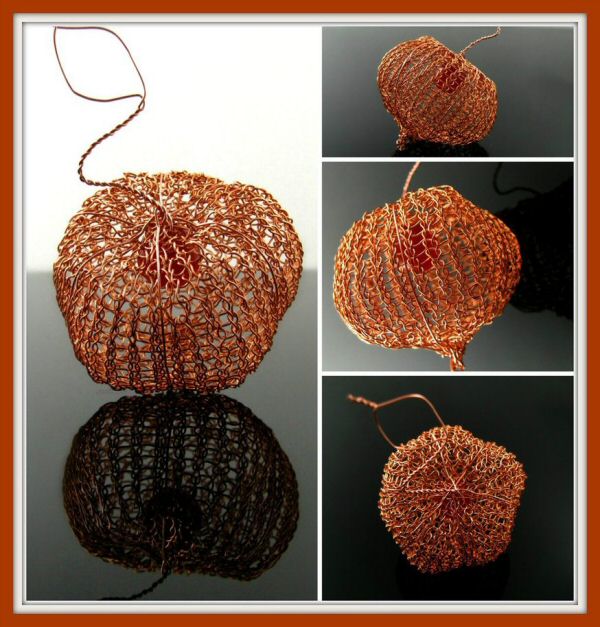 What are your favorite pieces to make/creations you have made?
Difficult question. Often the piece I just made is my favorite. There are two hearts in my chest, one beating for the wearable art, the other one for my experimental pieces or sculptures. When I start one of them, I'm usually obsessed by the thought of finishing it, no matter how much my wrists or fingers hurt.
There's my wire crochet glove or the octopus for example, and the wire knit Chinese lanterns that a friend inspired me to make, but also the wire crochet bowl with the wire knit vegetables that still isn't filled up.
About making wearable art I enjoy not setting myself limits. I can make a clay and copper wire Joan of Arc ring, but also a fine silver and pearls pendant using a gorgeous knapped arrowhead or a silver basket pendant with colorful balls of copper wire "yarn".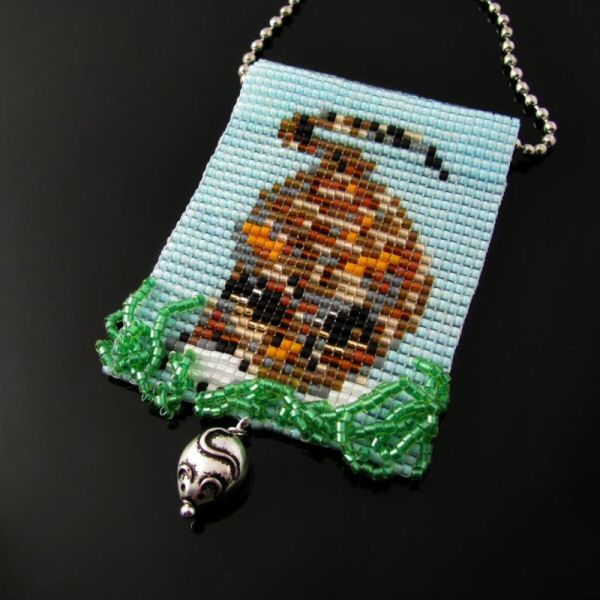 A new collaboration project that is very dear to my heart are the HeatherCats. My friend Heather, a New Zealand artist, does the most wonderful, whimsical cat paintings as one line of her work, and I turn them into bead loomed pieces of jewelry. It's so much fun!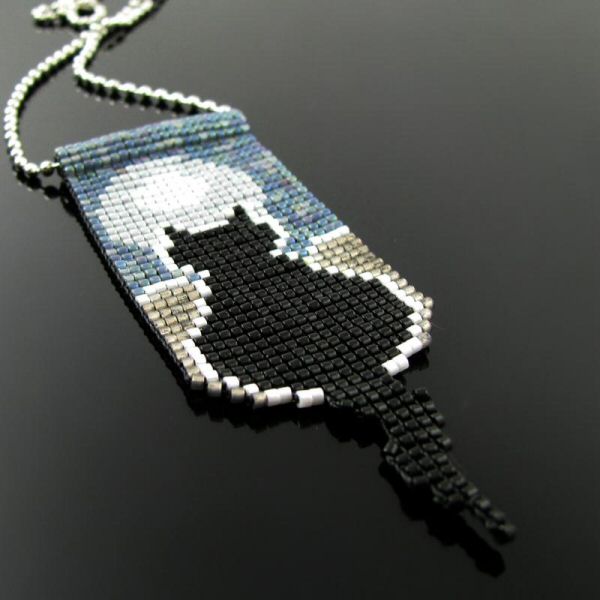 Where do you sell your work?
I have two shops on Zibbet and DaWanda, but I also sell directly on Facebook or deviantART  if people wish to do so.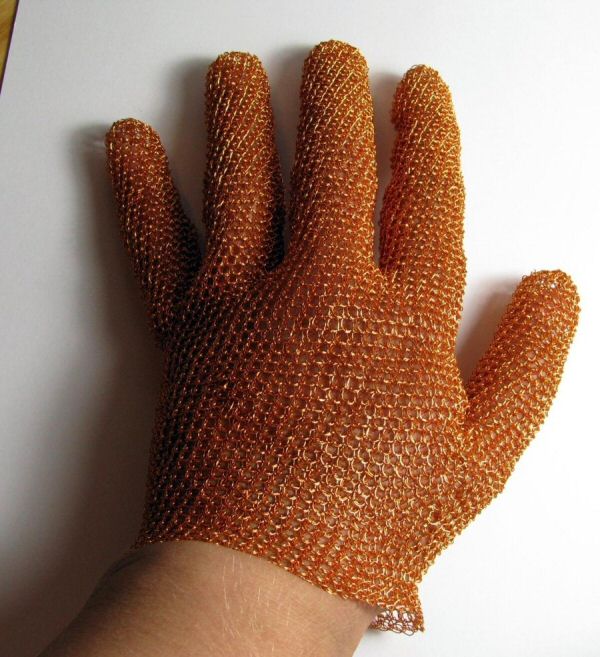 Do you accept custom work?
Yes, I do.
See more of Catrin's extraordinary work:

Are you an artist inspired? I'm looking to share your story here and in my monthly newsletter. Inspire me; inspire others! E-mail me or leave a comment below to be considered. All you need is an online presence (blog, website, Etsy shop, etc.) so that the international audience the internet attracts can get to know you & your product better. This is my contribution to the handmade/artist community, & I am honored to do so! Look forward to hearing from you…