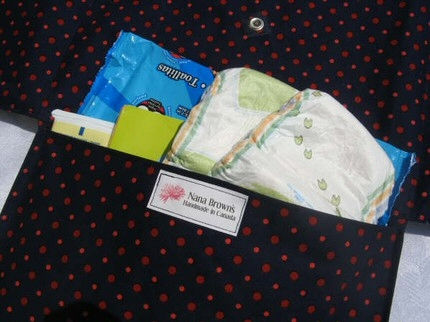 Sometimes I am totally inspired by a handmade item not just for its beauty-artistic appeal but for it's practical-artistic appeal. So is the case with the Double Duty Diaper Buddies by Nicole Lulchak of Nana Browns.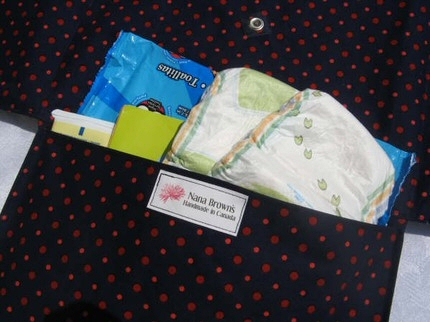 I discovered this fellow Canadian's  Etsy Shop a few months ago, upon preparing for summer with essentially two babies. I was actually drawn in by her adorable sun hats which I ordered (they are totally cute too!). Then while browsing her shop thought I would try the diaper buddy as well. I was immediately impressed at the craftsmanship and by the versatility of the item. It held diapers for both my girls plus was the perfect change pad while on the go (and we have certainly been on the go A LOT this past summer!).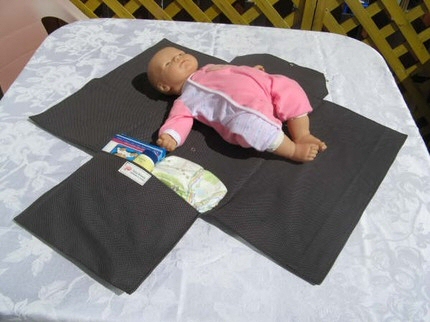 When I inquired as to how she came up with the diaper buddy, Nicole replies:
"The inspiration behind the Diaper Buddy was truly necessity. We were going on a vacation to Arizona and Mexico and I was trying to find ways to make the diaper bag lighter, while still carrying everything that we needed. I also wanted to be able to just grab the things needed for a quick diaper change and leave the big bag behind. The criterion was lighter, functional and stylish and after some tinkering with the pattern and different fabrics the Diaper Buddy was born. We tested it out everywhere we went on our vacation, it was fabulous, and I got all kinds of feedback from people who saw us using it and wanted to get their own. Mine travels everywhere we go and it really is great to just be able to grab it and go if we need to."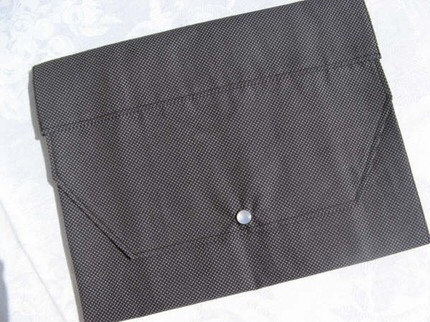 Nicole has been designing and sewing for approximately 20 years.
"…not quite longer than I can remember, but a lot of years. I think I made my first piece, a patchwork pillow, on my Mother's sewing machine when I was about 10 or 11.
"I have a large collection of fabric and patterns, both new and vintage and really enjoy designing new pieces from all the ideas in my head. Both my Grandmothers were avid sewers and I learned a lot from them. One of my favorite patterns is a hand drawn quilt pattern that came from my Grandmother on my father's side. I use it often and it always reminds me of her.
"I have had a lot of fun since I set up shop on Etsy about a year and a half ago. It has been really incredible to send my pieces to people all over the world and know that they enjoy them. I have really enjoyed the opportunity to make more custom pieces for people as well."
Nicole is inspired by colours and textures, and also finds her daughter is a great source for inspiration. Necessity will drive the creativity as well, and as a busy mom myself, I can totally relate! She also finds that her creativity & tactile nature motivates her to find inspiration in most things.
"I am a very tactile person – I love to wander through a shop and touch and feel the things that catch my eye. My husband always says it takes twice as long to shop with me because I have to stop and touch everything!"