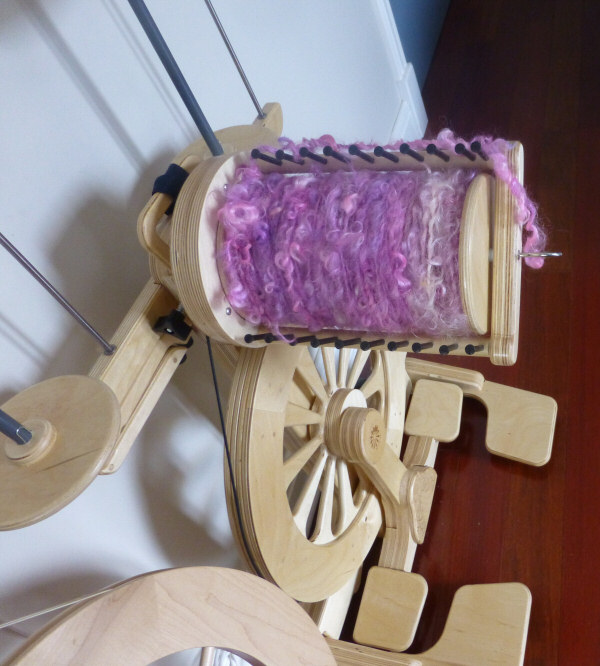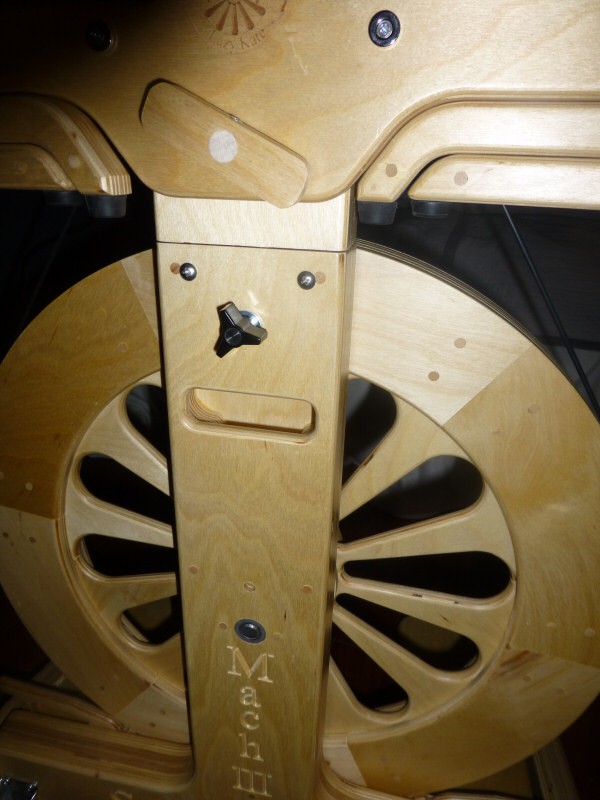 The best gift ever. DH got me a Mach III Spinning Wheel – by got me, I mean, he said "go ahead and order that spinning wheel you want". Ha ha! So I ordered it in the New Year, and 3 weeks later, my Mach III by SpinOlution was shipped from California and on its way to my dealer in Vermont.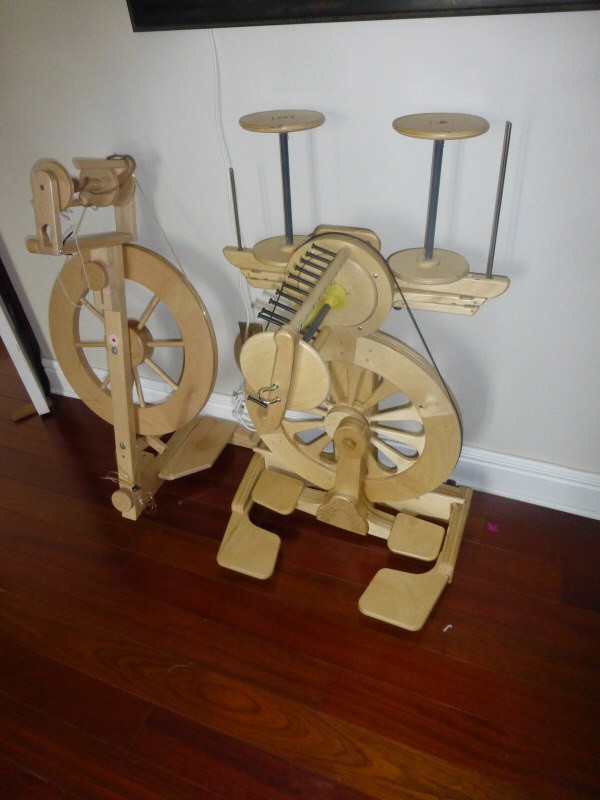 We drove down to Burlington to pick it up, and after arriving home and removing all the pieces from the box, the initial overwhelming feeling of "how am I going to put these pieces together?" was short lived. It was actually really easy to assemble! With the exception of attaching the strap to the front (which helps you move the 35lb studio wheel from one end of the room to another) – it was in a new, but totally obvious place. Thanks to Leah for helping me out with that! Putting it beside my Lendrum was almost comical – the difference in size. This Mach III is a beast and I mean that in the most affectionate way!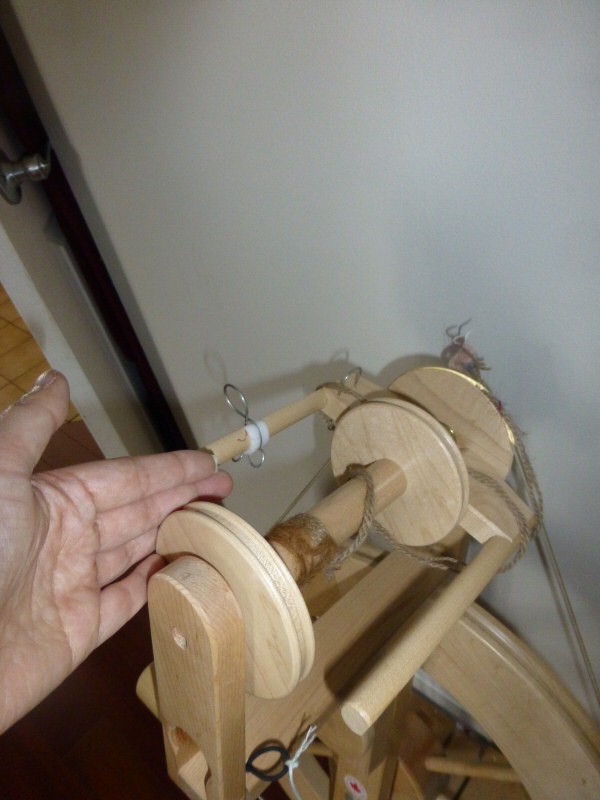 I got all the bells and whistles with my Mach III, including the largest bobbin/flyer – 32oz – you can make up to 2 lbs of yarn with it!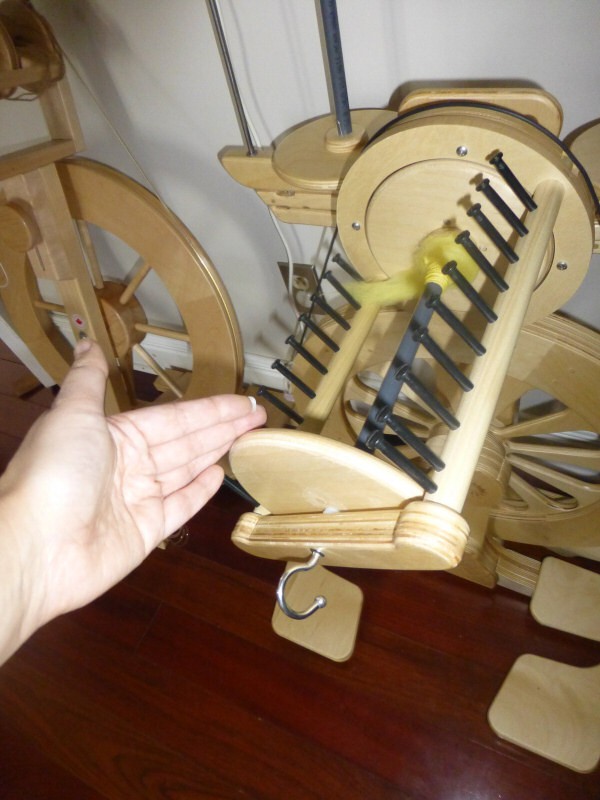 Take a peek at some of the other accessories: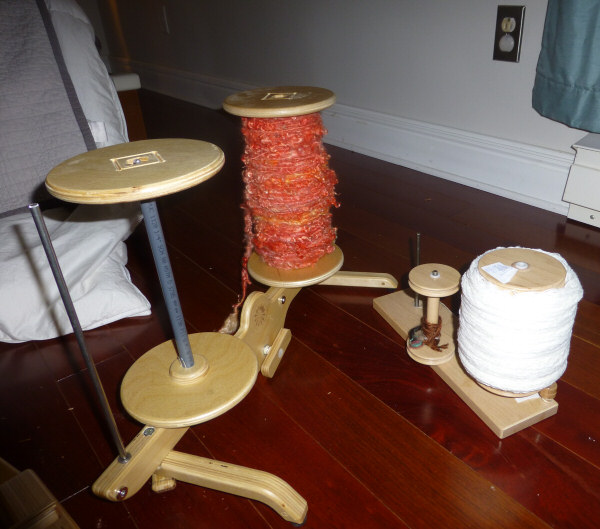 The lazy kate is genius as it attaches to the wheel as well as free standing.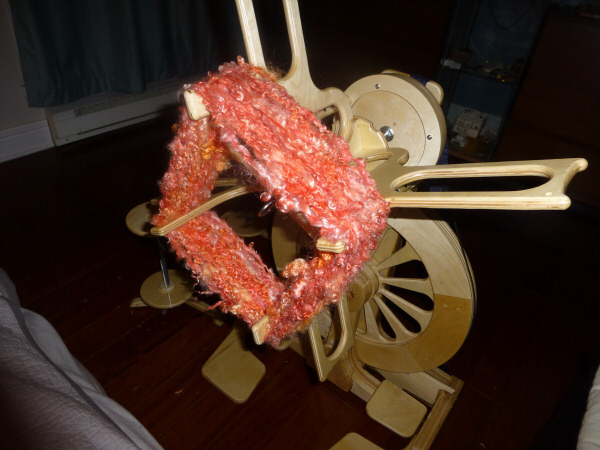 This is a pretty nifty attachment. You simply treadle and the yarn winds. I need a lower chair though as I find it does brush my thighs while rotating. And, I really like my 2 yard skeins, so I still use my niddy noddy more than this. I do find with yarns with large inclusions this is a really handy tool to have.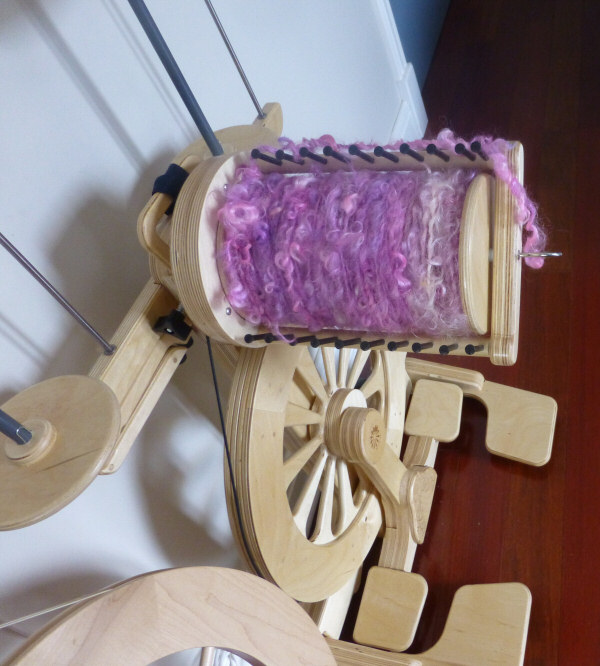 For the first few days I had the wheel I simply played around with it. Like buying a brand new car I really like to sit and get acquainted with a new piece of equipment. I tried out different tensions (settings) and fibers before settling on a kid mohair to make into my first skein of yarn (the orange you see above). The first skein took me only an evening to make – approx. 4 hours in total. The large 2lb skein took me 2 evenings – about 3 hours each night. I was determined to fill that large bobbin and I was surprised at just how quickly it took. This is an easy wheel to use and the biggest hurdle was to get used to the bigger rotation of such a large bobbin as well as treadling much slower. This wheel is very smooth and will get going quite fast much more quickly than I am used to.
I'm currently working on a core wrapped yarn with large flower inclusions. I put the flowers together with left over handspun, felted in place and tied with a pearl bead. Very fun and so easy to do with the hook attachment & open pegs SpinOlution is known for. I really want to try the many different techniques of textured art yarns I have grown to love so that I become comfortable with the Mach III. Thus far it has been an easy wheel to fall in love with.
If you are looking for a dealer for any of SpinOlution's products on the east coast/New England, I highly recommend Leah Rosenthal!  She was on top of things giving me updates by mail and she really knows her stuff. You can find out her details on the SpinOlution website under Vermont, and be sure to checkout her blog.