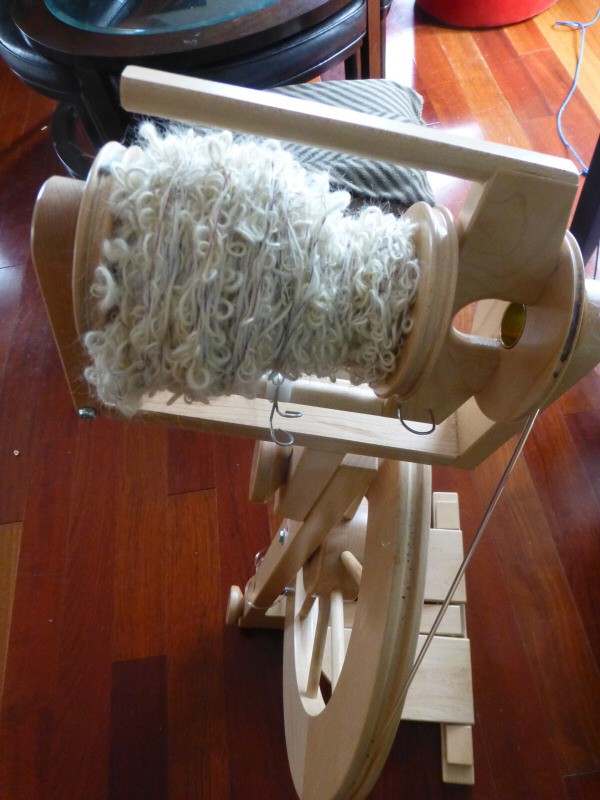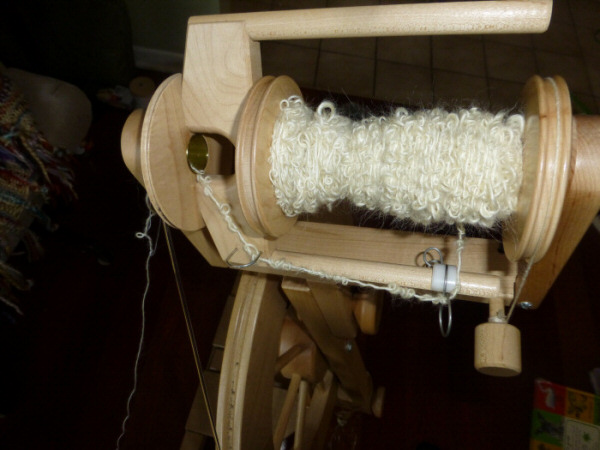 I've dabbled in the past spinning bouclé, but I never liked the results and I felt it was too time consuming. I realized after reading up on the technique that I was missing the most important element: mohair.
From my research, I found out that mohair (from the angora goat) gives the most perfect little loops. It cards to a straight slippery fiber and because of this texture the loops stay round and don't collapse on itself like sheep's wool would. Also my research stated it works best if you spin it in a fatter single and ply it on a thinner yarn.
So I got digging in my bins and found the perfect fiber to experiment with: some mohair roving I had bought from an individual at a wool show a couple of years ago as a destash. I couldn't believe the price for the roving (cheap!). After spinning it, I wished I had bought more!
I ended up with 6 bobbins full of mohair singles. I had some commercial cotton that I picked up at a thrift store making it the perfect (and affordable) base for this yarn.
I ran the commercial cotton through the spinning wheel once in s-twist (spin to the left) to add more energy. This is so that after the final ply, spun in the opposite direction (known as z-twist), you end up with a balanced yarn. I know spinners are mixed on this practice. I don't always do this but after examining the cotton it just felt like the best course of action.
So fairly soon I got a rhythm with making loops. You basically hold the 2 plies loosely with one on either side of you (2 lazy kates in other words on either side of your chair) and start pushing up the mohair onto the base yarn until they make loops. Once I got into it it was so much fun and I didn't want to stop. 🙂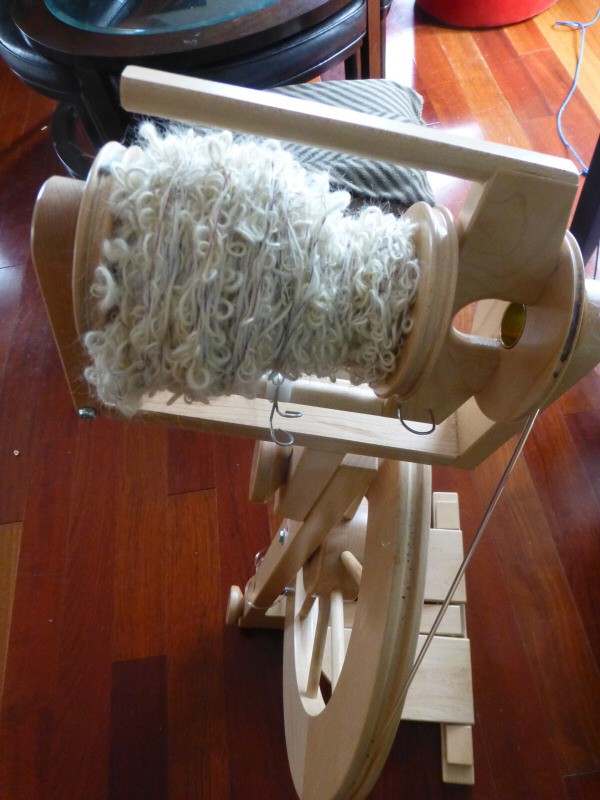 The loops will still move around, until the final step of plying, where you take a thin thread and ply in the opposite direction so that the loops stay put. You can see in the photo above I used a purple cotton thread to do the final ply. The next step is to dye the skeins. I ended up with 6 skeins all together – and the dyeing stage will be discussed in an up-coming post.
UPDATE November 23rd, 2014: since spinning these I have also experimented with making bouclé with alpaca handspun singles as well as handspun silk singles. The results are totally different but the lover of textured yarns I am, is totally digging it! I'm glad I got the technique down with mohair first, now the possibilities are endless…