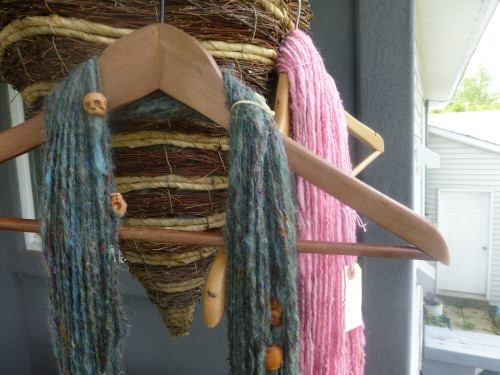 I am terribly behind on posts, and doubt I will bother to catch up. Earlier this year my hard drive failed and we have not yet had luck recovering the data…there is ways but very time consuming and for the self-employed parent time is limited. So I guess you can say I lost interest in blogging.  I've also lost faith in WordPress & will be switching most likely to Drupal hopefully this fall. It's just been one thing after another, and I apologize for any inconsistencies or problems viewing this site.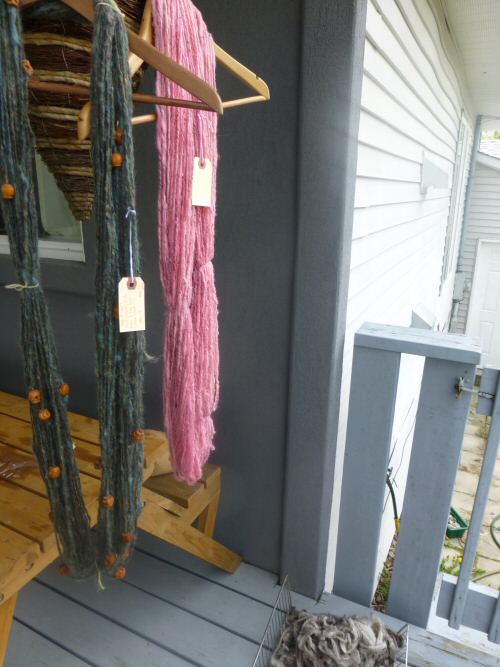 But to begin anew here are the latest yarns I have made. These were a total experiment but I love the end results. I took the first two art batts I made earlier this year & turned them into these two skeins of yarn. Here you see them freshly fulled and hanging outside to dry (I love this time of year!). I'm also washing my newest fleeces obtained at this year's New Hampshire Wool show (below you see a bit of it peeking out, also drying in the fresh open air).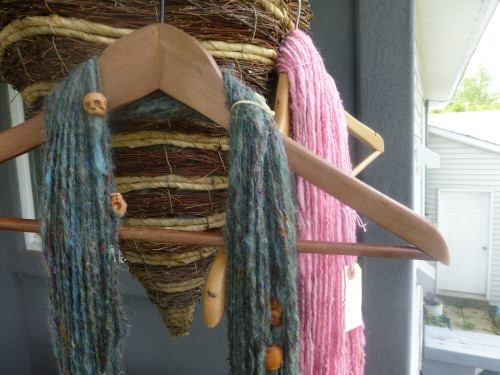 Both skeins are bulky one plies with beads spun in. I love how fast bulky one ply yarn spins up, but am always afraid of an unbalanced yarn. These are not bad, as you can see they hang fairly straight. The one on the right was from an art batt I made & named "The Fog of War". I don't always name my projects, but if a name pops in my head right away I figure there is purpose there. I've had these wood beads kicking around forever – probably a closeout I bought from a wholesaler. They never made it into the "for jewelry" making pile, and I am so pleased to have them integrated into this yarn.
The second skein, "Pink Candy Crush" has tiny 4mm pale pink crackle (glass) beads spun within. I loved the effect of the smaller beads just as the large ones. Far more cute & subtle but it works for such a happy colored yarn.
"Fog of War" is a blend of many different wool leftovers…I call these kinds of batts/rovings wool confetti as it is very light, fluffy & airy with tiny pops of color within. "Pink candy crush" has merino, tunis & a purple wool of unknown breed (odds and ends again) along with banana fibers . Both also have angelina fibers for added sparkle. The beads are attached with a Habu stainless steel thread.
These were really fun to make & I'm already on my 3rd. Spinning is my zen. Jewelry making is exciting; new designs make my heart race, while spinning keeps me calm & happy no matter how sore my back may get. 😉
I know people have asked if I will be selling my yarns…I hope to add fiber product of some kind to the website by the end of the summer. I am having a hard time deciding how to price my yarns. I'm thinking of selling my yarns by barter exclusively rather than by exchange of money. I think that feels more fair to me…