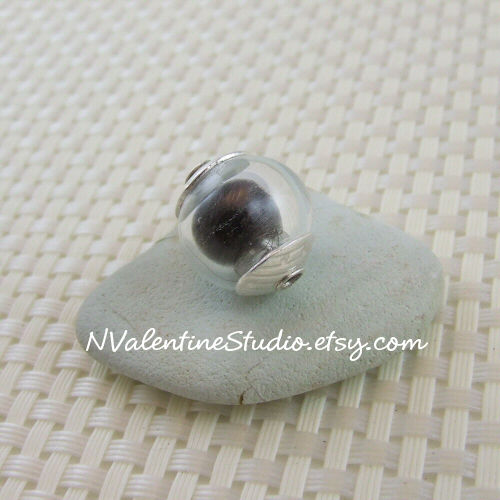 Last week,  I received a real gem in the mail. Not a precious stone per se, but a handmade keepsake that means the world to me.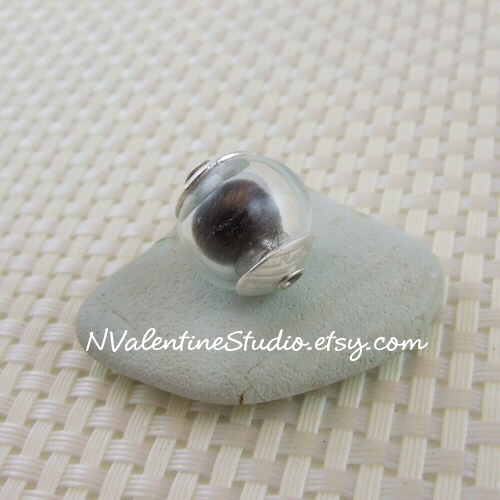 This is one of Nicole Valentine-Rimmer's (of NValentineStudio) keepsake lampwork beads: and inside contains two locks of hair – each from both my girls'  first hair cuts.
I was so amazed when I received it – I had sent her the locks of hair and was astounded at how she got it inside the bead – and so neatly displayed as well! So my task at hand was – what to design along with it? The bead on its own is a true focal and I didn't want to attract too much attention away from it. In fact I put it on a sterling silver chain and declared: done! 🙂 But what could I do to make this more special to me, as I wear it on a regular basis?
So I started forming this idea for an asymmetrical style necklace which contained an engraved sterling silver heart pendant (as I am working toward developing a customized engraved line) and a sterling silver word bead. I didn't want a lot to detract away from Nicole's keepsake bead – and something asymmetrical to me would still allow the bead itself to be the focal point.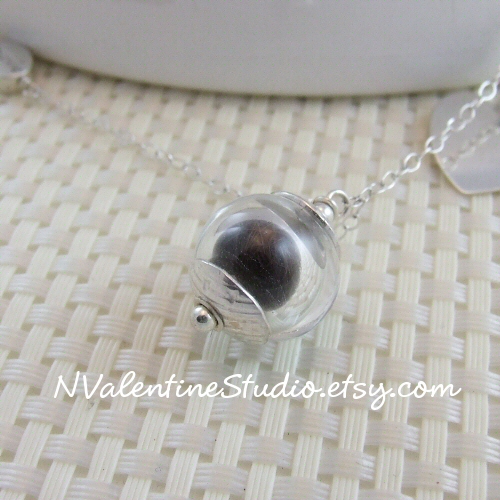 I will have to admit – this was not an easy necklace to photograph. The glass of the bead reflected the light and camera – and I buffed the pendant on my polishing lathe to a high shine so – finger prints – as much as I tried to remove them at set up, would be glaringly obvious, and looked like scratches in the photos. After some fiddling with lights and camera position, here's what we have: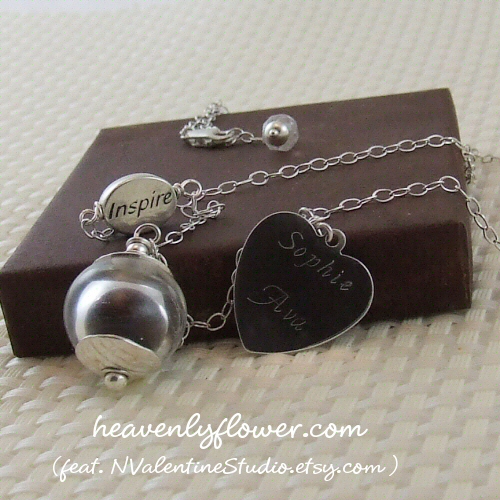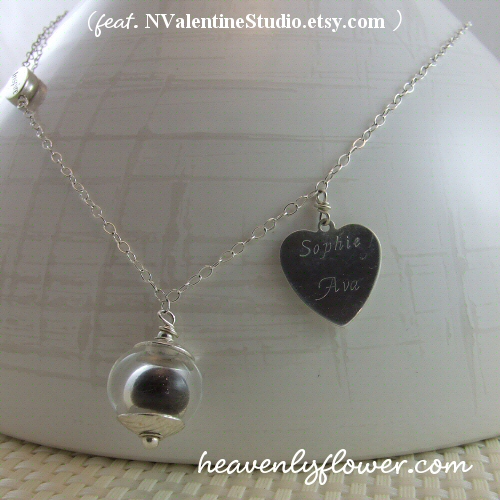 I engraved my girls' names on the heart blank – and added a word bead: "inspire" – because I am dedicated to living an inspired life and my children certainly inspire me. I also wanted the word as a reminder to always inspire them.
The word bead is stamped on both sides so regardless of which way you wear it or if the bead flips around it will always say "inspire". So I needed to engrave something on the back of the heart pendant. I decided to go with a mother and child symbol – a mother holding baby in arms.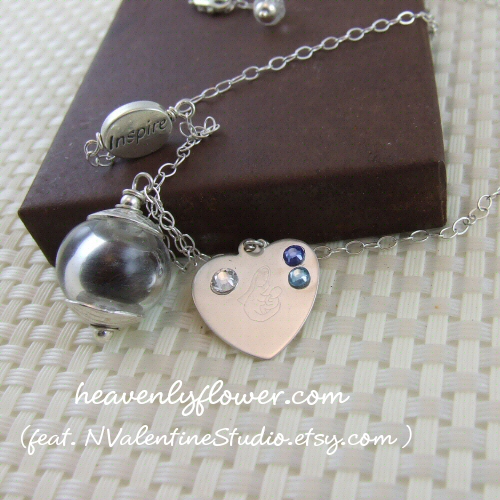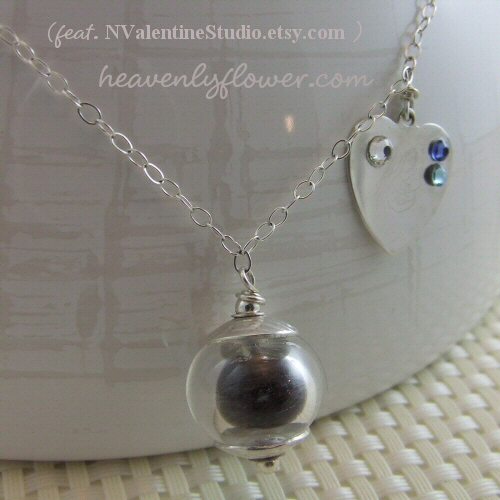 When I engraved the symbol – I would have liked it to be one maybe two sizes larger to fill up the pendant more. So I had this idea to adhere Swarovski flatbacks in our birthstone colours to help fill up the space. The larger one on the left is mine: for April – diamond, the girls (September and March – Aquamarine & Sapphire ) on the left.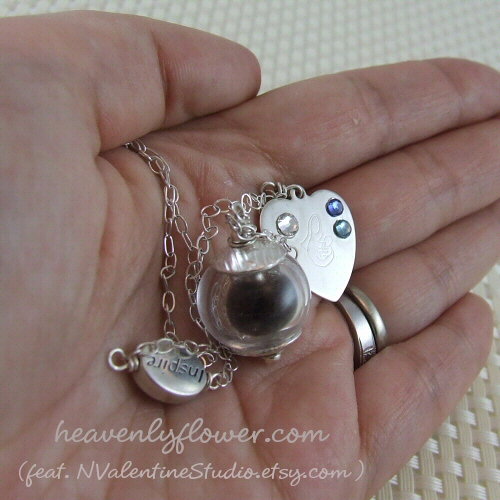 I'm not sure how I feel about the Swarovski flatbacks. They certainly look nice on the necklace as I wear it, but it is hard to remove finger print smudges around them. One good thing is that they bond really well to the metal. I put them through a bit of abuse this weekend to see if I could get them to fall off – suffice it to say unless I plan on soaking the pendant in acetone, they should stay put. 🙂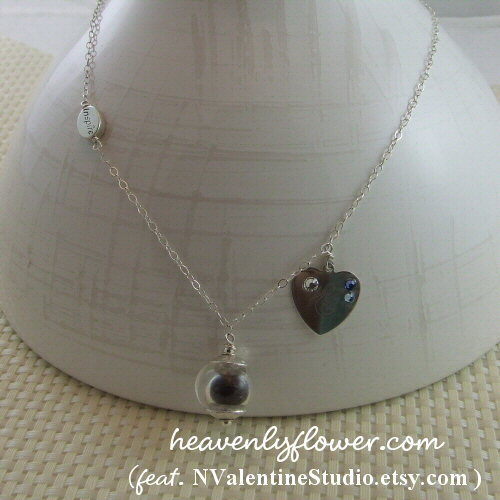 I've been wearing this necklace all day, and will probably wear it almost everyday! What makes it so special to me, is the keepsake bead.
Nicole has been making beads at her home studio in Victoria, British Columbia for almost 6 years; 2 years full time. Besides making lampwork beads she is  also a metalsmith &  does some viking knit and byzantine. She also teaches her craft, developing a class specifically for silversmithing for lampworkers.
She is inspired by the wilderness, her animals, and  color. "I love color the brighter the better right now." On her inspiration for the keepsake beads, she says, "I've been wanting to offer something unique as a keepsake for a while. We lost a horse last year and I was trying to think of a way to have a memory of him. Hence the filled beads were inspired."
Check out more of Nicole's work  by visiting NValetintineStudio on Etsy and her blog.
It is my hope that we can collaborate on this piece together and it is my plan to offer it for sale on my website.  I want to be able to allow the customer to choose either just the bead or add my elements to it as well. Of course, you can also buy the bead direct from Nicole as well! Whatever you decide, it is sure to be cherished for years to come.